These Vintage Dresses Are the Best Reason to Become a Vaudeville Comedian
BY: Amelia Buzzell |
Feb 27, 2014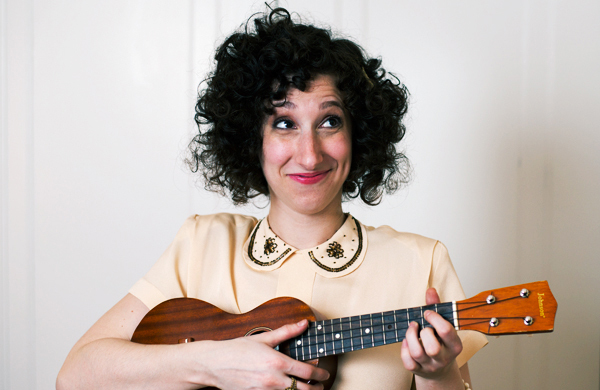 How does Plucky Rosenthal become a ukulele-strumming, live-action cartoon character? With '40s blouses and hand-me-down socks.
"It recently occurred to me that not everyone has a costume bag that's inside a costume closet," says vaudevillian
Plucky Rosenthal
as she paws through a duffel bag filled with ruffled bloomers, retro bathing suits, and a corset from
Taboo Tabou
. Of course, most people probably don't keep hats and fascinators in actual hatboxes under their beds or hang bespoke sailor ensembles beside swing dresses inherited from their grandmothers. Alisa "Plucky" Rosenthal, the self-named "Jewish Star of Stage and Stage," has brought her ukulele ditties, "live-action silent movies," and old-time comedy routines to Chicago venues for the past five years. And whether she's dancing the charleston or serenading a puppet with a rendition of "Tonight You Belong to Me," she always dresses the part, often using real pieces from the 1930s to the 1960s. "The awesome thing about getting to do this is I get to acquire all of this stuff, and I actually get to wear it," Plucky says. She doesn't wait for a special performance to don her antique duds, either. "At first I was afraid to wear [a vintage blouse] because it's expensive and vintage and nice, but then I was like, 'What's the point of having it?' I feel that way about a lot of clothes. … The nice thing about these dresses is that they've lasted for decades." In between performing an original song about the female physique (which includes an audience call and response of "a-OOGA!") and mourning some now-closed vintage stores, Plucky modeled four of her favorite outfits inside her Northcenter apartment and explained how they help her channel her inner Fanny Brice.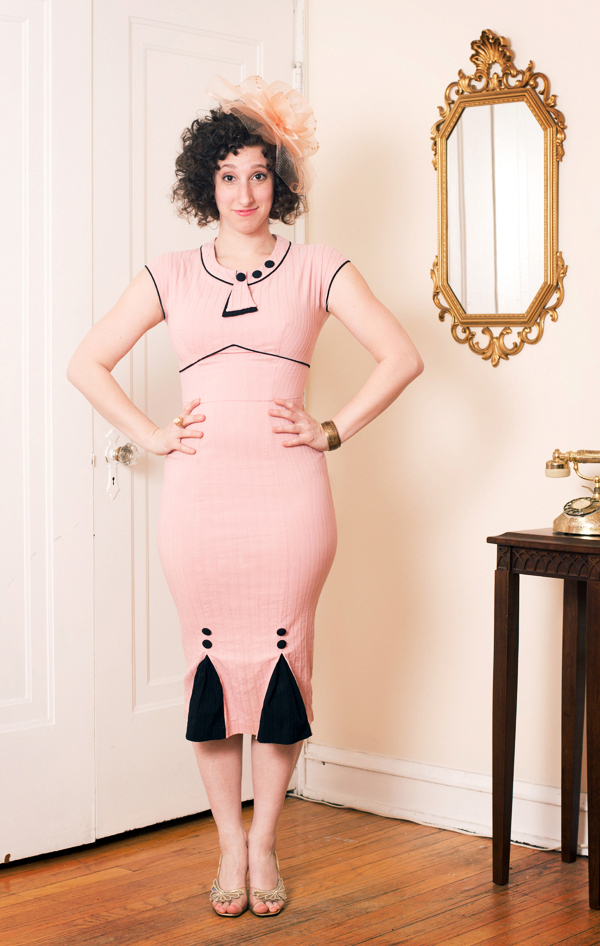 On Plucky: dress by Stop Staring! (purchased second hand at Tilly Boutique, 4164 N. Lincoln Ave.) | 1950s lucite shoes from LuLu's at the Belle Kay (900 N. Michigan Ave.) | fascinator from Nordstrom | 1933 Chicago World's Fair cuff from Hoard Antiques (closed) 
Plucky bounced through her bedroom door with a cheeky "Bomp-BOMP!" when it came time to show off this curve-hugging pink bombshell dress. "This one would be [good] for a Carol Burnett kind of number. It has a sort of woman-in-charge quality," she says. The dress is reproduction vintage, not authentic—which Plucky actually likes since it means she doesn't have to worry about it falling apart.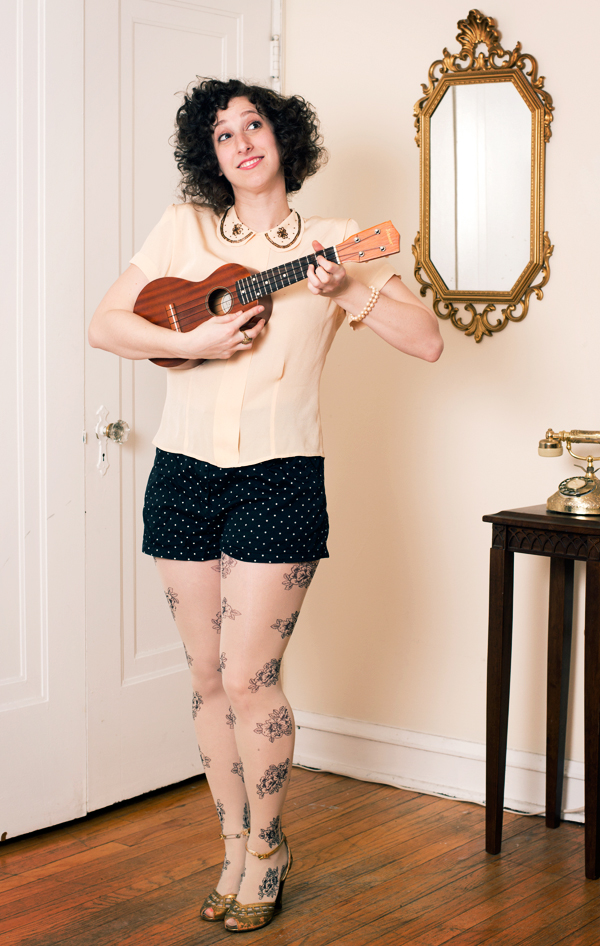 On Plucky: 1940s blouse from Shangri-La Vintage (1952 W. Roscoe St.) | shorts from H&M by way of a clothing swap | tights from Nordstrom | late-1930s shoes from Viva Vintage Clothing | 1960s hair clip from Hazel (1925 W. Montrose Ave.) | hand-me-down family bracelet
Plucky likes to pair this 1940s blouse with hot pants and a pair of flower-patterned tights for renditions of the Groucho Marx song "Lydia the Tattooed Lady." The mixed patterns and subtle flourishes—notice the beaded collar—are anything but boring, but the muted colors and modern lines make the outfit feel equally appropriate offstage. "I'd call this 'Day Plucky,'" she says.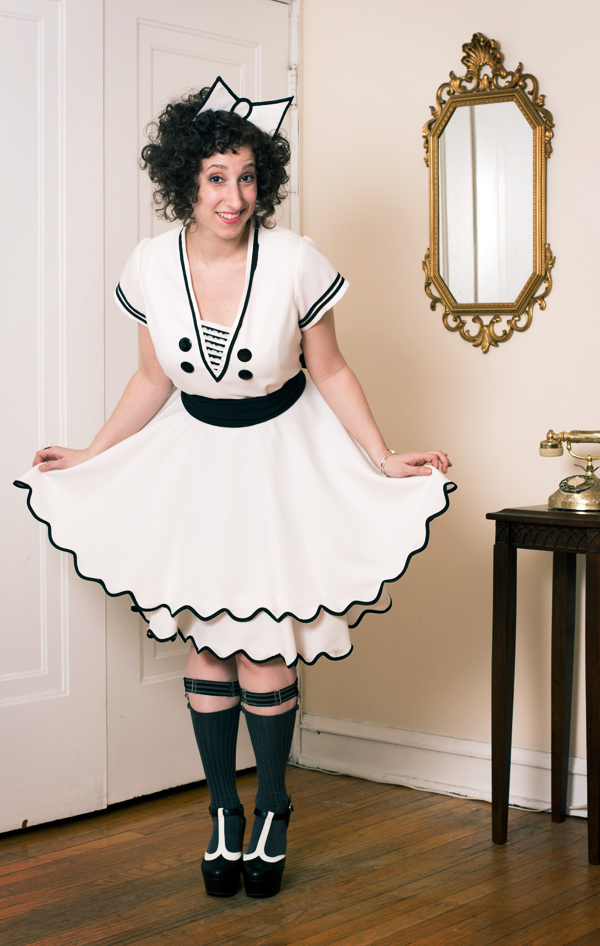 On Plucky: custom-made dress and headband by Angela Enos | sock garters from SockDreams.com | socks from her mother | shoes from Urban Outfitters
"I want to look like I'm cut out of paper, and I want to look like a 1920s cartoon," Plucky told her costume designer friend Angela Enos as she planned her
It's Been Swell, Plucky Rosenthal!
show at
Gorilla Tango Theatre
last March. Enos came back with this black and white headband and dress—the nautical lines paired perfectly with the show's moon-centric imagery and Plucky's original ballad "Morning Moon."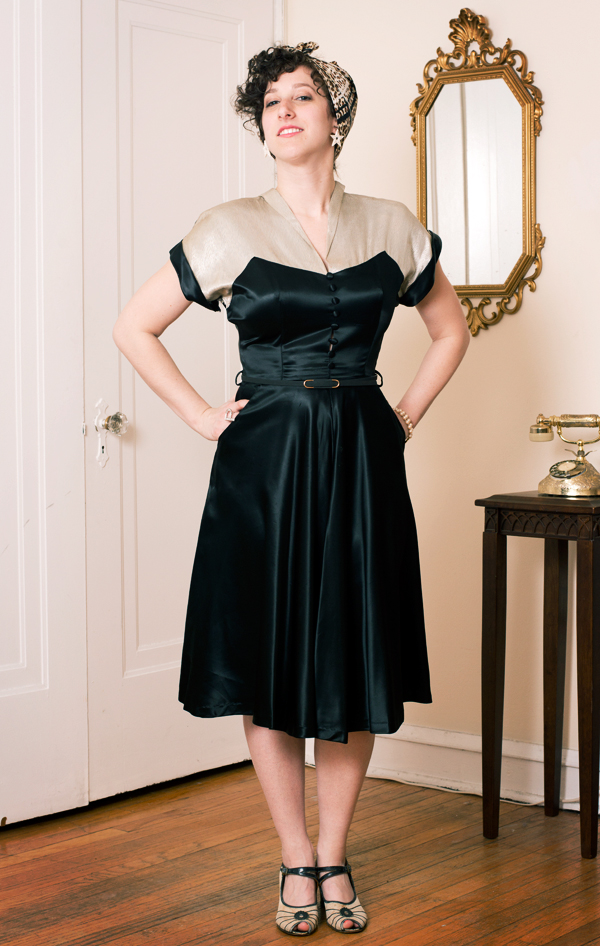 On Plucky: dress from Via's Vintage in Minneapolis | 1940s shoes from a high-school trip to Arizona | 1980s scarf from Kokorokoko Vintage (1323 N. Milwaukee Ave.) | ring from Beatnix (3400 N. Halsted St.) | earrings from Hanger 18 (closed)
This 1940s dress is Plucky's latest purchase. She describes the silhouette as "some Joan Crawford realness" and likes the silver-and-black combo, since those are colors she likes to wear to burlesque shows. Here, she coordinates it with a pair of "indestructible" shoes from the 1940s. "They're built so tough," she says. "I can dance in them, [so] they must [ have been] dancing shoes or nurse shoes."
To see more of Plucky's ensembles, check out her monthly variety show,
The Plucky Show
, at Gorilla Tango Theatre on Thursday, March 13, at 9 p.m., or catch her monthly Variety Open Mic on the last Tuesday of every month, also at Gorilla Tango. 
Photo: Andrew Nawrocki, Groupon