GROUPON GUIDE TO NEW YORK
They're Back: Four Shops that Help You Hop on the Ear Cuff Trend
BY: Amelia Buzzell |
Apr 24, 2013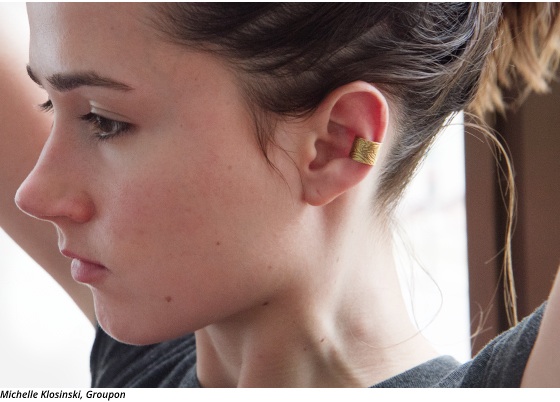 Once a trademark accessory of the 1990s, ear cuffs slowly went the way of butterfly clips and tattoo necklaces. But now it appears the cuffs are making a comeback, at least according to the Spring 2013 designs by Jason Wu and Rodarte. Whereas the '90s ear cuff was all about grunge, today's designs range from understated golden arcs to giant, gravity-defying pieces that could double as sculptural art. But the real draw of the ear cuff might be practical: since they rest comfortably along the edge of the ear, they're easy to take off, unlike heavy chandelier earrings, which can easily weigh down pierced ears.
To help get you back on the cutting edge of the cuff trend, here are four shops with ear cuffs to suit any style:
Catbird | Williamsburg
Catbird collects simple, adjustable, single-arced ear cuffs made of silver, 14-karat gold, and 14-karat rose gold. And, like most of the shop's jewelry, all of the cuffs are handmade in Brooklyn.
In God We Trust | Greenpoint
Delicate and edgy at the same time, In God We Trust's miniature double-cuffs are connected by a slim spacer bar. Available in silver or brass, they fit best around the upper earlobe.
Alibi NYC | Midtown
To really make a statement, try Alibi's skeleton cuff. The creepy-cool accessory features a gold or silver plated crystal-eyed skull and a bony arm that snakes its way around the outer edge of the left ear.
Oak | NoHo and Greenpoint
For an industrial-chic take on the trend, try this gunmetal cuff, which bears a striking resemblance to a drill bit, and may also be worn on the nose. Oak also offers an ear cuff made of flexible oxbrass, which allows the wearer to mold it to the exact shape of their ear.