Things to Do in Boston: Week of June 30, 2014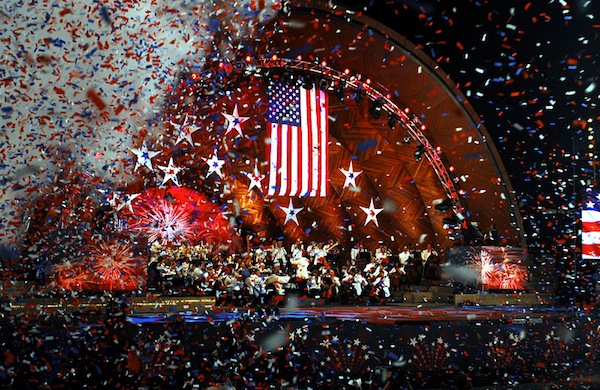 This week's all about the good ol' US of A. Celebrate an all-American art form during hip-hop trivia, partake in a Fourth of July fireworks tradition, or learn more about our country's revolutionary founders during an interactive scavenger hunt. Don't forget to check Groupon for more things to do in Boston.
Hip-Hop Trivia at Moksa
Cambridge | Tuesday, July 1, 8 p.m.
Do you remember when Snoop Lion was Snoop Dogg? When Diddy was Puff Daddy? When Jay-Z was precocious kindergartner Shawn Carter? If so, you'll probably fare well at Moksa's hip-hop trivia night. While you're showing off your old-school street cred, partake in Moksa's all-you-can-eat sushi special for just $15 until 10 p.m. (450 Massachusetts Ave., Cambridge; free)
The Beach Boys at the Boston Pops Fireworks Spectacular
The Esplanade | Friday, July 4, 8:30 p.m. Thursday, July 3, 8 p.m.
This event has been rescheduled due to weather.
It wouldn't be Fourth of July in Boston without fireworks on the riverbank. Come for this year's legendary special guests, The Beach Boys, and stay for an unforgettable fireworks display paired with a live patriotic soundtrack from the Boston Pops Orchestra. Come early for prime seating. (DCR Hatch Memorial Shell, 47 David G. Mugar Way; free)
Uncharted Revolution Scavenger Hunt
Boston Common | Saturday, July 5, and Sunday, July 6, 10 a.m.–1 p.m.
Boston's rich revolutionary history makes Independence Day all the more resonant. In honor of the holiday, Boston Uncharted has designed an interactive scavenger hunt that takes players through the city's historical sites. Players of all ages can take the side of rebel spies or patrolling redcoats and compete for prizes. (The hunt begins at the Boston Common; $15; buy tickets here)