GROUPON GUIDE TO NEW YORK CITY
Things to Do in New York City: Saturday, August 2, to Friday, August 8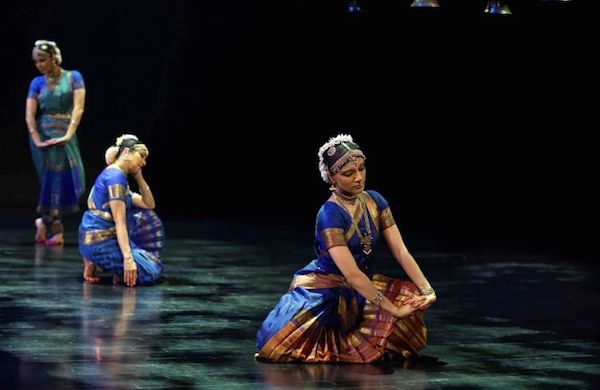 This week's list of things to do includes a hip-hop reunion tour, a 165-foot zipline, South Indian dancers, and
Hamlet
as performed by Gary Busey (not really). Enjoy, and, as always, check Groupon for more great
things to do in New York City
.
Photo of Ragamala Dance by Alice Gerbura.
Summer Streets
Lower Manhattan | Saturday, August 2 Pedestrians and cyclists will rule Park Avenue for a few brief hours this Saturday, when the city shuts down a 7-mile stretch of asphalt for the first of three Summer Streets events this August. The car-free stroll from Brooklyn Bridge to Central Park would be pleasant in itself, but the city's also provided a multitude of free amusements along the way. Inside the Park Avenue Tunnel, a seven-block-long immersive sound installation mimics the sonic effects of diving deep under the sea. At 34th Street, the Whole Foods City Picnic keeps crowds nourished with free food and drink samples. Further downtown, a 165-foot zipline sends harnessed participants zooming across Foley Square. Performances by African drummers and jugglers, parkour and cooking demonstrations, and a PAWS dog park round out the day.
(Park Ave. from the Brooklyn Bridge to 77th St.; 7 a.m. to 1 p.m.; free)
Jurassic 5
Midtown | Saturday, August 2 Fresh off a globe-trotting reunion tour, Jurassic 5 shows no signs that their energy's slackening. The "
Quality Control
" group brings their nostalgic old-school hip-hop to
Best Buy Theater
this Saturday. The best part of J5 has always been the interaction between the rappers' voices: anchored by Chali 2na's deep baritone, they play off each other like a barbershop quartet that just happens to spit rhymes. Their first post-reunion single, the White Stripes–sampling "
The Way We Do It
," is evidence that the years haven't erased that playful vibe.
(1515 Broadway; show at 8 p.m., doors at 7 p.m.; $42.50–$50; buy tickets here)
The One I Love
Sunset Park | Monday, August 4 The directorial debut of famed
author
and
Twitterer
Charlie McDowell, this indie romantic comedy made a splash when it premiered at Sundance this January. Some of the reasons were obvious, including moving performances from Mark Duplass (
Safety Not Guaranteed
) and Elisabeth Moss (
Mad Men
,
Top of the Lake
). But some are more obscure, like the surreal, high-concept plot twist that most reviewers have refused to reveal. (Feel free to scrutinize the
trailer
for hints.) Come see what the fuss is about at
Rooftop Films
' sneak-preview outdoor screening at
Industry City
, which will be followed by a Q&A with the director and stars, plus an after-party sponsored by
New Amsterdam Spirits
.
(220 36th St., Brooklyn; doors at 8 p.m.; $13; get tickets here)
Ragamala Dance in Song of the Jasmine
Upper West Side | Thursday, August 7 Classical South Indian dance meets contemporary jazz in this Walker Art Center–commissioned show, whose Lincoln Center Out of Doors performance is also its New York premiere. Composer and saxophonist
Rudresh Mahanthappa
interweaves his meandering melodies with traditional Indian instruments to soundtrack the elegant, flowing movements of dance troupe
Ragamala Dance
. Kun-Yang Lin/Dancers and the Chinese-American Arts Council Dancers open.
(Damrosch Park Bandshell, between Amsterdam Ave. & W. 62nd St.; 7:30 p.m.; free)
Fringe Festival
Multiple locations | Friday, August 8, through Sunday, August 24 Now in its 18th year, this sprawling multi-arts event will fill more than 20 theaters this month with off-the-wall indie performances from around the globe. Offerings range from
Gary Busey's One-Man Hamlet
(which doesn't actually feature Gary Busey) to
Dust Can't Kill Me
, a folk musical about the 1930s Dust Bowl, to
Njozi Ensemble Company
's
Ain't She Brave: an Ensemble of Poetry
.
($18 per show, $85–$500 for a multi-show pass; buy tickets here)