GROUPON GUIDE TO NEW YORK CITY
Things to Do in New York City: Week of July 7, 2014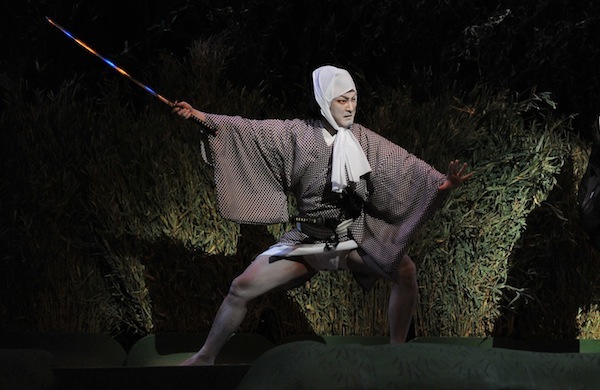 Just because you've hauled the grill in from your patriotic backyard cookout doesn't mean it's time to let up on summer fun. Pack the post-Fourth-of-July week with a ghost story performed by a kabuki theater troupe, a free concert in Hudson River Park, and a three-course picnic in the Rockaways curated by French foodies. And, as always, check Groupon for other great
things to do in New York City
.
Heisei Nakamura-za at Lincoln Center Festival
Upper West Side | Monday, July 7–Sunday, July 13
In their first visit to the Lincoln Center Festival since their sold-out run in 2004, Japanese kabuki troupe Heisei Nakamura-za will perform
Kaidan Chibusa no Enoki
, a 19th-century ghost story. Look forward to cutthroat stage combat, theatrical grimaces, and raucous slapstick comedy from the elite troupe, which traces its roots back to the 17th century. Before or after the show, stroll to the
Japanese Artisan Village
, which will vend traditional textiles, dolls, hair ornaments, and other handicrafts in Lincoln Center plaza through Sunday.
(Rose Theater at Jazz at Lincoln Center's Frederick P. Rose Hall, 10 Columbus Circle; $45–$150; 7 p.m. each day with 1:30 p.m. matinees on Wednesday and Saturday)
Photograph of Heisei Nakamura-za above: © Shochiko.
Wild Beasts and Mutual Benefit
Hudson River Park | Thursday, July 10, 6 p.m.
The UK's
Wild Beasts
are probably best known for singer Hayden Thorpe's distinctive vocals, which can veer from soaring falsetto to guttural growl within a single line. Their 2014 album
Present Tense
may have toned down that roughness in favor of lush synthesizers and a smoother, R & B-inflected sound, but the new tunes still preserve the band's intrinsic sense of drama. Get a taste this weekend at Hudson River Park, when Wild Beasts kicks off
RiverRocks
along with chamber-folk group
Mutual Benefit
. (free)
Le Fooding Beach Club
Rockaway Beach | Friday, July 11
French gastronomes
Le Fooding
return to New York City with this three-day event honoring the cuisine of the Sandy-ravaged Rockaways. Chefs including Christina Tosi of
Momofuku Milk Bar
and Andrew Field of
Rockaway Taco
prepare a three-course, picnic-style meal, which guests can pair with San Pellegrino sparkling fruit drinks and bartender-stirred mocktails. Saturday and Sunday tickets have sold out, but you can still grab a Friday ticket to kick off a long weekend or really long lunch break.
(97-01 Shorefront Pkwy.; $40; seatings at noon to 1:45 p.m. and 2:15 p.m.–4 p.m.)
Saturday Sculpture Workshop
Long Island City | Saturday, July 12, noon to 3 p.m.
This weekly event brings different artists to
Socrates Sculpture Park
to lead creative and kid-friendly arts-and-crafts activities. This week, artist Janelle Iglesias teaches kids to make geometric mobiles with straws and string.
(free)
Raekwon and Jay Electronica at the Brooklyn Hip-Hop Festival
Williamsburg | Sunday, July 13
The
Brooklyn Bodega
–sponsored festival, which celebrates its 10th anniversary this year, brings two hip-hop heavyweights to the stage for its fifth and final night. With a
feud with RZA
brewing, Raekwon may not be in the mood to perform old Wu-Tang hits, but there's plenty to love in his solo catalog—including some new tracks from
Fly International Luxurious Art
, due out this fall. The music doesn't get underway until later in the afternoon, but those with tykes in tow can show up early for Family Day from noon to 2 p.m.
(50 Kent Ave.; doors open at noon; $30+; buy tickets here)
BY: Groupon Guide Staff
Groupon Guide Staff