GROUPON GUIDE TO NEW YORK
Things to Do in New York City: Weekend of June 20–22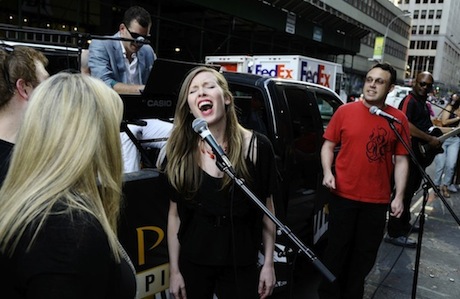 Saturday might be the longest day of the year, but that doesn't mean it has to include any downtime. From costumed mermaids to craft beers to mobile karaoke, this weekend is packed with enough activities to fill all 15 hours, 5 minutes of daylight. (And that's not even counting the World Cup.) Of course, if you do find extra time on your hands, you can always check Groupon for more great
things to do in New York City
.
NYC Craft Beer Festival
Flatiron/Kips Bay | Friday, June 20, from 8 p.m. to 10:30 p.m. & Saturday, June 21, from 2 p.m. to 4:30 p.m. & 7 p.m. to 9:30 p.m. Craft-beer connoisseurs descend on Lexington Armory this weekend for a celebration of all things hopped and sudsy. Regular admission includes unlimited 2-ounce tastings of 150 beers from
breweries
around the world, including
Unibroue
,
Founders Brewing Co.
,
Brewery Ommegang
,
Stone Brewing Co.
, and more. VIPs get an hour's early admission, while high-rolling Connoisseurs sip rare brews alongside industry insiders within an exclusive lounge.
(Lexington Armory, 68 Lexington Ave.; $55 general admission, $75 VIP, $110 Connoisseur; buy tickets here)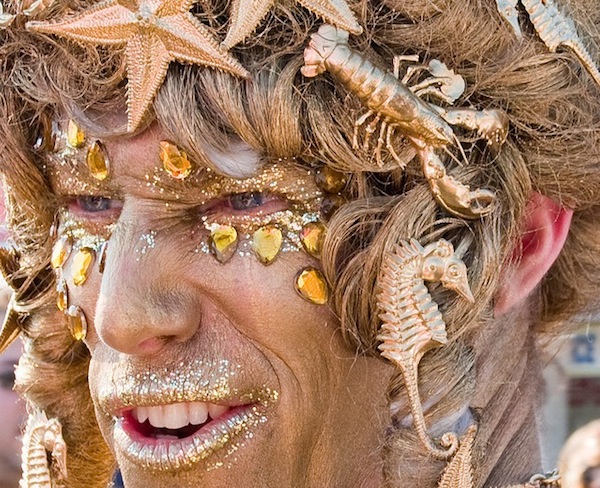 32nd Annual Mermaid Parade
Coney Island | Saturday, June 21, at 1 p.m. More than half a million people a year turn out for Brooklyn's famous "art parade," many dressed in colorful—and NSFW—handmade costumes. This year, there will be at least two political figures in the throng: Mayor de Blasio's two teenage children, Chiara, 19, and Dante, 16, will serve as King Neptune and Queen Mermaid, taking wicker thrones previously graced by such celebrities as Queen Latifah, Moby, and Lou Reed.
(free)
10th Annual Bike Fetish Day
Williamsburg | Saturday, June 21 at 12–6 p.m. Hosted by the
City Reliquary
, this bike-themed block party features cyclists performing BMX tricks alongside the requisite street-festival DJ and barbecue feast. Starting at 2:45 p.m., judges will announce winners of bike-contest categories such as Best Vintage Bike, Best Commuter Bike, and Best Mutant Bike. In our humble opinion, it might be worth showing up just to see what that last category actually means.
(Havermeyer St. between Grand St. & Hope St., free)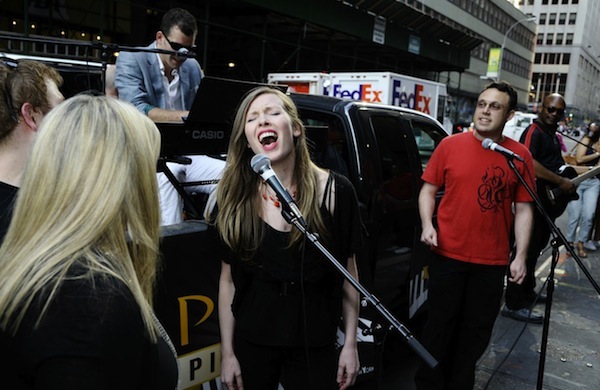 Make Music New York
440 locations
across the city | Saturday, June 21, from 10 a.m. to 10 p.m. The Big Apple's take on international music festival
La Fête de la Musique
will bring more than 1,300 concerts to sidewalks and parks across the five boroughs this Saturday. Saturday's
schedule
includes themed events and activities as well as individual concerts: head to Governor's Island for a folk-and-roots
Porch Stomp
, or track down the mobile
piano bar
to belt out your favorite karaoke tunes on the street.
(free)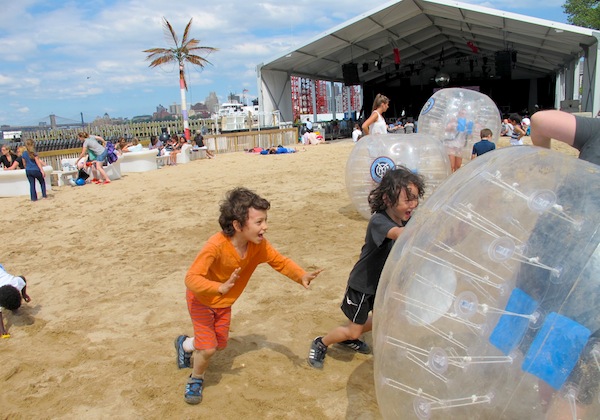 US vs. Portugal at the Official 2014 FIFA World Cup Public Viewing Zone
Governor's Island | Sunday, June 22, at 6 p.m. The World Cup viewing party at the Governor's Island Beach Club might be part of
an art exhibit
, but its pleasures are anything but abstract. Besides the cries of "GOALLLLLL!" as games flash by on a high-definition screen, there are games of Bubble Soccer sponsored by NYC's own soccer team, as well as plenty of food and drink. This Sunday, cruise in to watch the USA's make-or-break game against Portugal, and cruise out on the regular Governor's Island ferry, which runs late until 9 p.m.
(free; see the game schedule here)
Photo of the 2008 Coney Island Mermaid Parade by See-Ming Lee on Flickr. All other photos courtesy of event organizers.