Thirsty Report: Tatanka at Lokal in Wicker Park
BY: Nathalie Lagerfeld |
Sep 27, 2013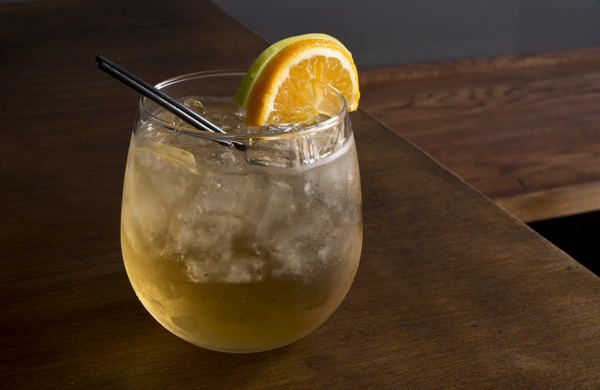 One of the first times I went to
Lokal
(1904 W. North Ave.), the waiter wouldn't let me order a tatanka. He refused not because the drink was too complex, but because it was too simple. A tatanka doesn't require housemade bitters or a blender or herbs picked by the light of the waxing crescent moon. All it is is a little apple juice mixed with
Żubrówka
—a vodka that's distilled with bison grass, giving it a slightly spicy taste. This cuts the syrup of the apple juice nicely, yielding something like a light, chilled summer version of mulled cider. It's a drink I had discovered, loved, and never heard from again after a college backpacking to Kraków, Poland. Lokal was the first place in United States where I had seen Żubrówka. From what I learned, importing Żubrówka to the US was illegal because of the presence of coumarin—a "
potentially toxic
" chemical—in the bison grass. In 2011, Polmos Białystok—the only Polish distiller that uses the Żubrówka name—finally created a coumarin-free formula. And there it was on the menu of a cool Eastern European lounge down the street from my Wicker Park apartment. A tatanka. Yes, I would like one, please. But the waiter just frowned. "There are better things here," he said. And I listened to him. I thought, at the time, that he had a point. After all, for all its exotic foreign pedigree, the tatanka is essentially a fancified rail drink. And it's made with apple juice—the same childish beverage that washed down my afterschool snacks in first grade. So I went with the grown-up version of fruit juice: a crisp white wine. Over the next couple of years, I returned to Lokal many times. I savored juicy burgers and tender schnitzel and worked my way through most of the short wine list. But I never ordered another tatanka. But this fall, I went back to Lokal with more determination. I ordered both a tatanka and a more adult-sounding option, for comparison purposes: the Warshavski. According to the menu, the Warshavski blended Żubrówka with krupnik, a traditional liqueur made with honey, herbs, and grain alcohol. The deceptive smoothness of the drink and the eclecticism of the alcohols makes it a kind of Eastern European answer to the long island iced tea. So much for maturity. The mostly clear beverage, served without ice, was a little citrusy with a not unpleasant oily mouthfeel. Finishing just one serving made me feel a little giddy. By contrast, the tatanka was much gentler. Served with a thick stack of ice cubes and a wedge of lime, it packed a softer punch—most of it tartness and spice rather than alcoholic burn. It also wasn't as sweet as I'd feared. Either the bartender was using a different brand of apple juice than what I'd guzzled as a kindergartener or the sour of the lime did a good job cutting the syrup. In any case, my drinking companion, another former Kraków backpacker, had no problem ordering a second one. (I was still finishing up my boozy Warshavski very, very slowly.) It's hard learning to be an adult. You never know which aspects of your youth you need to jettison and which you need to preserve to become your fully mature self. I'm glad I didn't write off tatankas entirely. Some college-age memories are worth revisiting—or even updating with a little fresh lime.
Photo: © Andrew Nawrocki, Groupon
BY: Nathalie Lagerfeld
Guide Staff Writer
Nathalie is a writer and editor on the Guide's food team. Originally from Virginia, she now lives in Chicago, where she regularly indulges her love of tortas, bibimbap, and Cheez-Its. Follow her on Twitter @maviswillsaveus.