This $400 Cocktail Served in a Treasure Chest Will Attract Some Attention, In Mostly Good Ways
BY: Cody Braun |
Nov 14, 2013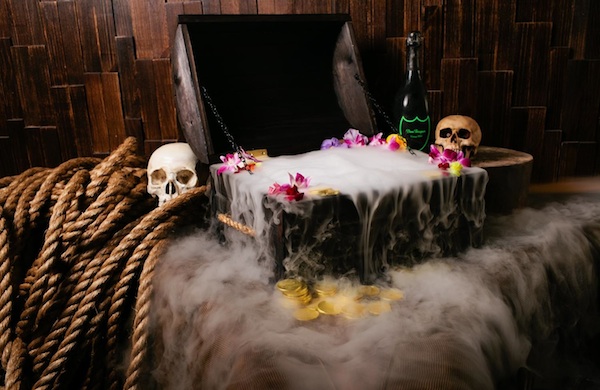 EMPTY YOUR POCKETS
Last week outside the entrance of the Cook County courthouse, I waited in line while people screamed at the security guards. When my turn came to walk through the metal detector, a cop asked me what I had in my jacket pocket. I removed an Oliver Sacks book, but there was still something in there. I fished around. A Dom Pérignon cork. He called over another officer to look at the cork, and they had a pretty good laugh. I tried laughing too so we could pretend this was one of those "laughing with me, not at me" situations. Somehow, even days later, the Treasure Chest No. 1 had not stopped making me the reluctant center of attention.
AT THE TIKI BAR
Several nights before, I was sitting at a table in
Three Dots and a Dash
(435 N. Clark St.) with a group of friends. The dark bar area, which is draped with faux tropical foliages and tacky little idols, feels very conducive to making bad decisions. I felt a bit like the colonel going rogue in
Apocalypse Now
. Now, all of the cocktails I've tried at Three Dots are great. But the Treasure Chest No. 1 has always called my eyes back to that dangerous corner of the menu. And then, one in our group, a friend's mysterious cousin, offered to drop $400 on it. There's a serious rush when you order a $400 drink. Then there's a lot of waiting. We fidgeted, momentarily forgot about it, and then immediately went back to peering across the darkened bar in hopes of seeing this thing being made. It finally emerged from the gloom, borne by a gaggle of busboys and waitresses like a ridiculous king. The drink sloshed around in a vaguely tacky chest that would look at home as a cheap prop on the Pirates of the Caribbean ride. Immediately everyone in the bar was looking at our table as though they expected someone to sing "Happy Birthday" to one of us. Fresh flowers rim the chest, which poured thick white smog, thanks to dry ice tucked in a lower compartment. An elderly woman cut through the mist and took at least a dozen pictures of us with the chest. We tried to gently shoo her away like shy celebrities.

The drink itself, served in a lab, probably isn't as good as anything else on Three Dots' menu. A medley of fruit juices mix with enough rum to sedate the Jimmy Buffett Fan Club. That's topped off with an entire bottle of Dom Pérignon, which does lend it some pleasant carbonation. The bottle rests inside the chest, and it's an even more ridiculous vessel. A button on the bottom triggers a light built into the glass, causing the label to glow a tropical green. As a flashlight, I cannot recommend Dom Pérignon based on price or lumens. In terms of sheer style, though, it cannot be beat. The four of us were soon running around the bar peering under tables with it, though that might have more to do with the fact that we'd polished off a chest full of rum intended for eight people.
EXIT TO YOUR LEFT
Much too soon, as is the case with any amusement-park ride, the treasure chest was over. We had a lot of pictures and a handful of memories. And I fully expect to continue to find more of its souvenirs in my pockets.
Photo credit: © Anjali Pinto, Lettuce Entertain You