GROUPON GUIDE TO WASHINGTON-DC
This Art Gallery Is the Opposite of Pretentious
BY: Jess Snively |
Jan 23, 2014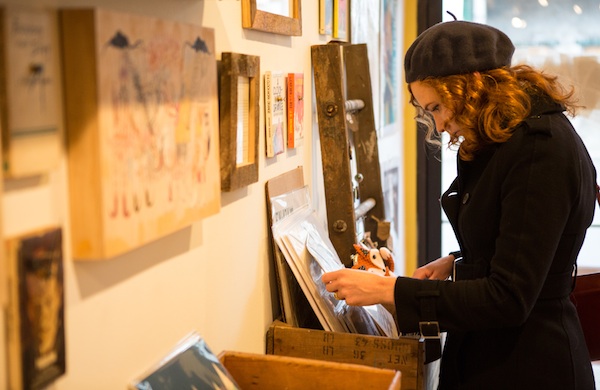 When Lisa Muscato and her high-school sweetheart, Sean Murty, were canvassing Chicago for a space to open their art gallery, they were shown a Ukrainian Village storefront that had previously been used for that same purpose. It had since been cleared out, but the hardwood floors and stark-white walls still hinted at exhibition-space minimalism. One piece, however, had been left behind—a mixed-media painting by local artist Shawn Stucky, whom Lisa and Sean had admired for years. "We've been fans of his since I was actually living in Buffalo," Lisa said. "So we knew when we saw the space that it was meant to be."
In Lisa and Sean's hands, that nearly empty property has been transformed into Paperish Mess (1955 W. Chicago Ave.), a boutique gallery focused on the work of Chicago artists and artisans. For the couple, opening their own gallery has been the culmination of a dream they'd had since they were teenagers in upstate New York.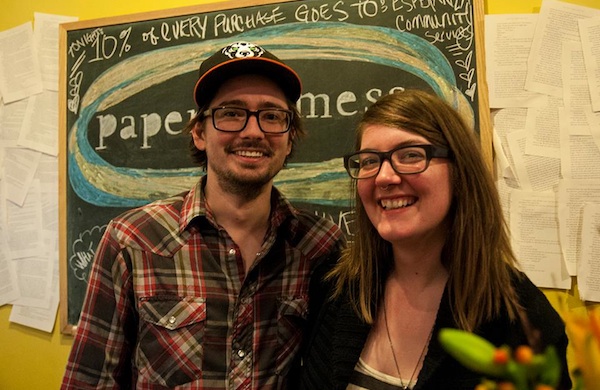 Bringing Hometown Inspiration to a New City
Lisa's love of local had been instilled in her back in Buffalo. There, she worked at Anna Grace, a shop that curates independent-label clothing and regularly hosts local artists. "The owner … was involved with the community, and she really revitalized an entire block," Lisa said. "There was something really amazing and unique about that."
In that spirit, Lisa and Sean take joy in connecting with local artists. They continue to show Stucky's work, of course, and have introduced others such as woodblock printer Ilyana Schwartz. When asked, Lisa not only gushes about Schwartz's work, but about her personality as well. "[She] is fantastic. I love when I meet someone through the gallery and I'm like, 'I would totally hang out with you!' Everyone that we work with has been amazing—people you would actually want to go get a beer with."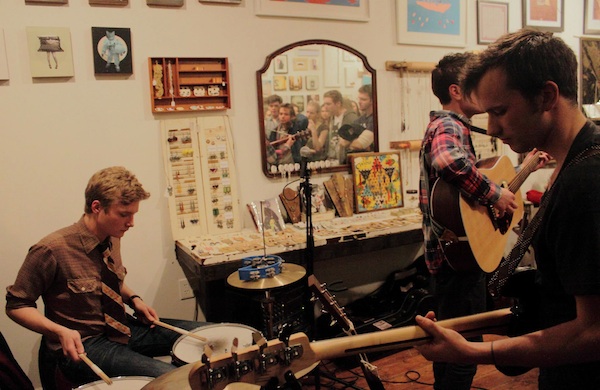 Connecting to the Neighborhood
It's not just their artists whom Lisa and Sean are clamoring to have a beer with. Through monthly exhibit openings, they're regularly inviting neighbors into the gallery to sip craft brews while viewing the art. These openings often incorporate other artistic elements, such as live music and film screenings. They even hosted an app release party for Buy Art Not People, a Chicago group that creates art to raise awareness about human trafficking.
But even on a regular day, Lisa and Sean are cultivating an open-door reputation. They can often be found welcoming guests like they're old friends as their cat, Mishka, noses around the gallery quietly. Those too-cool white walls they found when they moved in have since been warmed by reclaimed wood furniture and fixtures handcrafted by Sean.
"It could have the white walls if we wanted it to," Lisa said. "[But instead] it's just a fun hangout atmosphere. … We're not pretentious people. I don't think I could ever intentionally have that vibe."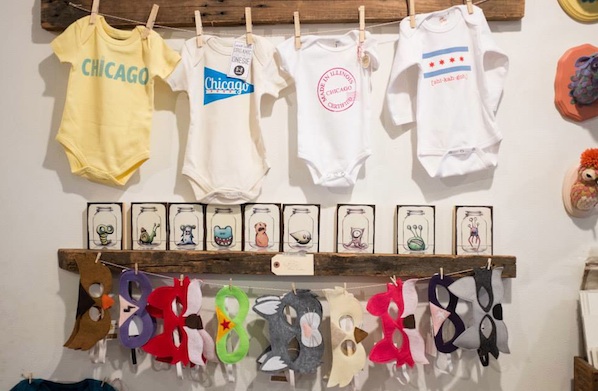 Fine Art + Handmade Wares
Of course, fine art is only half of what Lisa and Sean have here. Their two-room gallery has the exhibits in the back, but up front, there are displays showcasing handmade goods from more than 100 independent artisans. What they've curated blends seamlessly with the art, as with iamhome's reclaimed-wood wall fences. They collect wood from old family barns that have been torn down, and paint the pieces into neon-colored art.
Much of their jewelry has aspects of fine art as well, such as Love, Mia's gemstone earrings and necklaces. "Everything goes through a gradient, back and forth," Lisa said. "[For example, we'll] have a person who does illustrations, and screenprints them on pouches, cards, and prints."
A More Interactive Future
As Lisa and Sean strive to make their gallery an engaging and interactive space, they're intrigued by giving patrons the opportunity to make something of their own. In the past, they've hosted printmaking demonstrations by Hoofprint and pie tastings with local bakers, and hope to evolve toward true workshops in the future.
"I think it would be amazing to do art workshops," Lisa said. She cites papermaking as an example, saying that it could help people become "more invested in the process of how art is made, to make it even more approachable."
Photo: second from top, Miguel Guzman; second from bottom, Kevin Gross; top and bottom, Adam Alexander