This "Big Bang Theory" Star Has a PhD in Veganism
BY: Katie Cortese |
Mar 4, 2014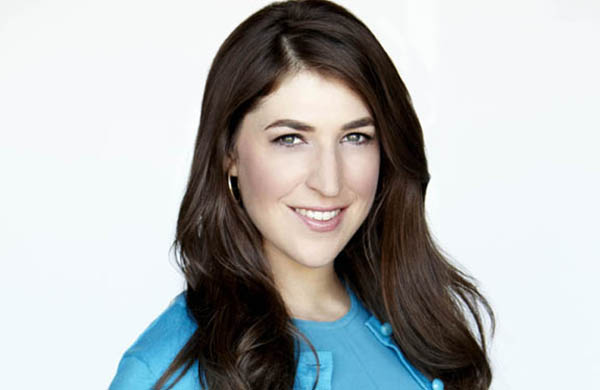 The name Mayim Bialik is closely associated with two beloved TV show characters: Blossom, her breakout 1990s sitcom role, and Amy Farrah Fowler, the neurobiologist from the hit show
The Big Bang Theory
. But Bialik is much more than a SAG- and Emmy-nominated actress. She is also a real-life neuroscientist, writer, and founding member of the
Shamayim V'Aretz Institute
, a center for Jewish spirituality that promotes kosher veganism. As a vocal vegan and a busy cook to her two kids, it only seems natural that Bialik add cookbook author to her résumé. Her latest endeavor,
Mayim's Vegan Table: More than 100 Great-Tasting and Healthy Recipes from My Family to Yours
, is a collaborative effort with
pediatrician Dr. Jay Gordon
that shares tips on adopting healthier eating habits, and a slew of recipes including french toast, winter-vegetable risotto, and dark-chocolate peanut-butter pie. We caught up with Bialik to discuss veganism, her recently published cookbook, and what she would cook Blossom and Six for dinner.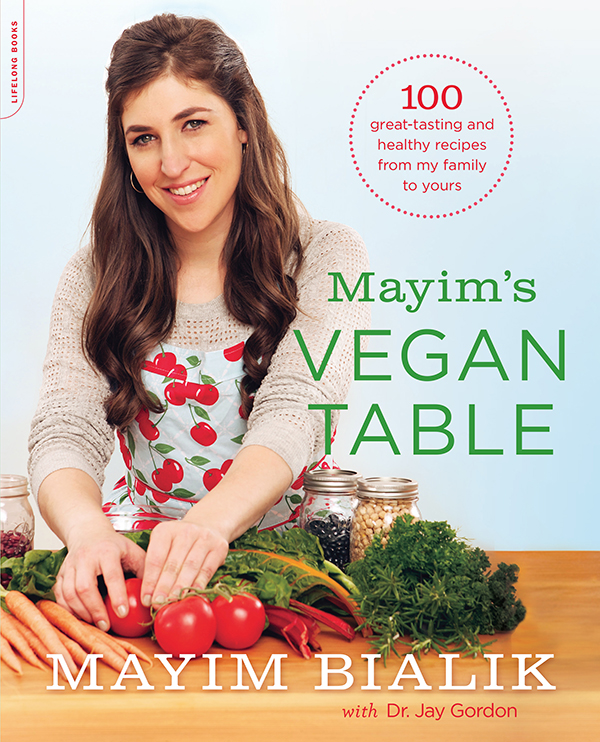 GROUPON: When did you become vegan? Why is leading a vegan lifestyle important to you?
MAYIM BIALIK: I have been vegetarian for almost 20 years and have slowly transitioned to totally vegan, which finished about 6 years ago. It started because I loved animals and didn't want to eat them, but after doing more research and learning about the environmental, ethical, political, and nutritional and health benefits of vegan living, I have transitioned happily and completely!
G: Your book is filled with such useful, practical information that could help people live happier, healthier lives. What are some easy dietary tips to send people down the right path?
MB: Don't try and change everything overnight. It's okay—and wise!—to take it slow. Learn about ways to eat foods that are plant-based once in a while. Don't imagine that any change is easy. If you were to try and cut out salt, for example, everything would taste funny for a while. It's no different in teaching your palate to adjust to non-animal-based protein sources, but it's not impossible! Also, find foods you like that happen to not have much meat or dairy, and that's a good place to start in exploring more veggie options. Examples are pastas, salads, and a lot of Asian-inspired cuisine.
G: In your cookbook, you write that your kids have been raised entirely vegan. Some kids can be notoriously picky eaters, so what are some of your go-to meals for kids?
MB: Even vegan kids get picky sometimes! My kids like anything wrapped in a tortilla and anything they can dip in ketchup or any fun dressing. I also learned, with Dr. Jay Gordon's help which we share in the book, how to not make food a battlefield and learn what my kids need so we have less stress about their pickiness, which of course is normal at certain stages and with certain kinds of kids!
G: What are your favorite snacks to refuel during long days shooting The Big Bang Theory?
MB: I eat fruit as much as I can, with a scoop of peanut butter for protein and energy. I like guacamole and chips because that's a good snack on set. And I won't lie, I love barbecue potato chips when I need some comfort food!
G: Blossom and Six are coming over for dinner Friday night. What would you cook for them?
MB: Ha! I think Blossom and Six would like baked ziti, which I have the recipe for in my book. Teenagers like hearty meals for the most part, and that's a really rich flavor that you can even eat right out of the fridge for leftovers, which is super important for teenagers!
Below, Mayim Bialik shares an easy-to-follow recipe from her cookbook for Mac N Cheez.
Mac N Cheez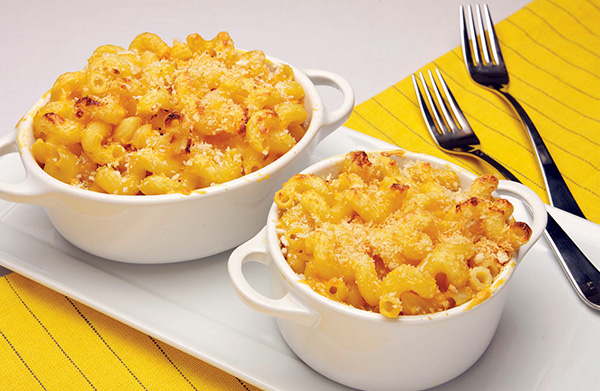 What you need:
16-ounce package of pasta, such as farfalle, rigatoni, penne, shells, or large macaroni 1 1/4 cups nondairy milk (almond milk works best) 2 tablespoons all-purpose flour or white or brown rice flour 8-ounce bag of shredded vegan cheese, preferably mozzarella or cheddar 1/2 cup bread crumbs (optional)
What you do:
1. Cook the pasta according to the package directions. Drain when al dente and place in a large bowl. 2. Preheat the oven to 350° F. 3. Heat 1 cup of the nondairy milk in a medium saucepan over medium heat. 4. In a cup, whisk the flour into the remaining 1/4 cup of milk until dissolved. Add it slowly to the heated milk, whisking as you go. Add the shredded vegan cheese and stir constantly until the cheese is dissolved and the sauce is bubbly, about 5 minutes. Pour over the pasta mixture and stir to combine. If desired, place the pasta in a 9"x13" casserole dish and cover with the bread crumbs. Bake, covered, for 20 minutes. Uncover and broil until browned on top, about 5 minutes. Serves 8
Recipe and book photos reprinted courtesy of Da Capo Lifelong Books. Head shot photo credit: JSquared Photography.
BY: Katie Cortese
Guide Staff Writer
Friend to animals and craft brews.