This Cinco de Mayo Piñata Will Literally Drive Your Guests Insane
BY: Jess Snively |
May 1, 2014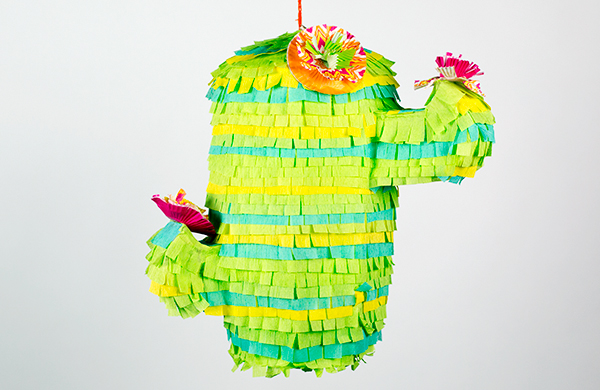 Cinco de Mayo is coming up this week—do you have a piñata for your party? If not, don't sweat: this DIY cactus piñata can be easily tackled over the weekend and should help get you in the mood for the rollicking festivities.
Be warned though: this cactus piñata is so adorable, it may fill your party guests with "cute aggression," a scientific term used to describe the feeling you get when you see something that is so cute, you just want to squeeze it, bite it, or—in this case—beat it to a crepe-papery pulp.
This project is surprisingly easy and cheap, but you will probably invest about two to three hours, depending on how big and detailed you want your piñata to be. I suggest recruiting a few friends to lend you a hand—or just hand you a margarita while you work.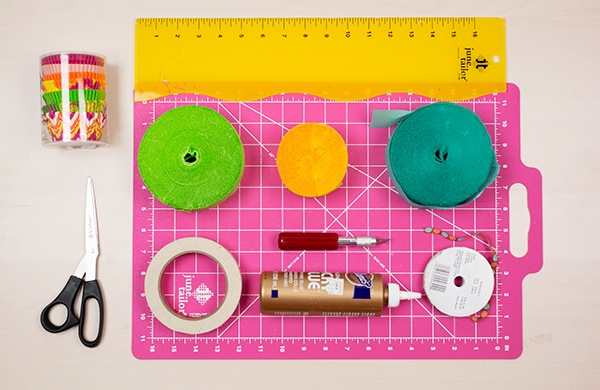 What You Need:
Cutting mat




Ruler




Pencil




X-Acto knife




Scissors




Masking tape




White glue (I firmly stand behind Aleene's Tacky Glue, but Elmer's Glue will do the trick, too)




Crepe paper (I got three rolls—yellow, green, and teal—and had plenty left over)




Corrugated cardboard (I used some broken-down boxes I had lying around)




Cupcake liners in a variety of colors and patterns




Ribbon or rope



What You Do:
1. Place the cardboard on your cutting mat and cut out an octagon. This will be the base of your piñata. I made each of my octagon's sides 3 inches long, but you can make yours bigger or smaller depending on how large you want your finished piñata to be.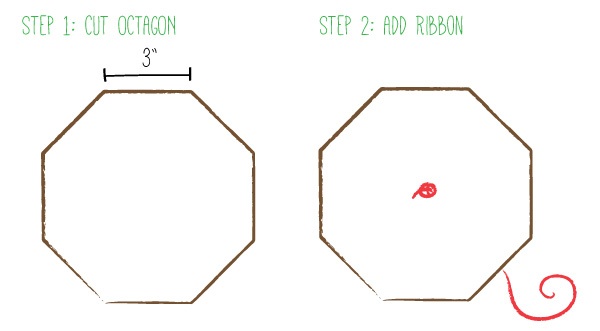 2. Punch a hole in the center of your octagon. Tie a large knot at the end of your ribbon or rope, and thread it through. Tape the knot to the cardboard octagon on both sides to reinforce it.
3. Cut eight strips of cardboard for the body of your cactus. Each strip should look sort of like the picket part of a white-picket fence, but instead of remaining straight up-and-down, it will get wider toward the top of the cactus (before tapering to a point). For example: my strips each measure 3 inches wide at the bottom, then gradually tapers up to 4 inches wide. At that point, each piece is about 16 inches long. From there, each piece ends with a 6-inch-long triangle (the point of the picket). When curled, the triangles will create a rounded effect for the top. In total, each of my sides measured 22 inches long from bottom to tip.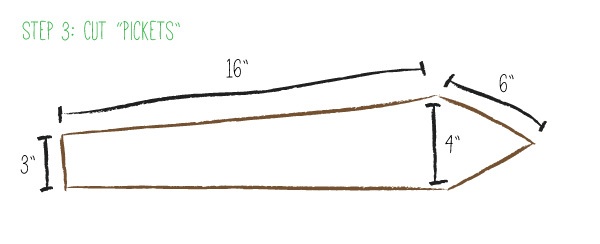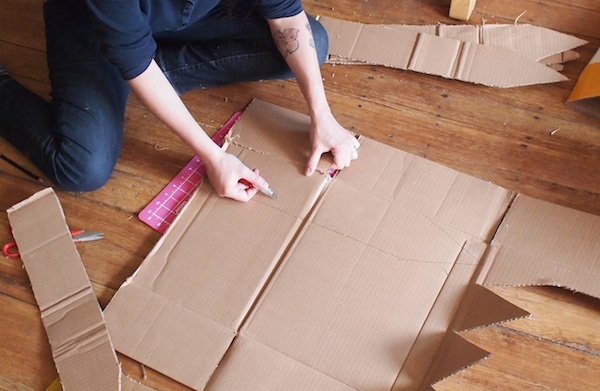 4. Tape the sides to the octagon, reinforcing the tape on both sides.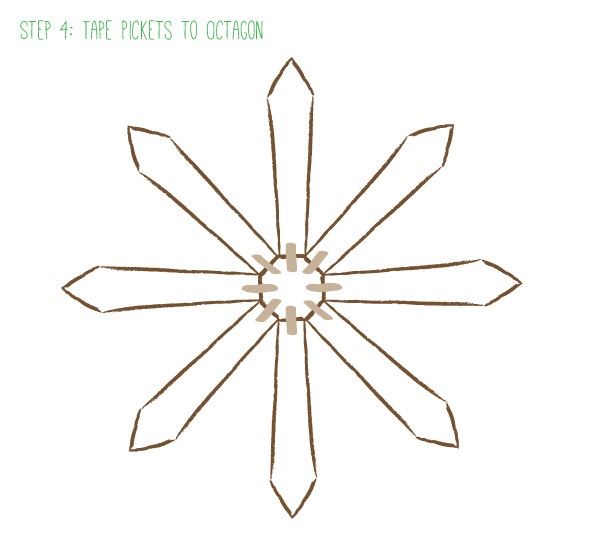 5. Gather the strips into the center so they butt up against one another, and thoroughly tape them together. The more tape you use here, the more sturdy your piñata will be (and the harder your guests will work to rip it to shreds). Do not tape the top closed yet.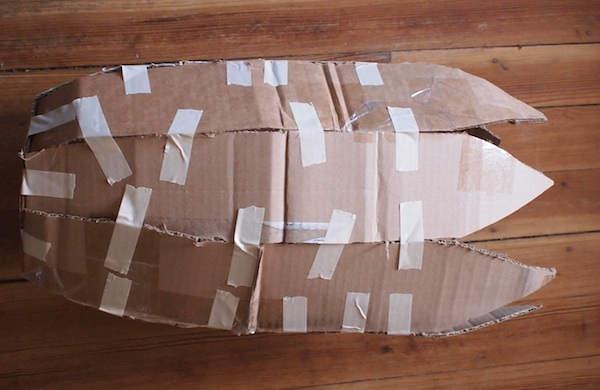 6. Before taping the top closed, add your candy and prizes! I recommend heading to Dulcelandia (multiple locations) to pick up a selection of authentic Mexican candies.
7. Now, make sure to pull your rope up through the top, and tape it to one of the "pickets" for reinforcement. Tape the top closed, rounding the ends and creating a dome as you go.
8. Head back to the cutting mat and cut out the shapes for two little cactus arms. For each arm, cut two panels and then two strips to act as sides.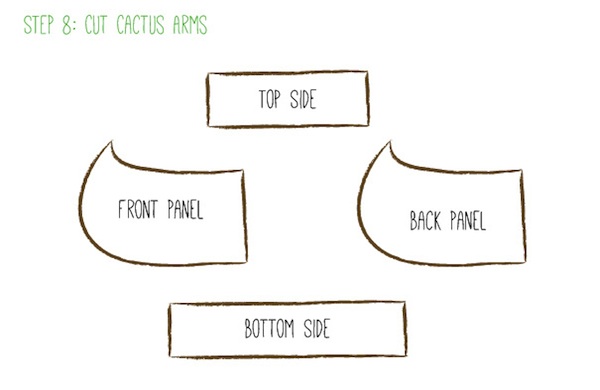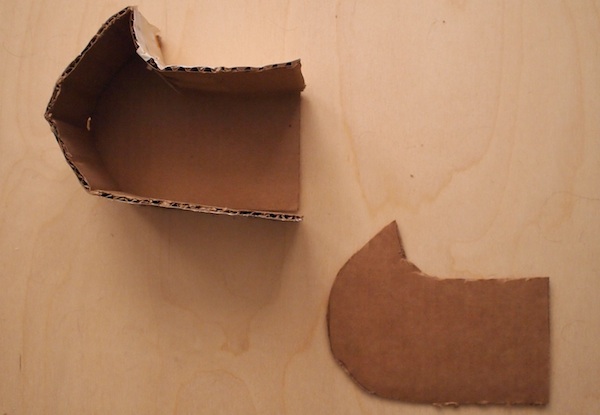 9. Tape the arms together. Then glue them to the cactus body.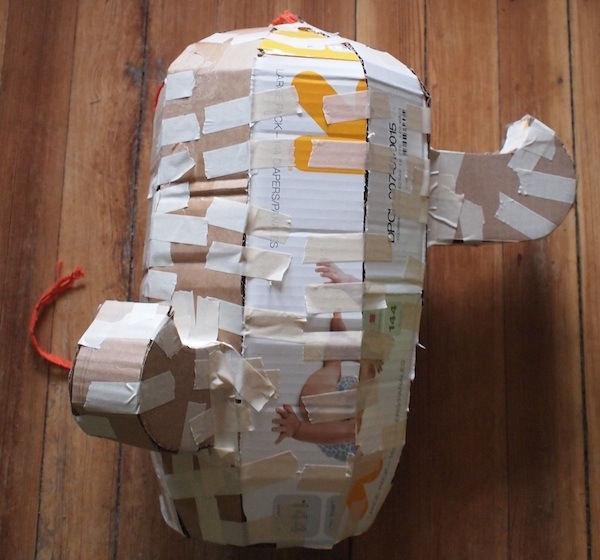 10. While you wait for the glue to dry, cut the crepe paper into fringed strips, leaving about a quarter-inch of unfringed territory near the top where you will glue the pieces to the cactus. This might seem like a lot of work, but it goes fast if you stack multiple strips together before you cut. Repeat until you have enough to cover your cactus.
11. Once the glue on the arms has dried, liberally tape them to the body for extra sturdiness.
12. Now you're ready to add the fringe! Start at the bottom, gluing the fringe in overlapping rows. You will have to make some strategic cuts for the arms, but I have faith in your abilities. When you get to the top, it becomes difficult to wrap long strips of fringe. I ended up just cutting single pieces of fringe and gluing them down for the last few rows.
13. You're almost there! The final step is adding the flowers. This step is optional, but it's the one that will really make people "ooh" and "aah" over your creation and secretly hate you for being so crafty. (This is what you want.)
Glue two cupcake liners together with the colored sides facing out. Then cut your own shapes to make the flower center. You can even go wild and cut fringe into them or bunch up bits to make daffodil-like shapes.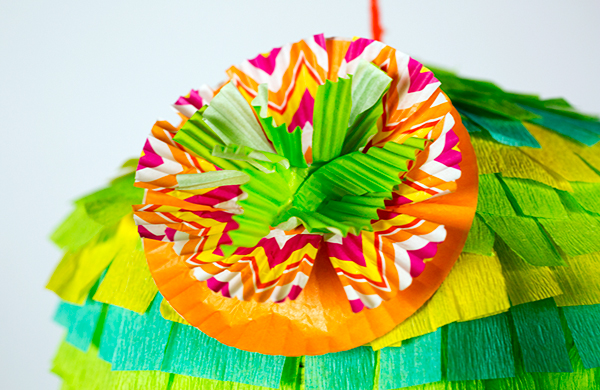 Finally, glue the flowers onto the arms and the top of your piñata, and there you have it! The only thing left to do is step back, admire your creation, and wait for your friends to smash it to pieces.
Video and top two photos: Andrew Nawrocki, Groupon; all other photos: Jessica Duff, Groupon
BY: Jess Snively
Jess is an avid DIYer and the founder and artisan behind Milton and Margie's Soy WaxCandles.