This Is What It's Like to Get an Infrared Body Wrap
BY: Favin the Maven |
Dec 15, 2015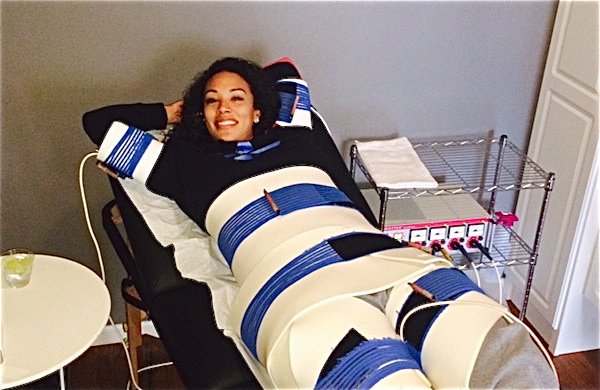 I've been seeing infrared body wraps on Groupon for years, but I'd never actually sought one out until this week. They always sounded great, though—like a mix of getting hugged and sunbathing. So I was excited to head to Divine Grace Skin Spa (2120 S. Halsted St.) to try a Formostar-branded infrared body wrap. Divina Condemi, the owner, said I'd burn calories and be measurably slimmer by the time the treatment was over. And that any slim-down would be prolonged if I maintained a healthy diet afterward.
"For the best results, you won't go home and eat a cheeseburger," she said.

It all sounded doable, but I was still a little nervous. After all, I was about to place myself in what—based on its name—sounds like a roasting cocoon. And Divina had told me not to wear a hoodie with a zipper because metal conducts heat and would get uncomfortably hot during the wrap.
Before
When I got to the spa, Divina assured me that infrared wraps are more sweaty-hot than burning-hot. According to Divina, the key to how they work is the type of heat used—it comes from infrared light, which has wavelengths that are supposed to penetrate skin and may help break down fat. That's what sets infrared wraps apart from most other therapeutic wraps, Divina said. Typically, those wraps help more with detoxification.
But infrared wraps can detoxify, too. When I heard all that, I was ready to go. Divina took my "before" measurements, and I headed into the treatment room.
During
When I lay down on the bed in my sweats, I discovered that the body wrap consists of large pads, not an adult-size swaddle blanket made of space-suit material. Divina velcroed a total of six silicone pads around me: one on each of my arms, one on each leg, and two around my middle. They were snug but not skintight—according to Divina, it was mostly important for them to be touching my body.
After that, she dimmed the lights and left me alone for an hour. For the first 40 minutes or so, it felt great. I laid back, relaxed in the warmth, and—since I could move my arms—deleted hundreds of pictures from my phone. Now I have room for a new iPhone update!
The last 20 minutes, though, it really started to get hot. My back got so toasty, I had to adjust how I was sitting to get some relief. I thought I wouldn't be able to feel the heat through my thick sweats, but I'm pretty sure I would have been able to feel it through a brick wall.
After
Afterward, I felt hot and sticky. And a tiny bit hungry, though Divina said that's normal. The amount of calories you burn during a treatment is supposedly the equivalent of a serious meal. Like, a burger and fries. And another burger.
Those weren't the only physical results. When Divina measured me a second time, I had lost half an inch from my waist and an inch from around my butt. I can't wait to see if the inch-loss lasts and what happens during my next visit—I bought a six-pack of wraps, so I'm going back in two days. I'll keep you guys posted!
BY: Favin the Maven
For me, both beauty and fashion need to be accessible and not intimidating. I love a great deal and a good DIY beauty treatment. I pride myself on trying new trends, being open minded and getting a great treatment without breaking the bank. In the name of beauty I will try anything once.