This Kids' Musician's Home Is as Cheery as Her Songs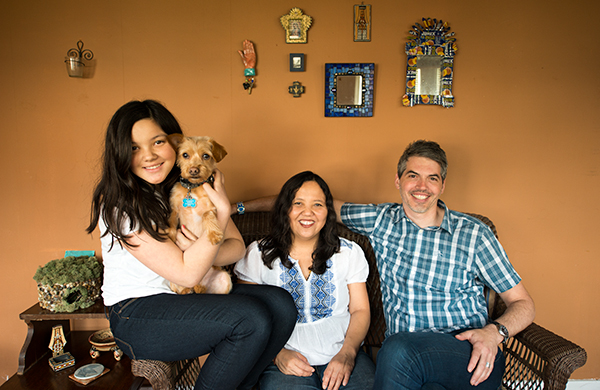 For once, it was Little Miss Ann who needed cheering up. Early last year, children's musician Ann Torralba, who's made a career out of making kids smile with her upbeat songs, was released from the hospital following treatment for uterine cancer. Her friends were worried about how she'd react when she got home. Fearing her bedroom might hold too many negative associations related to her diagnosis, they decided to redecorate.
Out went the old color scheme, and in came new bedding, calm gray walls, and bright yellow and red accents. Their goal was to change the energy of the room, to infuse it with a positive vibe so that Ann could have a peaceful recovery. The effort paid off. Inspired by this gesture, Ann started work on her fourth album, Follow Me, which was released May 1 and is filled with messages of hope and love.
Though the rest of the house may not have been deliberately designed to radiate positivity, it too feels cheerful. From a royal-blue bedroom to a tangerine wall on the back porch, vivid colors pop up everywhere in the Hermosa home, which Ann shares with her husband, Patrick Milani, their 12-year-old daughter, Liv, and their dog, Archie.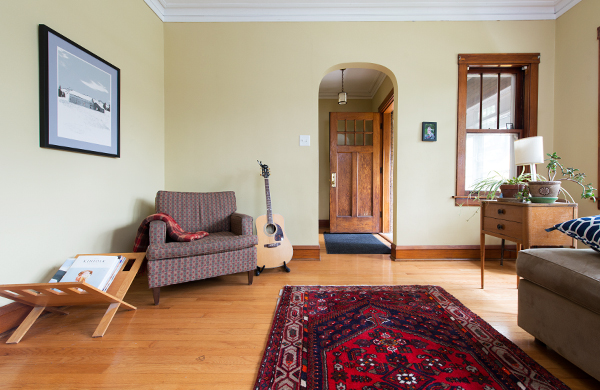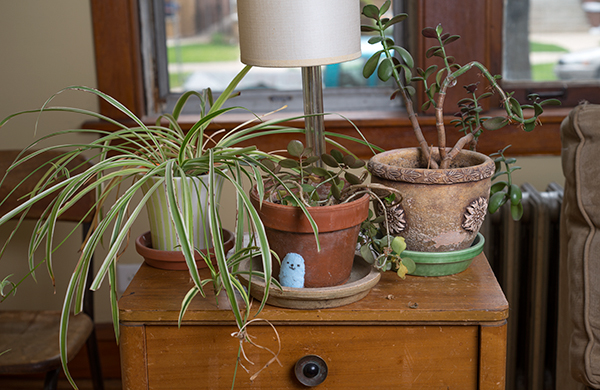 A 1927 bungalow, the house has a classic railroad-style layout and lots of dark woodwork. Despite the popularity of open-concept designs that combine kitchen and living spaces, Ann embraces this more old-fashioned look. "Patrick and I aren't 'knock this wall out' and 'build an addition' type of people," she says. Instead of making the space bend to their will, Ann and Patrick work within it, filling their home with simple furnishings and creative flourishes that keep it from looking stale or dated.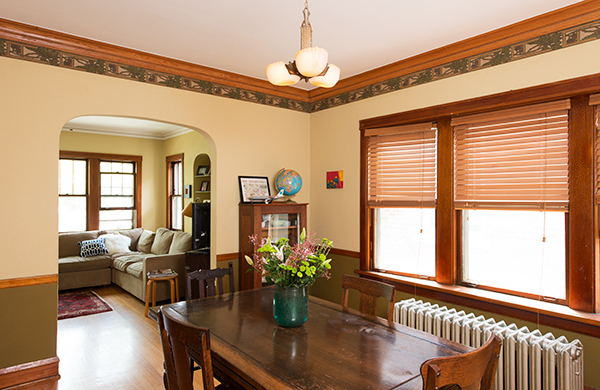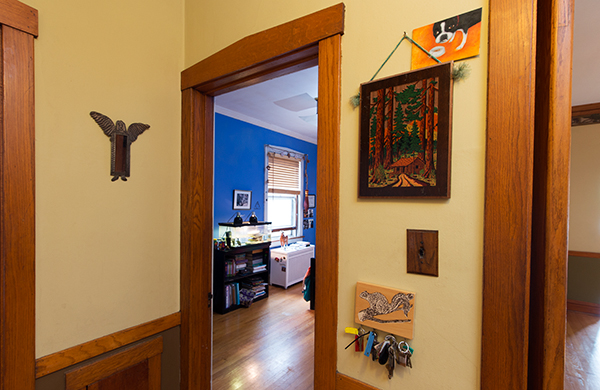 Ann describes their home as quirky—she points to a kitschy wooden key holder in the back hallway—and uncluttered. Patrick gets credit for the uncluttered bit. (But just because he's neat doesn't mean he's uncreative. He not only plays drums for the Little Miss Ann Band, but also helps compose songs and designs the band's album cover art.)
Given her parents' artistic inclinations, it's no surprise to see Liv's paintings and objets d'art showcased around the house, from a mossy fairy house on the back porch to a tiny felt bunny on her parents' nightstand.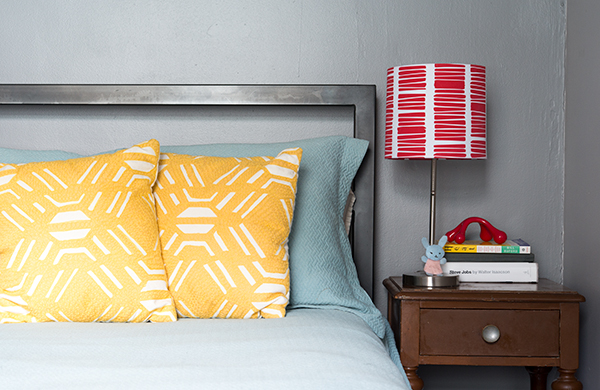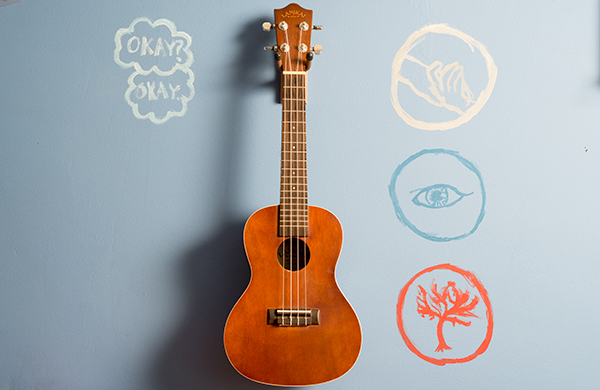 Liv's also started playing music—she sings and has commandeered her mother's ukulele, which now hangs in her bedroom. Don't get the wrong idea, though: the trio isn't the second coming of the Partridge Family. "All three of us usually don't play together," Ann says.
Still, she insists that "music is a huge part of our family," which is clear just from looking around. You're never far from a guitar in the home. We saw two in the master bedroom and one in the living room, next to a cozy, worn-in armchair Ann says is one of her favorite spots to play.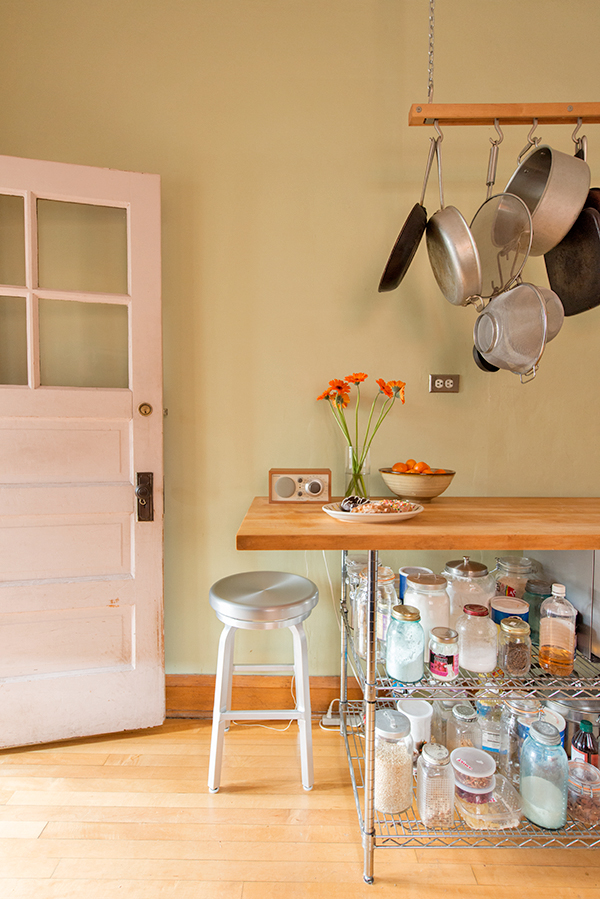 Her favorite spot in general, however, is the kitchen. "I love to cook almost as much as I love to play music," she says. We didn't test her cooking skills, but her taste is indisputable. We arrived to find a plate of Stan's Donuts on the kitchen's wood and metal island, their colorful sprinkles playing nicely with the sage-green walls, some bright orange gerbera daisies, and a bowl of clementines.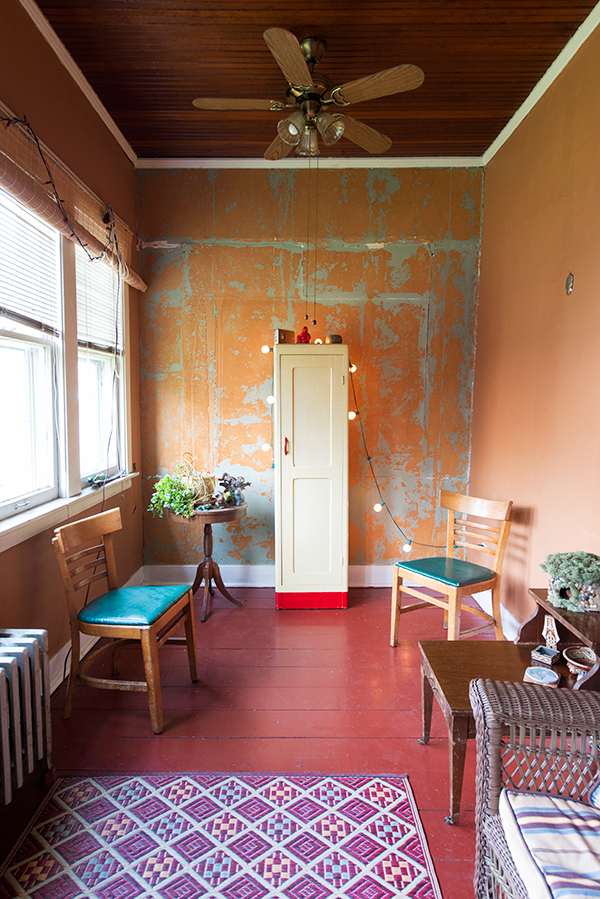 When the family entertains, it's usually in the kitchen or on the back porch, which is accessible through a door in the kitchen. The space out there is sparsely furnished: just a simple wicker couch, a patterned rug with a bold purple color, and a few chairs. Twinkle lights, colorful wall hangings, and an unfinished wall with a patinaed look help create a luxe bohemian vibe.
It's easy to imagine relaxing out here, looking out onto the backyard at a peach tree heavy with fruit, and listening to Ann sing, perhaps something from Follow Me. "I've got some hope, oh how it grows / I've got some hope springing from me / Gotta let it out," she sings on "I Got a Light." If her home is any indication of her state of mind, the rosy words are easy to believe.
Looking for more home decor inspiration? Check out Groupon's local interior design deals.
Photos: Andrew Nawrocki, Groupon