This Renowned Hairstylist's Home Proves Minimalism Isn't Everything
BY: Emily Donelan |
Feb 21, 2014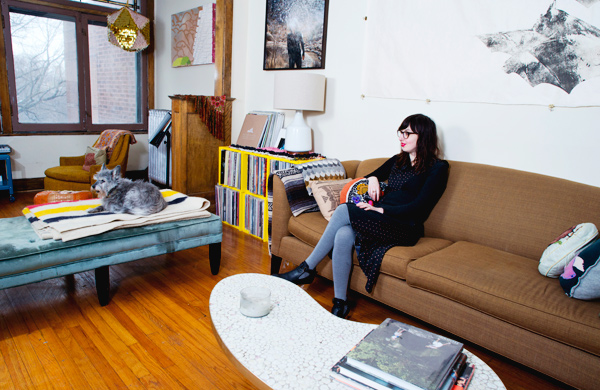 When she's not cutting hair for super-blogger Tavi Gevinson, Sparrow co-owner Bathsheba Nemerovski retreats to a one-bedroom apartment full of records, books, and art. Like, really full.
Bathsheba Nemerovski, the co-owner of the fashionable Logan Square salon Sparrow, earned a devoted following in part by delivering simple cuts that were easy to maintain. But when it comes to decorating her home, she prefers to go over the top. She's shooting for what she calls "maximalism": "I want there to be a lot of color and texture, and something pretty to look at wherever you lay your eyes."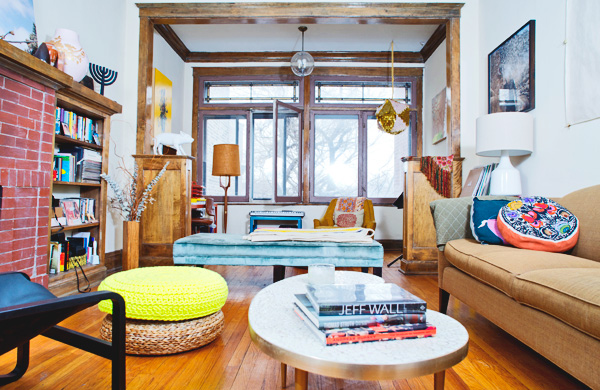 Inside the one-bedroom apartment she shares with husband John and dog Lolie is a seemingly endless supply of pretty somethings. In the living room, giant windows shed light on a long, pale blue velvet ottoman, a simple brown sofa from Room and Board, and a sleek Blu Dot black leather recliner. These somewhat subdued furnishings provide a simple backdrop for colorful and textural accessories such as a cream wool camp blanket, a soft springbok fur, and a neon yellow crocheted pouf.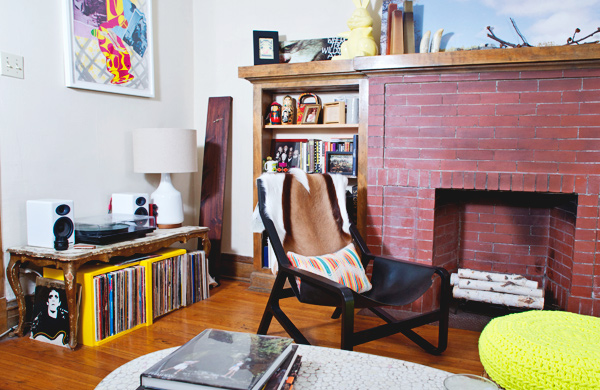 More yellow in the dining room injects some cheerfulness into a space dominated by a midcentury-style table with Thonet legs. The table's simple lines play well against a diamond-shaped, gold-foil piñata hanging from the ceiling, a string of amber Christmas lights framing the windows, and a pastel yellow bike resting against the windowsill.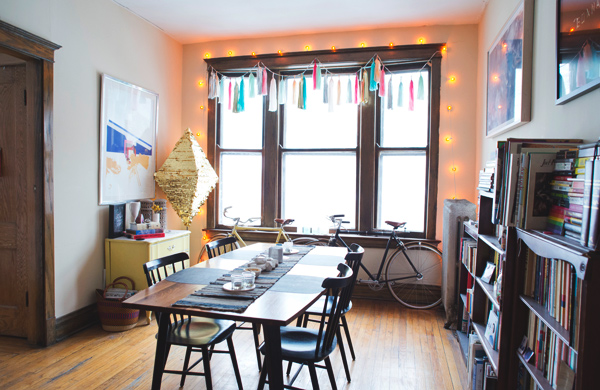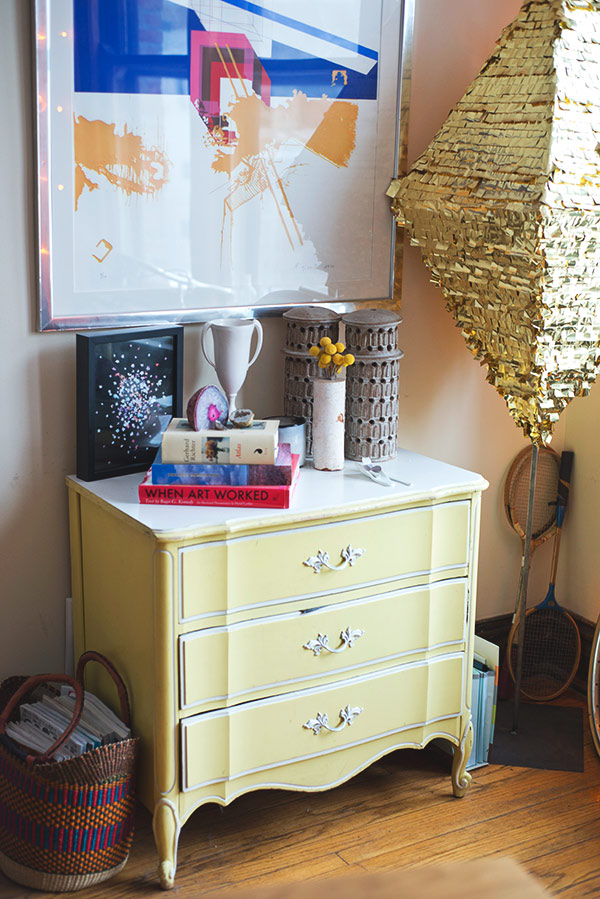 Buttercup yellow record boxes also brighten the apartment. Custom-made to house the couple's record collection, the boxes now pull double duty wrangling Bathsheba's books. "I love to read and be surrounded by books. I've schlepped them from apartment to apartment over the years, and sometimes been like, 'Why do I have all these? They are heavy!' But when it comes down to it I couldn't live without them."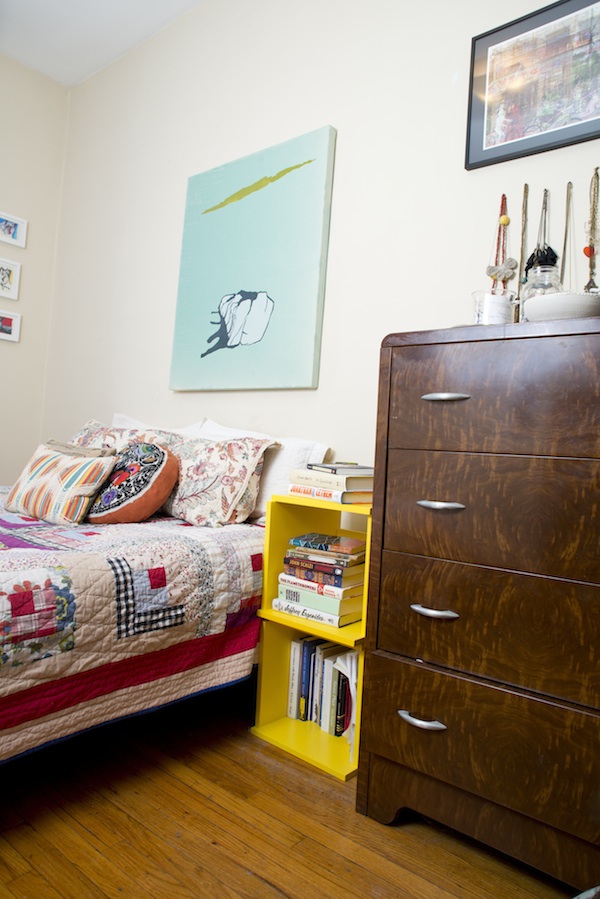 So she lives with them everywhere. The new Michael Chabon lies on a couple record boxes doubling as a bedside table, novels line one wall of the dining room, and a Jeff Wall photography book sits on a kidney-shaped table in the living room. Books aren't the only thing Bathsheba collects. Over the past eight years she's built quite a stockpile of art, often by trading haircuts for photographs and paintings. She owns works by Leslie Baum, Adam Scott, John Opera, Stephen Eichhorn, Ken Fandell, and Todd Simeone. Though Bathsheba balks at naming her favorite piece, she proudly shows off the newest addition to her collection: a polaroid of the kiss in
Edward Scissorhands
by the artists Jane & Jeremy, a Valentine's Day gift from John.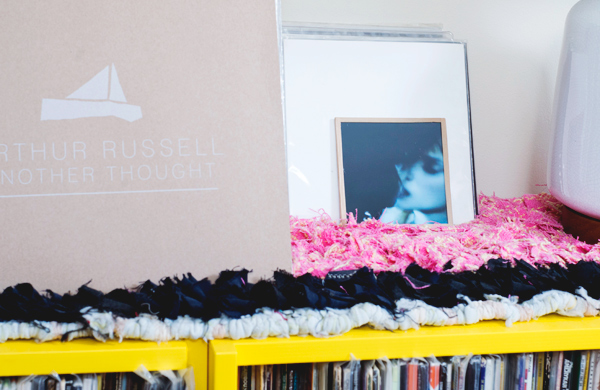 Between the art, books, blankets, fur, records, and furniture, there's a lot going on inside this one-bedroom. But instead of feeling chaotic, the space feels curated. Still, it's not as if Bathsheba stresses if one little thing gets out of place. "I used to want it to look perfect, like a photo in a design magazine," she says. "Now I prefer a more relaxed, lived-in look and feel." And that's exactly what this apartment is: lived-in. A self-proclaimed homebody, Bathsheba seems immune to cabin fever, saying, "When it's nice out in the summer I feel like I should go out and do something, but really I don't want to. I just want to stay home and read and hang out with my husband and my dog. So when it's cold I have a great excuse for staying in, and I don't have to feel guilty!"
Photo: Tim Burkhart, Groupon