This Small Local Coffee Roaster is Doing Just Fine, Thanks
BY: Nathalie Lagerfeld |
Jun 12, 2013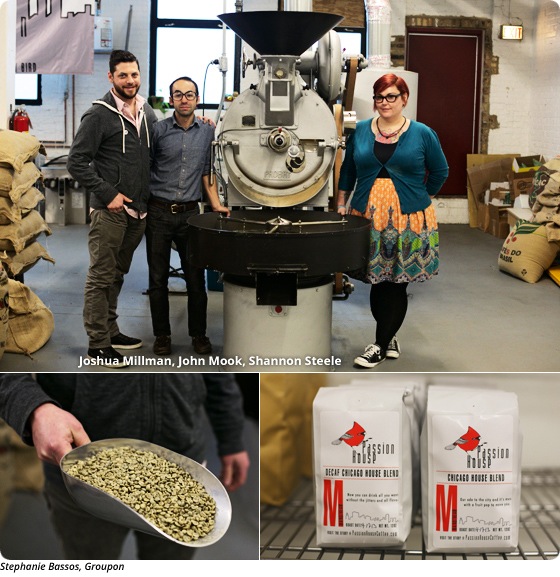 Why Passion House Coffee Roasters doesn't need your hype.
In 2013, Chicago has seen a rash of new coffee roasters:
Gaslight
in Logan Square,
Bow Truss
in Lakeview, and
HalfWit
in Wicker Park. They were blogged about, buzzed about, and tweeted about by foodies all over the city. If these newborns had any older siblings, they might have been forgiven for feeling a bit jealous of all the attention. (Or maybe even threatened by it, if you believe
one former Grub Street editor's claims
about the food world's cycle of boom-and-bust hype.) But at
Passion House Coffee Roasters
in the West Loop, one of those older siblings is still sitting pretty. For these lifelong coffee connoisseurs, roasting beans has always been about more than just keeping up with the hype. "If that's a trend, then I've been trendy my whole life," said founder Joshua Millman, who honed his craft at
Caffé Calabria
in San Diego. Instead, the roaster's respite from blogosphere attention has been a chance to build on Passion House's strengths. Millman recently hired a new sales representative to handle increased demand for beans, and he is also scouting locations for a brick-and-mortar café. As Passion House increases its quantity, the staff makes sure not to sacrifice quality. Green buyer and brew specialist Shannon Steele continues to refine the taste profile of the brews, which she wants to be "clear" like fresh mountain air. Under her supervision, a refurbished UG-15 Probat roaster—amply photographed in the
Chicagoist feature
about Passion House's opening in 2012—transforms burlap sacks of green, unroasted beans into fragrant, dark brown coffee. Pacing the roast takes careful attention. Steele often listens to ambient music, such as that of Brian Eno, to help keep up her concentration as she works. According to blogger Kevin Sinnott, who maintains
Coffee Companion
, this attention to detail pays off in the subtelty of the coffee's flavor. For instance, many espressos sound only one flavor note—chocolate—but Passion House's complex Warehouse espresso goes further. "It has sweet notes cradling your tongue as it swirls," Sinnott said. "It's also light enough to keep away from the burnt notes of many roasts." He advocates sipping the beverage sans sweetener to better savor its light notes of cinnamon and almond. But it's not only in matters of taste that small-batch roasters may have an edge—in some ways, the business climate favors them, too. A growing emphasis on localism means that many cafés, gourmet markets, and restaurants are willing to take a chance on smaller brands. "I didn't want to use Intelligentsia," said Scott Weiner of the Fifty/50 Restaurant Group, whose
West Town Bakery & Diner
brews Passion House coffee. "I really enjoy
Intelligentsia
, but everyone uses it." Instead, he asked around for a recommendation for a smaller roaster who could give more personalized service. Scott said he liked having a supplier that was "just a phone call away." As for those other roasters, Passion House sees them more as a community than as competition. When we spoke, Steele was set to participate in a panel at the
Chicago Roaster Jam
, which Passion House co-organized with HalfWit and New Gotham, a group for Chicago coffee professionals and enthusiasts. Besides a panel discussion, the event included a blind cupping of coffees by 10 different local roasters so that participants could "taste their way through Chicago," Steele said. She seemed to welcome the prospect of being around other people who loved coffee as much as she did. "There are a lot of charlatans of sorts, who are [roasting coffee] because it's cool," she said. "But for some of us, it's our way of life."
BY: Nathalie Lagerfeld
Guide Staff Writer
Nathalie is a writer and editor on the Guide's food team. Originally from Virginia, she now lives in Chicago, where she regularly indulges her love of tortas, bibimbap, and Cheez-Its. Follow her on Twitter @maviswillsaveus.