This Year, Get Her a Stocking Full of Soap and Flasks
BY: Kelly MacDowell |
Dec 23, 2013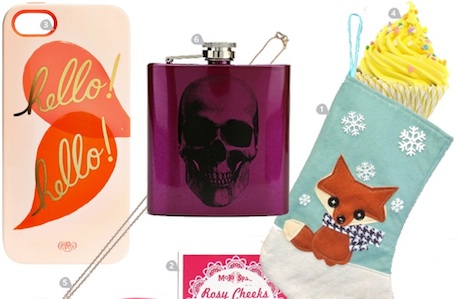 It's not too late to surprise your friend or partner with these goodies from local stores.
Word to the wise this holiday season: don't overlook the stocking. Though a huge gift under the tree is always exciting, a well-chosen stocking stuffer has the potential to be an even bigger surprise for the special lady on your list. As for what to buy, the best stocking is an eclectic one. Gather items that appeal to both her nice and naughty sides—the lavender-infused cheek stain below can lend her face an angelic glow, even when she's touting a flask with a skull on the front. And best of all? Nothing here breaks $40.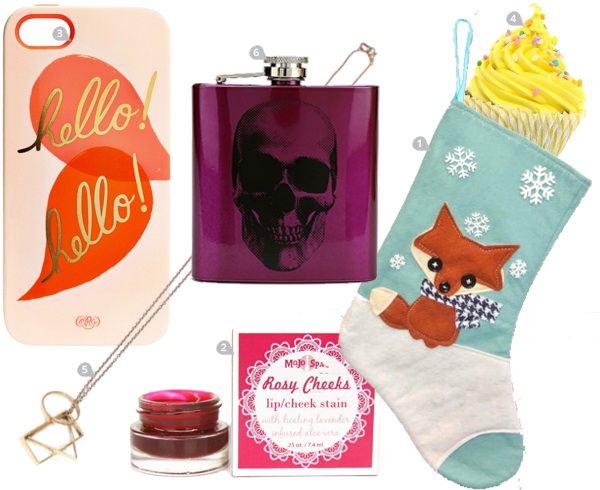 1.
Fox Christmas stocking in aqua blue
; Allenbrite Studio ($25) 2.
Rosy Cheeks lip and cheek stain
; Mojo Spa ($15) 3.
Hello Hello iPhone 5 + 5s case
by Rifle Paper Co.; Greer Chicago ($36) 4.
Lemon-chocolate cupcake soap
; Mojo Spa ($12) 5.
Shapes charm necklace
; Penelope's ($25) 6.
Skull flask
; Urban Outfitters ($18)
BY: Kelly MacDowell
Kelly's first concert was Fleetwood Mac and her first career was in the beauty industry. Now a style and music writer, she loves Project Runway and her dog, Watson.