Three 6 Mafia's DJ Paul Made Us this Summer BBQ Playlist
BY: Dan Caffrey |
May 20, 2014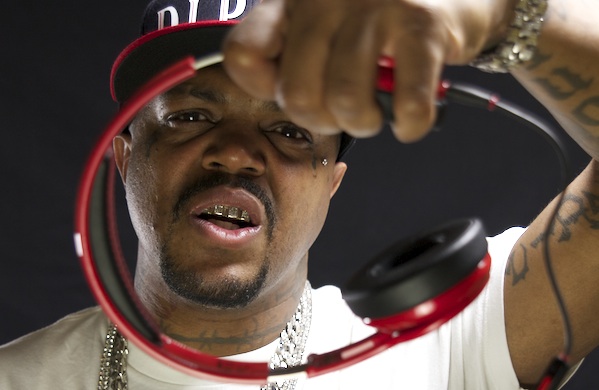 Chalk one up for California: when the sun shines year-round, grilling season never ends. At least, not when you're
DJ Paul
, the Memphis native and one half of the brain trust behind rap group
Three 6 Mafia
. "I barbecue every day at my house in L.A.," says the Oscar-winning DJ, whose love of grilling goes far beyond just cooking and eating the food. He recently endorsed his own barbecue
sauce
and
rub
, and even posted several of his own
recipes
online. With grills across the country finally catching up to the Golden State's, we asked Paul to combine his love of southern cooking and music by creating a barbecue playlist. As it turns out, he's already got his mix-crafting down to a science. "[My song choices] depend on the party I'm barbecuing for," he explained. "If there's more of my black family there, we'll be playing a little more soul. But if it's my neighbors in L.A., or younger white kids, or kids from Europe and different places I hang out in, I'll go with the '80s or even a little bit of techno." For our playlist, he included all three genres. The result is unlike anything we expected.
1. "Walk On By," Isaac Hayes
"We like to listen to '70s R&B and soul music, especially from Memphis, like your Isaac Hayeses."
2. "Let's Stay Together," Al Green
"...And your Al Greens. [H]e's got so many ones I love. I got all of 'em though."
3. "The Reflex," Duran Duran
"A lot of the other ['80s] guys were just one-hit wonders. [Duran Duran's] got four full hours I can listen to."
4. "Walhalla," Gouryella
"Tiësto: that's my man. I actually did a song [with him] called
'Feel It,'
and that was one of the first EDM rap songs. We did that with Three 6 Mafia."
5. "Jody's Got Your Girl and Gone," Johnnie Taylor
"My mama was a big fan of all the Stax guys. She likes Johnnie Taylor. I don't remember if he was on Stax or not. But she was the biggest Johnnie Taylor fan."
6. "How Blue Can You Get," B.B. King
"She loves B.B. King too."
7. "Everybody Wants To Rule The World," Tears For Fears
"Anything by Duran Duran, anything by Tears For Fears. Those are my favorite ['80s] groups."
8. "Electric Barbarella," Duran Duran
"They start off with these army drums, like an army march. It's about outer space or Mars or some crazy shit."
9. "Way More Brazil," Diplo
"I love Diplo. I could go on for days on techno. [At a barbecue], people are talking, so it's good to just have some instrumentals—roll 'em in the back."
10. "Ike's Mood," Isaac Hayes
"[Is it] 'Ike's Groove?' I don't know a lot of names of the songs. I just know how they go."
DJ Paul's latest musical project, Da Mafia 6ix, consists of five of the six original members of Three 6 Mafia. Their debut mixtape,
6ix Commandments
, is currently available through iTunes for $4.99.
BY: Dan Caffrey
Guide Staff Writer
Outside of Work, Dan is a playwright, Senior Staff Writer for Consequence of Sound, and contributor to The A.V. Club.