Three Outfits to Celebrate the Outbreak of Beatlemania
BY: Michelle Schuman |
Jan 17, 2014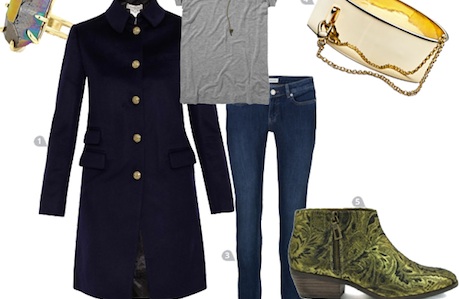 Fifty years ago this month, the Beatles released their first album stateside. Mark the occasion with looks inspired by the band's mod-turned-psychedelic-turned-hippie style.
Most people over 55 can tell you exactly where they were when the Beatles first stepped onto Ed Sullivan's stage. With nearly half the country watching, the performance solidified the band's place as leaders of a pop-music revolution. But one month before the British Invasion "officially" began, Americans were already shaking it to "Please Please Me" and "Twist and Shout"—hit singles from the first Beatles album released stateside.
Introducing … The Beatles
first dropped on January 10, 1964, and spent nine weeks at No. 2 on the Billboard charts as Beatlemania infiltrated American radio stations. To celebrate the prolific band's American debut, here's a trio of looks inspired by three distinctive Beatles albums. (Fun fact: January 17 marks the 45th anniversary of the
Yellow Submarine
album release.)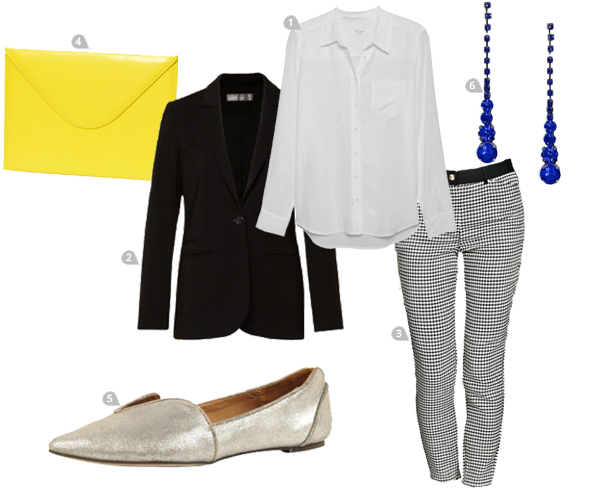 The Look: Introducing … The Beatles
Album release date: January 10, 1964 By balancing clean lines and British-inspired houndstooth, this androgynous outfit reflects the band's mod roots. A neon clutch, blue earrings, and metallic ballet flats add pops of color, ensuring the outfit keeps time with present-day trends. 1.
White shirt
; Intermix ($208) 2.
Long blazer
; House of Fraser ($245) 3.
Houndstooth trousers
; Mango ($69.99) 4.
Neon clutch
; Edith Hart ($150) 5.
Silver flats
; Lori's Shoes ($88.95) 6.
Drop earrings
; Body Central ($5.90)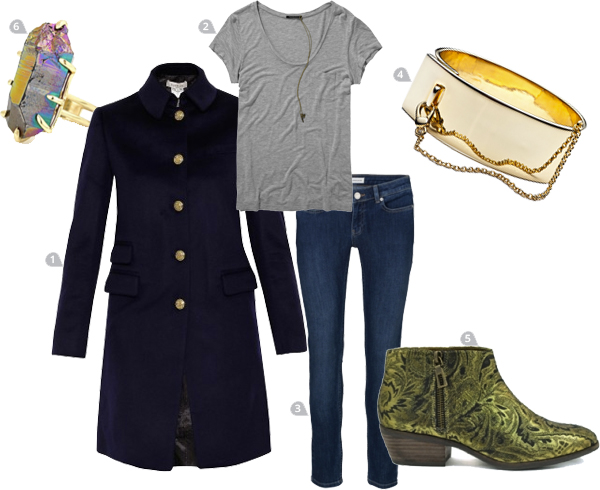 The Look: Sgt. Pepper's Lonely Hearts Club Band
Album release date: June 1, 1967 This album's art took a rather psychedelic turn, one that's paid homage here with kaleidoscopic accessories and a military-style coat. To keep things from getting costumey, swap gold-tasseled epaulettes for a sophisticated cuff bracelet and technicolor pants for a neutral tee and jeans. 1.
Military coat
; Boutique 1 ($596) 2.
Gray T-shirt
; Scotch & Soda ($45) 3.
Cropped jeans
; Penelope's ($188) 4. 
Chain cuff
; Intermix ($315) 5.
Gold boots
; Very Volatile ($74.99) 6.
Purple Haze ring
; Vanessa Mooney ($325)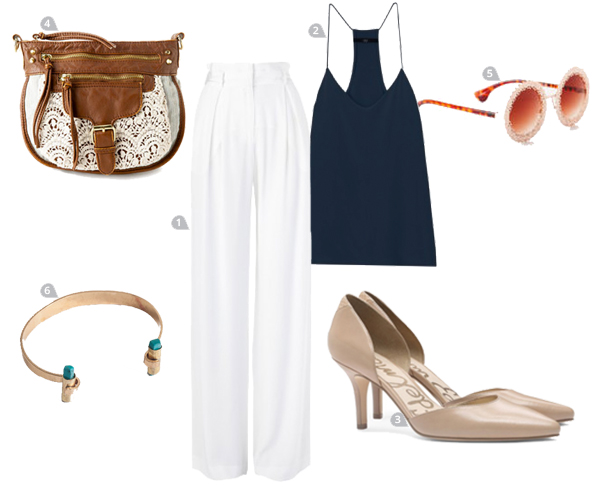 The Look: Abbey Road
Album release date: September 26, 1969 By the time the Beatles released their now best-selling album, they'd traded their slim-cut suit pants for bell-bottoms. Mimic the look with sophisticated wide-leg trousers the same color as John Lennon's, and a feminine cami that matches Paul McCartney's navy suit. A turquoise bangle, crossbody bag, and round shades add a subtle hippie vibe, though classic nude pumps prevent the look from feeling dated. 1.
Pleated trousers
; Sass & Bide ($350) 2.
Silk tank
; Tibi ($158) 3.
Nude pumps
; Lori's Shoes ($94.95) 4.
Crossbody bag
; Francesca's ($34) 5.
Round sunglasses
; Francesca's ($14) 6.
Bangle
; Cities in Dust ($70)
BY: Michelle Schuman
Michelle is a freelance fashion designer and dancer from Detroit. She has traveled the US extensively (and loves it!), but her biggest goal is to travel abroad.