GROUPON GUIDE TO WASHINGTON-DC
Three Summer Uniforms for When the Temperature Finally Hits 80 Degrees
BY: Favin the Maven |
May 16, 2014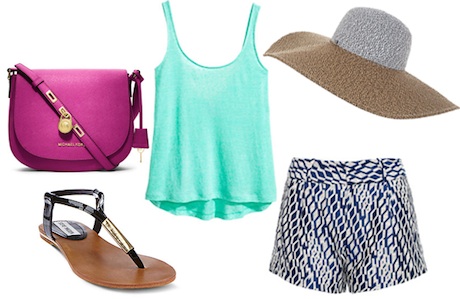 I'm a sun baby, born and raised. Growing up in Arizona, I learned to love the heat, and now that I'm in Chicago, I find that the sun recharges me as soon as I step outside. (I'm sort of like Superman that way.) It goes without saying that summer is my favorite season. I'm so excited for the thermometer to shoot past 75, I'm already daydreaming about potential outfits. So I've put together three "summer uniforms" that represent my warm-weather style: one for the beach, one for a music festival, and one for work. I can only hope they become practical soon.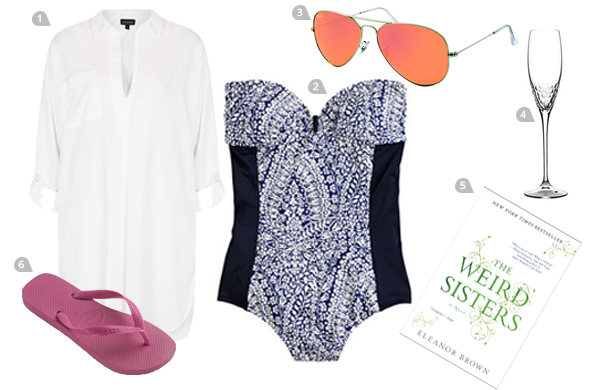 THE BEACH
I prefer one-piece bathing suits and billowy cover-ups for a day on the sand. Also, a good book and
a good drink
 are must-haves. 1.
White cotton beach shirt
; Topshop ($56) 2.
Bell floral paneled tank swimsuit
; J.Crew ($110) 3.
Aviator flash lenses
; Ray-Ban ($170) 4.
Wedgwood sequin flute
; Vera Wang ($45) 5.
The Weird Sisters
by Eleanor Brown ($12 at Target) 6.
Top flip-flop sandals
; Havaianas ($18)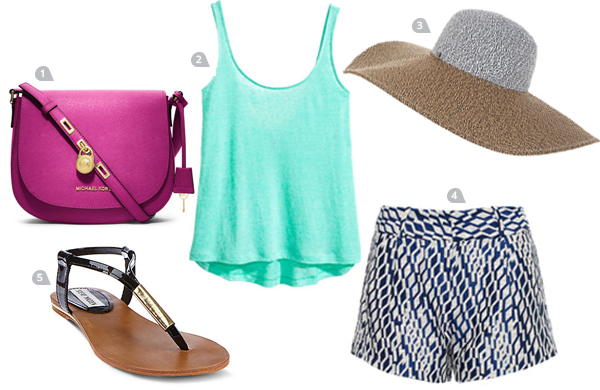 MUSIC FESTIVAL
A big hat and sunscreen keep me protected for a day of standing in the heat, and a crossbody bag means my hands are free for dancing or drinking a refreshing beer. As for the rest of the outfit, comfort is the name of the game. 1.
Large Hamilton crossbody messenger bag
; Michael Kors ($248) 2.
Jersey tank top
; H&M ($9.95) 3.
Chic floppy hat
; BCBGMAXAZRIA ($58) 4.
Tulip short trouser
; Joe's ($148) 5.
Hamil sandals
; Steve Madden ($49.95)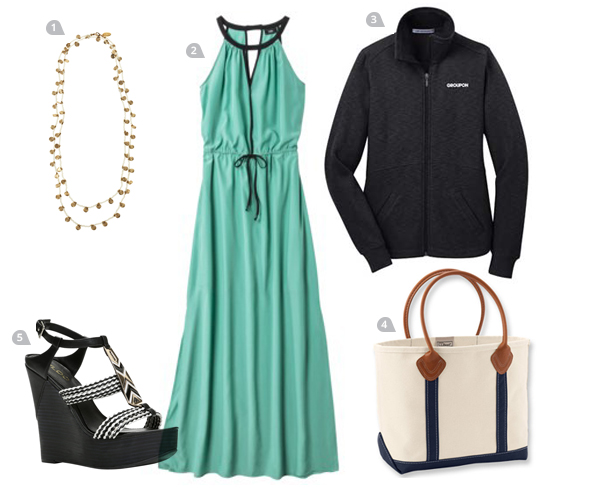 WORK
I
live
in maxi dresses during the summer. After a casual day at the desk, you can dress one up with some heels for a post-happy-hour party. At the office, though, a classy necklace and some patterned wedges are all you need to give this outfit its standout factor. 1.
Cara Couture seed beaded coin necklace
; Everything But Water ($38) 2.
Mossimo halter maxi dress
; Target ($20) 3. Groupon track jacket; Groupon (I get one for working here!) 4.
Leather handle Boat and Tote II
; L.L.Bean ($49.95) 5.
Gweasien wedge sandals
; Aldo ($90)