Three Ways to Learn a New Language for Free
BY: Leslie Seaton |
Aug 8, 2014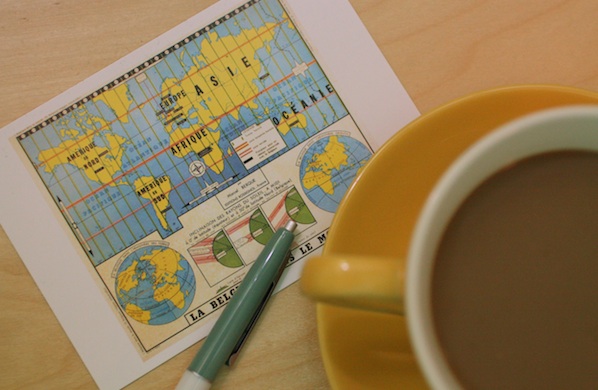 As if conjugating verbs wasn't daunting enough, language lessons often come with a hefty price tag. But did you know there are a number of resources in Seattle where you can learn a new language for free? Below, we broke down a few to help you choose the one that best suits your experience level and learning style.
If You're Just Starting: The Library
Flipping through language books may evoke flashbacks to freshman French class, but that's not your only option at the library. Both the Seattle Public Library and the King County Library System give cardholders free access to online learning system
Mango
, which offers lessons in 63 languages, including French, Spanish, Mandarin, Yiddish, and Urdu (there's even a surprisingly robust lesson in Pirate). The lessons are interactive and self-paced, and they focus on learning through conversations and context, rather than dry grammar instruction. To use, simply log in through the library website using your card, then create a personal Mango account to track your progress through each course. For kids, the Seattle Public Library offers access to
Muzzy
, an online children's program that offers instruction in 10 languages. The King County Library System's kids' program, meanwhile, is
Little Pim
. It offers a similar range of language options and, like Muzzy, focuses lessons around animated videos and vocabulary. Both library networks also host live world-language storytimes for little ones in Spanish, Somali, Vietnamese, Hindu, and Russian, among others. Check out each library's events page for schedules.
If You're Ready to Perfect Your Accent: Language Groups
Online programs are great for establishing a foundation, but the best way to hone your developing language skills is through real conversation. Luckily, there are several meet-ups and conversation circles around Seattle where you can interact in your language of choice. Practicing French speakers—and foodies—of any level will enjoy the French Conversation Table at
Café Presse
(1117 12th Ave.). Held every other Wednesday from 4 p.m. to 6 p.m., the event is facilitated by Yasmina Mobarek, a native French speaker who has taught at the University of Washington and Seattle Pacific University. The conversation is free and happens to coincide with Café Presse's Vin Expresse—a "Paris-style" happy hour. So you can enjoy some pork confit and well-priced wine with your French chitchat. Chalk it up to research. Meanwhile, French, German, and Spanish speakers will find a dedicated group of conversationalists at
Third Place Commons
(17171 Bothell Way NE, Lake Forest Park). According to director Constance Perenyi, the pace of these groups makes them best for more practiced, intermediate-level speakers, but they are very welcoming to newcomers. The German group generally meets on Monday evenings, French on Tuesdays, and Spanish on Thursdays, but it's best to check the
Third Place Books calendar
as they do not always meet every week. Internet stalwart
Meetup
also lists a variety of active language groups in Seattle. The large
Seattle Spanish Society
hosts a fun, loose weekly Sunday-night meet-up at
Barca
(1510 11th Ave.) in Capitol Hill. The evening is open to advanced Spanish speakers and beginners alike. You can also find active Japanese, Italian, German, and Korean groups on the website. A few of the groups ask for a small annual membership contribution ($5–$15), but this might be voluntary or something you can wait to pay after you've gotten a feel for the group and made certain it's a good fit.
If You Just Want to Order Without Fear: Language Classes for Travelers
If you're thinking of learning a language for an upcoming trip to Europe,
Rick Steves' Travel Center
(130 4th Ave. N, Edmonds) regularly schedules free 90-minute language classes along with its general travel curriculum. The lessons won't make you fluent, but they can help you pick up a few key phrases in Czech, German, Swedish, Turkish, or Spanish so you can confidently order off a menu or ask for directions. Italian instructor Graz Palumbo-Perry is especially popular for her fun and engaging style; her two-part Beginning Italian for Travelers often fills up fast, so be sure to register early.
BY: Leslie Seaton
Leslie Seaton runs the website Fresh-Picked Seattle, a comprehensive calendar of local food, free, and nature events. The site was started in December 2008, and in the past five years, she's hand-picked and listed thousands of local events – and attended hundreds of them herself! If you want to know when and where to go to learn Thai cooking, hear an author talk, take a kayak class, attend a free wine tasting, or a variety of other fun local activities, she's the person to ask.