Tips for a No-Excuses Dinner Party from a Chicago Catering Chef
BY: Kelly Taylor |
Jun 7, 2013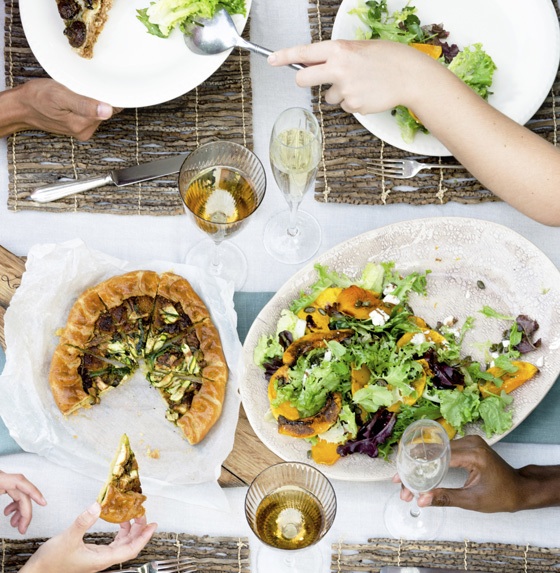 "People are craving a connection," says
Cooking Chicks
founder Vanessa Moses. "That's what's so important about dinner parties—they're the perfect way to make these reconnections." Food brings people together like nothing else can; it's something "everyone loves," she says. That's part of why Vanessa started the Cooking Chicks, a women's cooking club and catering service, in 2010 as a hobby to complement her real-estate career. With no culinary-school training, she was inspired to learn how to cook easy, foolproof meals from scratch. Now, the self-taught chef's mission is to get people back in the kitchen to realize that they do, in fact, have the time, space, and energy to get social with food. "People don't really know where to start when it comes to doing a dinner party," Vanessa says. With her mission in mind and more than 75 catering and other social food gatherings under her belt, Vanessa serves up tips for bypassing these common excuses to throw the most complaint-free dinner party.
"It won't be any fun."
The party starts with the invitations. Vanessa suggests putting people in the mood for fun and food by mailing—yes, mailing—a charming invitation with a fun photo attached. "Everyone loves to get mail, and none of us do anymore—except for bills and a sad 401(k) statement. If you want to put that extra effort, it's great." Themes—such as Greek Night, Taco Night, and Goodnight Moon Night—are also great, because they allow guests to "quickly imagine what it is they're going to bring to the table," she says. Now that you've got their attention, ask your faves what they'll bring to the table—literally.
"I don't have enough time."
Vanessa suggests saving time by making the dinner party, from beginning to end, a collaborative event. "There is a false pretense of believing you don't have the time to create a successful dinner party," she says. "It doesn't need to be perfect." And it doesn't need to be a one-man show. She suggests calling up your recipe-stashing, Pinterest-loving friends and turning the planning and preparation into an event of its own, but don't overcomplicate it. Delegate tasks—such as making a simple side dish or a homemade dessert—to willing participants/friends. Do things that are attainable, Vanessa says—though you're not getting out of preparing the main entree.
"I'm no chef."
"Nobody wants to come to a dinner party and see that you have vegetable trays from Costco," Vanessa says—but you also don't need to go Martha Stewart on a beef wellington. Find a good, simple recipe online, and make it your best. "I want you to look at the food and feel that it looks homemade," she says of preparing her own dinner parties. "The fear is that it's not gonna taste good, but it's not hard to make a good, simple dish." What's most important, Vanessa says, is that you put some heart into it.
"I don't have enough space."
Vanessa, who shares a two-bedroom apartment with her husband, has a secret weapon to conquering space issues: a folding table. With no space to put a dining table, Vanessa says it was a great investment. She stores her beloved folding table snugly between the HVAC unit and the washer and dryer. When it's showtime, she clears out some furniture from the living room and dresses the table with a tablecloth. Another option, she said, is to go picnic-style. "People want to get out of the house [when it's warmer], and it's super easy for people who are space challenged," she says. Though, if you plan to take the party to the grass, make sure you design your dishes around the setting. Picnic fare should be easy to carry, like sushi, and able to withstand the great outdoors, unlike sushi. Outdoor sit-downs also lend to creating a big jug of sangria. "Get a big jug of white wine, cut up your own fruit, add sugar, and make sangria," Vanessa says. Last but not least, Vanessa suggests just making do with what you have. "Screw it—just get together, make it a little informal, sit on the couch, pull a few chairs around, and enjoy."
BY: Kelly Taylor
Guide Staff Writer
Neither foodie nor music elitist, Kelly is just an Illinois girl who believes in praying about everything and writing about everything else.