Tips for Applying Concealer Like a Pro
BY: KELLY MACDOWELL | 10.16.2013 |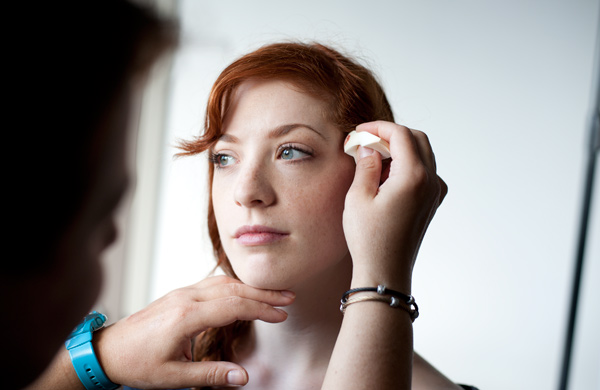 Though applying concealer is a highly nuanced process depending on your complexion issues, there are some things about it that every woman should abide by. Here, makeup artist Jackie Jozwiak shares her pro tips for selecting and applying the proper foundation, and gives her take on which pieces of makeup are worth investing in.
Choosing the Right Shade
When trying to select the proper shade of concealer for their skin tone, Jackie finds that "most people want to go a lot lighter than what they are." But if you go too light, the product you choose will act more as a highlighter than a concealer. "For concealer, you're going to want to get something that matches your skin as close as possible. Maybe a shade lighter at the most."
Blend, Blend, Blend
For many, the first step is going to be applying a layer of foundation before concealing trouble spots. Once your foundation is applied, take the skinny end of a clean, triangular makeup sponge and lightly run it over your entire face. This will help absorb any excess product and ensure it's blended evenly on the skin. When using fingers to blend concealer under the eye or anywhere that's not a blemish, only use your ring finger. It's the weakest of the fingers; a stronger touch would just wipe product away as opposed to tapping it in.
Concealer vs. Color Correctors
For more aggressive issues, you might want to opt for a color corrector over concealer. Color correctors are the ones formulated in paint-palette colors: pink, yellow, and green, to name a few. Orange color corrector, for instance, can help cancel out some of the blue visible in dark under-eye circles. Similarly, a green color corrector works to camouflage the deep red pigment in a port-wine birthmark.
Pass on Powders, Invest in Foundation and Concealer
Jackie will sometimes use a light layer of loose powder to set foundation for photo shoots or bridal clients. "But day-to-day," she says, "you really don't need all that coverage. Powder will just sit on the skin and look, well, powdery." Because so many women now favor the lighter formulas found in BB creams and tinted moisturizers, powder not only looks dated, but can age you. "Matte finishes tend to show off more wrinkles. [Powder] doesn't have as many light-reflecting capabilities."
And while the color trends for eyeshadow and lipstick come and go with the seasons, the need for a quality foundation and concealer remains constant. "If you're going to spend money on makeup, spend it on your concealer and your foundation," Jackie advises. Higher-quality formulas have ingredients that can help improve your skin over time, such as moisture-binding hyaluronic acid or plumping peptides. And who knows—taking these extra steps to care for your complexion could eventually lead to needing less concealer.
Photo: © Andrew Nawrocki, Groupon
BY: Kelly MacDowell
Guide Staff Writer
Kelly's first concert was Fleetwood Mac and her first career was in the beauty industry. Now a style and music writer, she loves Project Runway and her dog, Watson.