Too Good to Be True? How Blowtique Coifs Hair Without Heat or Shampoo
BY: Sara Tremblay |
Apr 17, 2013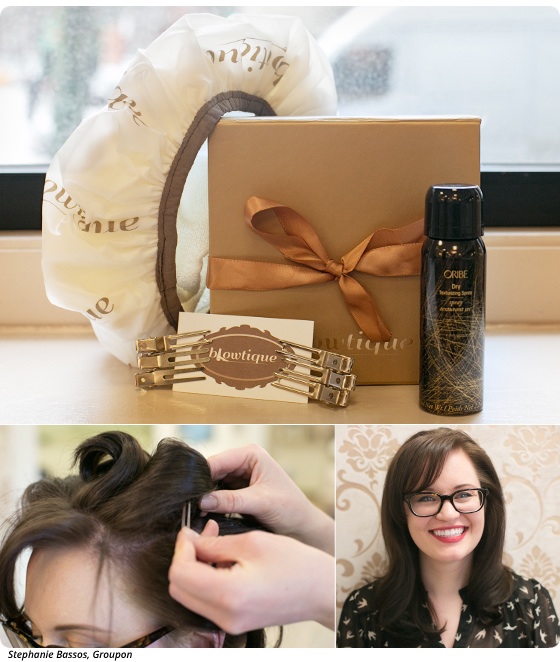 In Europe, weekly blowouts were a typical part of Fiona McEntee's life. So when the Dublin native and part-time attorney moved to Chicago, she was gobsmacked by the hefty price tags—some peaking at $75—on what she considered to be a basic salon service. Fiona, who spent much of her childhood in salons owned by her mother, decided to remedy the problem herself by establishing her own blowout-only salon,
Blowtique
.
Though the concept of a blow-dry bar isn't new, Fiona was one of the first to bring it to the Windy City. But what really distinguishes the Blowtique blow-dry (besides the affordable $35 price) is technique. The stylists use minimal products and no hot tools, though flatirons and curling irons are on hand if needed. Instead, they rely on their dexterous skills with the round brush to create a variety of styles ranging from big, voluminous curls to beach waves.
I experienced this styling process firsthand at Blowtique's Gold Coast location, which Fiona has decorated with Waterford crystal chandeliers from Ireland. Creative Director Rhona Kane indulged me with a Kate Middleton–inspired blowout, then taught me how to make my look last with the salon's Blowout Survival Kit ($35). The kit promises to extend the life of your blowout anywhere from two to four days and comes in a custom-made gold box, but lesser versions of most of its contents can be found at your average drugstore.
ORIBE DRY TEXTURIZING SPRAY
This sleek, purse-size bottle of dry shampoo refreshes next-day blowouts by absorbing oils on the scalp and adding texture to strands. According to Fiona, "it won't leave a chalky white residue behind," unlike many other dry shampoos.
BABY ALLIGATOR CLIPS
A staple tool in any salon, these tiny but strong clips—which come cutely fastened to a Blowtique business card—keep curls in tact as clients sleep. To use, twirl each curl back into itself before securing with a single clip.
SHOWER CAP
Emblazoned with Blowtique's name, this isn't your hotel-room shower cap. The interior is lined with terry cloth, which keeps hair from absorbing heat during a shower, reducing the risk of developing frizz or loosening the curl and volume created during the initial blowout.  
BY: Sara Tremblay
Guide Staff Writer
Sara is a filmmaker by trade, copywriter by choice, and forever in love with British television.