Top 10 Best Coffee Shops in Seattle
BY: Nancy Wu |
Nov 25, 2014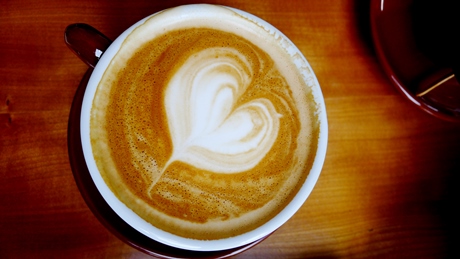 Seattle is home to a really good cup of coffee. It has some of the best coffee shops and coffee roasters in North America. Starbucks Coffee, also first originated in Seattle, Pike Place Market. Aside from big corporate giants, there are plenty of independent coffee roasters to choose from. Anyone bleeding espresso will know the importance of a fine cup of coffee. It can either make or break your day. The following is a coffee guide of the best coffee shops in the Emerald City. We hope it will make your mornings (or whether time of the day) more enjoyable!
Analog Coffee
Analog Coffee first started as a pop-up shop from a doorway in Capitol Hill. The coffee shop itself looks like something out of a Kinfolk Magazine with clean, bright design and aesthetics of modern Scandinavian. White. Wood. Steel. The weathered nautical vibe has a good thing going. The latte is most perfect: balanced between milk and coffee. Analog Coffee serves Herkimer Coffee beans which are roasted locally. Herkimer beans are roasted from premium green coffee with traditional farm practices free from pesticides and fertilizers. Small bags are for sale and date stamped for freshness. If you need another reason: they serve Mighty-O donuts.
Moore Coffee Shop
Looking for some really cute bear latte art? Moore Coffee Shop has some of the cutest bears and coolest cat in town. Not only are their Mexican mocha amazing with spices and texture; it is very rich and flavorful. Their specialty coffees like Spanish coffee, almond milk latte, and Horchata latte is also a must try. Great place to enjoy a coffee or to catch up on some work while people watching.
Caffe Vita Coffee Roasting Company
Caffe Vita is located conveniently on Pike, but not obnoxiously near the market. I'm a big fan for their Cafe Luna coffee blend of nuttiness and earthy tones. Gayo River single origin is also quite nice. Come here if you are looking for a serious full flavored latte or espresso. The Capital Hill location has a coffee roaster in the back of this two story cafe. Free Wifi.
Espresso Vivace Sidewalk Bar
Slow roasted blend espresso is delicious with rich consistency. A solid cup of espresso. The Espresso Vivace Sidewalk Bar is nostalgic and has a cozy atmosphere with neon signs and metal chairs. I highly suggest a cup of Caffe Nico! Sitting outside on a nice sunny day is one of the simple pleasures in life.
Milstead & Co
Impeccably friendly and attentive baristas. On point coffee with balance between the espresso and the milk. Come and be educated about where the coffee originated from, to how the coffee is brewed and stored. This coffee shop is near the Fremont Bridge and is great for any coffee nerd or snob. This coffee shop is spacious with plenty of long tables.
Stumptown Coffee
An official hipster hangout. A good spot to people watch. Stumptown Coffee is originally an Oregon, Portland based coffee roaster that has branched into Seattle. Their cold brew coffee is on point: smooth, strong and consistent. If you aren't able to make it down to the cafe, several retailers also carry their bottled coffee. Lucky coffee fiends in Vancouver will also be able to pick up a variety of coffee blends from Stumptown Coffee Roasters at Platform 7 Coffee. Aside from great tasting brew, their kouign amman with Okinawan black sugar is to die for. Option for Chemex pour overs.
Lighthouse Roasters
A very intense and deep roasted flavor . Heavy espresso, lighter cream. Minimal decor but a respectable coffee roaster in the Fremont area. I like this Lighthouse blend of medium bodied light acidity with notes of chocolate. Super clean.
Slate Coffee Bar
Slate Coffee Bar is not your average grab and go coffee shops. The concept is similar to a wine bar. Their coffee is served in wine glasses instead of coffee mugs or paper cups. You will want to sit down, relax and perhaps learn about The Deconstructed Latte. Sample the flight of espresso, milk and latte. Your barista or coffee connoisseur will explain the origins of the espresso and the milk farmed locally. Tho I admit the approach is gimmicky, the presentation is beautiful and trendy. Espressos are served in Glen Carins glasses: "espresso neat". Whether or not you agree to this progressive approach drinking coffee from a wine glass, there is definitely an unique experience worth checking out.
Zoka Coffee Company
Big sofa chairs, long wooden tables and decent wifi. Sounds like the perfect spot to sloth around curled up with your laptop. The atmosphere is cozy with plenty of outlets for coffice. If you are looking to snuggle, the lavender mocha is you partner. I prefer something simple, like a dark roast from their Clover Coffee machine. With a few locations around town, you are bound to run into one.
Starbucks Coffee Pike Place
Starbucks Coffee opened its first store in 1971 in Pike Place Market in downtown Seattle. Any human worth their weight in coffee bleeds espresso and can not deny the convenience of this corporate giant. The Pike Place store is definitely a tourist attraction worth experiencing nostalgia at least once. A variety of memorabilia merchandise are available. Every year I look forward to their Christmas Blend Coffee with chocolate and earthy notes. If you are looking for a place to sit down, this is not the one. There is another Starbucks up the street.
Good coffee down to the very last drop. So, where do you go for a cup of joe?