Top 10 Indian Restaurants in Seattle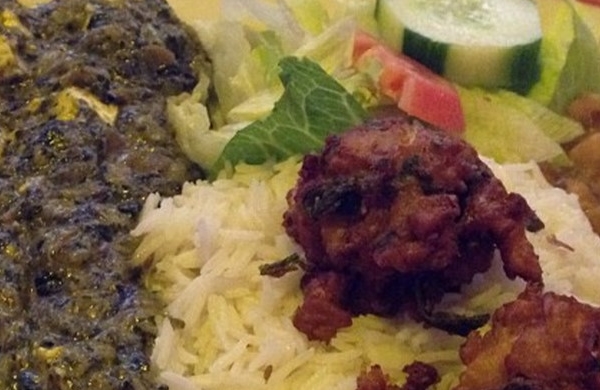 Having grown up in southern part of India, my taste buds always crave for good Indian, particularly south Indian food. Seattle is definitely not the Bay area or NYC when it comes to Indian food, but the city, today, has definitely has more to offer than what it did 8 years ago. Here's a round-up of 10 best Indian restaurants on the east side of Seattle and my favorite vegetarian dishes in each of them.
Spice Route
If someone had to quit his high-paying tech job and start his own restaurant, you can imagine the passion and motivation behind it. Spice route has delivered consistently good food over several years. If you want to sample south Indian food, their weekend buffet is a must visit. It's hard to pick one dish from this favorite restaurant of mine, but if I were to pick just one and only one, "Thayir Vadai" (deep fried lentil donuts in yogurt sauce) also known as Dahi Vada in India would get my ultimate vote. The seasonings make all the difference between Thayir vada and Dahi vada while the basic recipe is the same and I must say spice route folks have completely nailed it.
Aaahar
Aahar is located in beautiful Snoqualmie valley and the food and scenic beauty of Snoqualmie totally makes the drive worth it. Aahar offers multi regional cuisine just like most Indian restaurants in the area with emphasis on traditional Kerala cuisine like kappa and kadala curry ( tapioca and black garbanzo beans), aviyal (vegetable stew in coconut milk), Egg masala, Malabar Parotta( flat bread) and Idiyappam( rice string hoppers). My personal favorite is Idiyappam, which is a bland steam-cooked rice noodle kind of dish served with a mildly-spiced coconut milk, I usually order the egg curry to accompany the Idiyappam and I am in heaven. Don't forget to taste their complimentary warm Rasam (tamarind/tomato based South Indian soup), it's the perfect way to welcome a guest in rainy Seattle.
Chaat n Roll
Street food in Indian is as popular as cows and bicyclists. Literally every street corner has its own chaat- wala selling his signature pani-pooris and bhel puris. When Chaat n Roll opened its door last year with its Mumbai-style street food menu, every Indian I know on the east side welcomed it with open arms. My personal favorite is their Achari paneer tikka khathi roll (Indian cottage cheese marinated in pickled Indian spiced and wrapped in a tortilla-like wrap). It is flavorful, filling and leaves you craving for more. Chaat n Roll is a vegetarian restaurant with plenty of vegan options too.
Chutneys
This was the first Indian restaurant we tried when we moved from the east coast to Seattle years ago. Our 1st experience didn't go very well and that stopped us from even giving this place a second chance. But about 2 months ago, I had an opportunity to eat at this place again and boy! I was pleasantly surprised by how good the food tasted. I loved their Paneer tikka masala and Punjabi Kadhi Pakora (veggie fritters in spiced yogurt/chickpea flour sauce) and now would highly recommend their a la-carte menu to anyone who happens in downtown Bellevue area for dinner.
Udupi Café
Speaking of second chances, I had to mention Udupi café in this post. For the longest time, their food was meh. I was by shocked by what they served in the form of Idli (south Indian steamed rice cake), definitely expected better from a restaurant named Udupi, a small town in interior south India. 4 years later, one day when I was walking by their new location, I was pleasantly surprised by the crowd waiting to be seated for their Sunday brunch. I had to give them a try and I must say from a scale of 1-10, 1 being the lowest, they have definitely climbed up to 6. Their Pongal (rice and lentil porridge)/coconut chutney combination definitely deserves a 10/10. Udupi is an all vegetarian restaurant, with a ton of vegan options.
Ruchi Indian Restaurant
Ruchi completely brought to life the dreams of several Indians who always talk about wanting to open a small-scale, authentic, limited menu take-out place with a niche. Ruchi specializes in Andhra cuisine, famous for their Biryanis and spices. My husband is a huge fan of their of kebab biryani, made with chunks of marinated, tandoor-oven cooked chicken in spiced, fragrant basmati rice. I'm more partial towards their appetizers like masala vada (spiced, deep fried lentil balls) and mirchi bajji (mini peppers fritters).
Bombay House
Tucked away in a strip mall, off I-90 is this all-vegetarian restaurant. I've been there a few times for their lunch buffet, a very moderate spread, compared to most other Indian restaurants in the area. Their paneer masala and aloo bajji (potato fritters) and tomato soup in their buffet is to die-for. They make excellent whole wheat tandoori roti for a small extra charge in their lunch buffet. These rotis are super soft, melt-in-your mouth kind and a perfect accompaniment to their paneer masala. In their attempt to have a couple of vegan dishes on their menu, they serve zucchini curry on their buffet. I was horrified by the taste and the fact that they had it on their menu. There are so many other authentic Punjabi vegan dishes that they could have come up with. They serve masala chai as part of their buffet, which is a huge hit among several people I know.
Guilt-Trip
Guilt-Trip is the newest fusion Indian restaurant on the East side of Seattle. They have an elaborate pickle bar and their concept is quite different from most other Indian restaurants. It is far from authentic, but a refreshing change if you want to try something rad like White chocolate mocha parata and Mango-chili lassi. Their food is much lighter than most other Indian restaurants. My personal favorite is the Paneer khathi roll combo which is served with a lassi of your choice (I like the savory lassi) and a green salad with a home-made ginger vinaigrette which is an absolute must-try. Their service is friendly and courteous, but not very fast because they make everything fresh. So if you aren't in a rush and in a mood for a different kind of Indian food, then guilt trip located in Redmond is definitely worth at least one trip.
Dakshin South Indian Bistro
Dakshin, located in Kirkland is a classic take-out place with a just a few basic tables and chairs. The food is served in paper and plastic ware but definitely a must-try for anyone who loves south Indian food. I love their weekend brunch combo, which comes with one masala dosa (curried potato and south Indian crepes), one idli (steamed cooked rice cake), vada (lentil fritters), kesari bhath (sweet semolina pudding), sambar, chutney and unlimited cups of tea/south Indian filter coffee. If you miss the cone dosas served in Bangalore restaurants, Dakshin is the place for you. JP and his staff make the best crispy, golden cone dosas with a dollop of clarified butter.
Chili's South Indian Restaurant
Although this post is all about Indian restaurants on the East-side of Seattle, I won't be doing justice if I don't mention Chili's south Indian restaurant located in Seattle. Their south food is truly authentic and delicious. It was about 5years ago, that we discovered this place and we didn't mind the 15mile drive to eat here. Located in the University district of Seattle, this is not a fancy place where you can take your date to but if you want to impress someone with authentic Indian food, then definitely the place to be. I love everything on their menu but I have to specially mention their Thali meals, which comes with rice and a variety of south Indian curries in little steel cups, pappadum(Lentil wafers) and dessert. If you want reasonably priced, authentic, classic, flavorful south Indian food, then Chili's is the place where you want to go for your next Indian meal.