Touring Fenway Park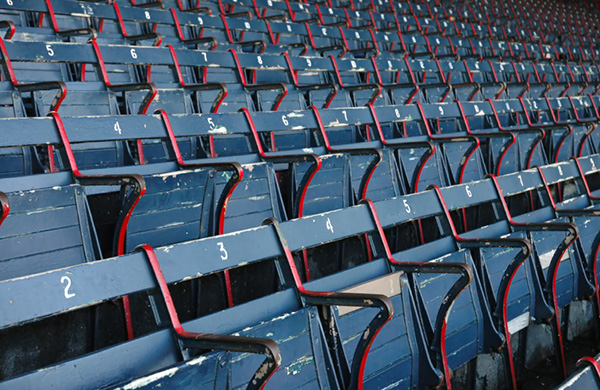 The Red Sox have emerged as World Series champions three times in less than ten years, and the fans of Red Sox Nation simply couldn't be happier. To celebrate, diehard locals and history-buff tourists have taken to scheduling a behind-the-scenes tour of legendary Fenway Park, which challenges Chicago's Wrigley Field for the title of America's most beloved baseball stadium.
Run directly by the Boston Red Sox organization, these tours lead off with entertaining and well-informed guides. The one-hour walking experience starts off at the team store across from the park, where tourists can gobble up hats and souvenirs, or simply snap a few photos of the grand exterior. The public expedition then takes guests through various sections of the park, including unique seating locations like the famed left field Green Monster and the exclusive Press Box, where longtime announcers Jerry Remy and Don Orsillo sit during every home game broadcast.
Amiable tour guides also provide interesting stories about some of the most important players in Red Sox history, including Ted Williams, Johnny Pesky, Carl Yastrzemski and Carlton Fisk, not to mention the always-gregarious David Ortiz, known throughout the league as Big Papi. They also discuss the beginning history of baseball, who some of the biggest names in Red Sox history are and how the storied Green Monster wall in left field came to be.
On game days, select tours arrive three hours before first pitch to catch a glimpse of batting practice, tour the Green Monster some more or meet one of the team's mascots, Wally the Green Monster, who can otherwise be spotted throughout the stadium during game days. Premium Sunday tours involve on-field access and a deeper lesson on Fenway's history, and private group packages are available year-round, which might even involve hitting a ball or two yourself from the batting cage.
BY: Gayot
Gayot
GAYOT.com serves as a leading worldwide authority on the good life. Millions of readers turn to Gayot's savvy, professional reviews on dining, travel and lifestyle. From "Best of" lists and travel guides, to a searchable restaurant and hotel database, Gayot provides dependable coverage while keeping up with the latest trends and news.