Trout Fishing in America Gives New Meaning to the All-Ages Show
BY: REUBEN WESTMAAS | 5.9.2014 |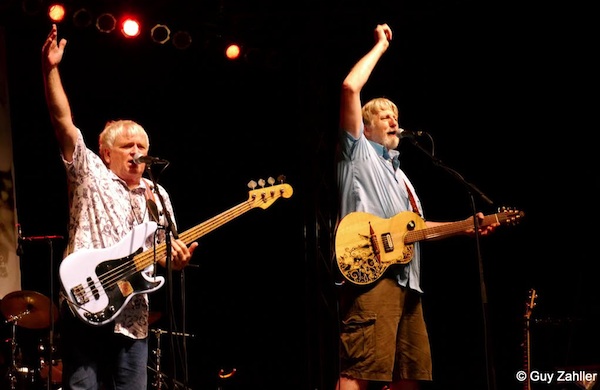 It's hard to describe the sound that Keith Grimwood is yowling into my ear over the phone. Warbling and raspy, it sounds like a brontosaurus trying to yodel. He'd probably take that as the highest compliment, because it's the same guttural noise he belted out on Trout Fishing in America's 1991 hit song, "When I Was a Dinosaur."
Grimwood and bandmate Ezra Idlet have been blessed with an almost unfair talent for music, but they would have given up years ago if they didn't simply love to play—specifically, to play folk rock and children's music. "We have a good time," Grimwood says. "People comment on that a lot…'You cannot possibly be having as much fun as it looks like you are.' Well, I'm sorry, but we are. Many artists suffer for their art, but we're not suffering."
That might be why they have such an easy time switching off between songs for grownups and songs for kids. As it turns out, the two types of songwriting aren't so different. Here, Grimwood shares five secrets for writing songs that appeal to different age groups:
To Write a Good Children's Song, You Have to Write a Good Song.
KEITH GRIMWOOD: If you can answer, "What makes a good song?" then that's what makes a good kids' song. When we write for kids, we try to bring the same sensibilities we bring to writing for adults…we just change the subject matter a little bit.
To Write a Good Song, You Have to Make Something Familiar Seem New.
KG: Our approach to songwriting is to observe. We look at things that everyone has in common, but we take a different angle. For example, you always hear in the country songs, "No matter what terrible things happen, I'll still be loving you." So we have a song called '"No Matter What Goes Right." You can apply that to kids' songs, too: "my hair is all messed up" becomes "My Hair Had a Party Last Night."
Sometimes, You Don't Know Who You're Writing For.
KG: Sometimes we're writing a kids' song and it turns out to be an adult song, and vice versa. You never can tell…There's this song we wrote called "Don't Touch My Stuff." Our van was stolen a couple of years ago, with all the musical equipment and everything. It's a rocking song, and it's basically a reaction to being ripped off. I thought it was strictly an adult song, but kids love it. Believe me, the idea of "don't touch my stuff" is huge with kids.
The Best Songs Are the Ones Everyone Can Relate To.
KG: My favorite comment is when families come up after the show and they say, "We took a long trip with the family, and your music was the only one we could all agree on." …Usually, you play for a certain group of people, or a certain demographic. But early on we just kind of decided to play for everybody.
The Two Keys to Playing for Kids? Avoid Solos and Love Songs.
KG: With kids' music, there's not a lot of love songs. Kids don't like kissing. And [they] don't really care if you can play your instrument…If you take off on a five-minute solo, they become disinterested.
I say that kids don't like the kissy stuff, but we've got a song called "My Sister Kissed Her Boyfriend" on our brand-new CD, Rubber Baby Buggy Bumpers. It's a great gross-out song. It's about the grossest thing a kid can imagine. You know, the first time we played it, this little 10-year-old kid was sitting there, and when we got to that chorus part, he dove under the table, yelling "No! That's awful! Stop it!" About 10 minutes later, he came up and asked us to play it again.
Trout Fishing in America is playing two shows at Reggies on Thursday, May 22: a kid-friendly set at 7 p.m., and a 21+ set at 9 p.m. Tickets start at $15 (kids are free with an adult) and can be purchased here.
Photo credit: Guy Zahller
BY: Reuben Westmaas
Guide Staff Writer
Reuben writes about whiskey at work and drinks it at home. He also writes and edits the arts magazine Sixty Inches From Center.