Turn a Silverware Tray into a Jewelry Organizer
BY: Sara Tremblay |
Oct 22, 2013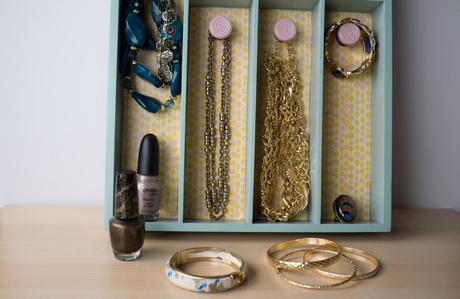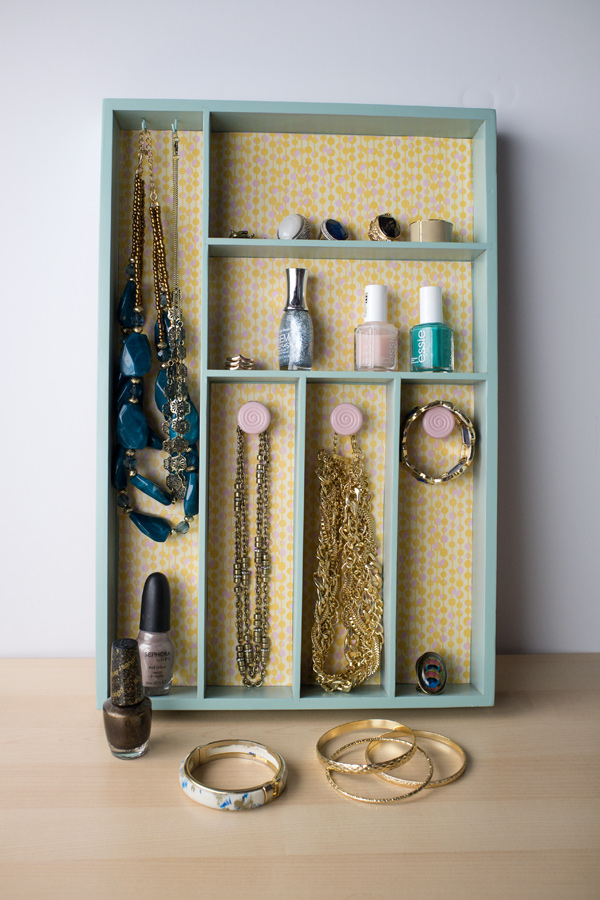 When I was little, I owned a ballerina jewelry box—the type with pink felt lining and a porcelain ballerina doll that spun inside. It didn't seem right to fill such a pretty box with little kid things like slap bracelets, but I had better things to do (i.e. play) than worry about acquiring pearls. I've since lost that jewelry box, but my jewelry collection has grown. For years, it has sat atop my dresser in cluttered piles. It was the sight of this tangled mess that recently motivated me to scavenge Pinterest and my favorite blogs for a DIY jewelry organizer. What follows is a step-by-step guide based on my online research and what I found worked best in practice. May your earrings never lose another mate to the space behind the dresser.
What You Need:
Bamboo or wood silverware tray (I found a bamboo one at Bed Bath & Beyond for $20)
Electric drill
Mod Podge adhesive
Newspaper
Paintbrush or paint sponge
Pliers
Spray paint
Super glue
Three cabinet knobs (I found cute ones at Target for $9.99)
Two teacup hooks or picture-frame hooks
Two sheets of 12"x12" scrapbook paper
What You Do:
1. Open and attach the hooks to the tray.
Using a little elbow grease and pliers, open the hooks into a
C
shape. Since teacup hooks were too big for this tray, I used picture-frame hooks. Next, determine the placement of the hooks by measuring and marking the silverware tray. Then pre-drill holes into the tray before screwing in each hook by hand.
TIP:
You must pre-drill holes if using a bamboo tray because bamboo does not expand like wood, it splits.
2. Paint the tray.
Once the hooks are in place, spray paint the inside and outside of the silverware tray (I used Krylon indoor/outdoor satin spray paint in Catalina Mist). Apply one coat, wait 10 minutes, then apply a second. Let it dry overnight.
3. Apply scrapbook paper with Mod Podge.
The next day, measure the length and width of each individual section of the tray, then cut the scrapbook paper to fit. If the largest section of the tray is longer than the length of the scrapbook sheet, that's OK. Just cut a second, smaller section to cover the remaining area. To adhere the scrapbook paper, use Mod Podge, which is an all-in-one adhesive/sealer/finish that comes in many different finishes (I used satin). Using a paint sponge, apply Mod Podge to the bottom of the tray, one section at a time. Next, carefully place the appropriate sheet of paper on top of the Mod Podge, smoothing out any bubbles and bumps with your fingers. Repeat until each section is covered and let the paper dry for at least one hour.
4. Finally, adhere the cabinet knobs.
Apply glue (I used Gorilla Super Glue) to the back of each knob. Take care to apply the glue
only
to the back and not the sides. Firmly push the back of each knob onto the scrapbook paper for 30 seconds, then let dry for one hour.
TIP:
I chose to eyeball the placement of the knobs, which wasn't too hard. But I do recommend measuring if you want the row to be precise.