Two Halloween Parties, One Spooky Table Setting
BY: Amelia Buzzell |
Oct 9, 2013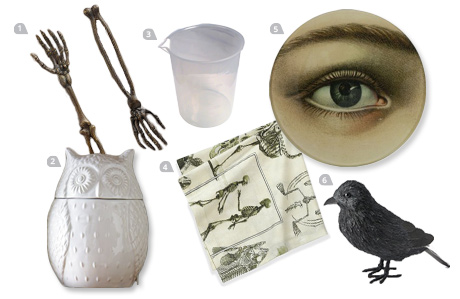 Hosting a Halloween party can be tricky. Do you want to go cute or creepy? Should the soundtrack be more "Monster Mash" or "Toccata and Fugue"? Entertaining children and adults at once can be tough, too—many youngsters aren't ready for big scares, and some adults like to pretend they've outgrown the whimsical charms of
Hocus Pocus
. Instead of murdering yourself trying to find a happy medium, appeal to everyone by hosting two parties: one for kids, and one later in the evening for adults using many of the same table settings. Add mad-scientist flair to the children's party with beakers to drink from and spooky "specimens" of stuffed birds and skeleton arms. Of course, if you really want to scare the kids, just fill a cookie jar with vegetables, close the lid, and invite them to help themselves.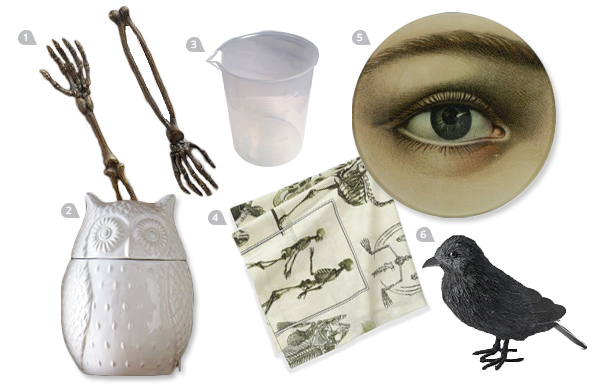 1.
Skeleton hand servers
; World Market ($19.99) 2.
Owl cookie jar
; West Elm ($39) 3.
Plastic beaker
;
American Science & Surplus
, 5316 N. Milwaukee Ave. ($1.95 for 100 mL) 4. 
Halloween Skellie toile napkins and table runner
; Williams Sonoma ($29.95 for four napkins; $49.95 for table runner) 5.
Right-eye plate
; Jayson Home ($48) 6.
Spooky Creatures crow
; West Elm ($8 on sale) Once the little goblins have trundled off to bed, keep their party settings on the table and add some ghoulish grown-up touches. Pour some vodka from a crystal skull to help steel your guests' nerves as they read up on medieval torture devices. Or, scarier still, get into a staring contest with a painting of a clown—just try not to scream if he blinks first.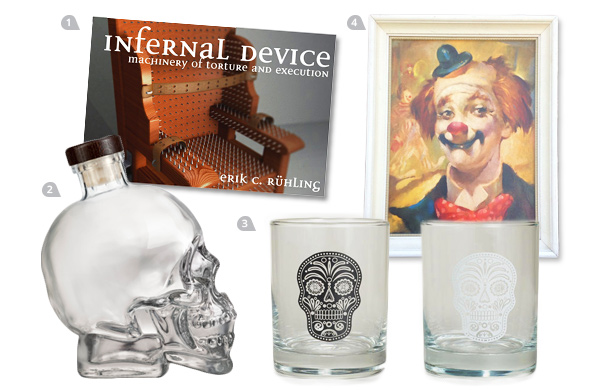 1.
Infernal Device: Machinery of Torture and Execution
; City Lit Books, 2523 N. Kedzie Blvd. ($14.95) 2.
Crystal Head Vodka
; Binny's ($151.96 for a case of four) 3.
Muertos double old-fashioned glasses
; World Market ($7.98 for two) 4.
Framed vintage clown picture
; ASecondHandShop on Etsy, based in Chicago ($20)