Unconventional Alley Eats
BY: Emily Wachowiak |
Apr 12, 2013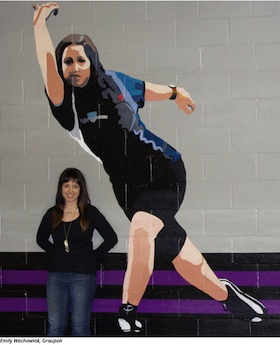 Few athletes spend as much time in the presence of electric-yellow nacho cheese as bowlers. But Diandra Asbaty prefers what she calls "clean foods." Fruits and veggies, for example, although the night before a tournament she'll indulge in a hearty pasta. These carb fests sustain her for eight straight hours as she launches a 15-pound ball down a 60-foot lane. As a Bowling World Cup Champion, 15-year Team USA member, and inductee into the World Bowling Hall of Fame, Diandra has nutritional needs like any other athlete, though the bowling centers in which she spends her days aren't usually known as health-food meccas—nor as paradigms of haute cuisine. Here are three Chicagoland alleys that let you roll while avoiding dull bowling-alley food and drinks as effectively as Diandra does.
Diversey River Bowl: Bucktown
Luckily for her, Diandra has set up shop at Diversey River Bowl, where I met her just as she was polishing off lunch. For the past decade, the 36-lane Bucktown bowling center has been Diandra's workplace. Recently, the center added her portrait to its mural of bowling legends Earl Anthony and Mark Roth, making Diversey feel that much more like home. After long days of practice and coaching sessions, she doesn't hesitate to grab some grub from the onsite restaurant. "I don't feel guilty eating lunch or dinner here," she said. "It's not snack-bar food." And though snack-bar staples such as mozzarella sticks and tater tots do grace the menu, they are dwarfed by more unconventional plates such as fresh ceviche and hummus and pita, Diandra's favorite. Her 2-year-old son is a big fan of the steak teriyaki ginger rice—"not your normal bowling-center food," she said, laughing. Her husband, a professional chef, prefers the grass-fed bison burger. "They have taken a lot of care in their food," Diandra said. That care extends beyond the cuisine to the very wood tables it's served on, each one handcrafted by the owners. "[They] constructed this entire restaurant," she said, "and it feels like you're not in a bowling center." Enclosed in brick walls that exude the feel of a neighborhood pub, the delicately lit space often swells with the sounds of karaoke, live comedians, or sporting events broadcast on a giant drop-down screen.
Pinstripes: Northbrook, Oakbrook, and South Barrington
Though Diandra has never taken a sip of liquor in a bowling center, which she admitted is "very unusual for a bowler," an increasing number of alleys have a bar selection that extends beyond Old Style. At Pinstripes, bartenders pour craft beers from taps and shake up cocktails ranging from old fashioneds to tart limoncello martinis. But the wine list truly pulls out all the stops—bowlers can sip more than 50 Italian and West Coast wines as they lounge on plush, imported leather couches to wait between frames or taunt their opponents in Latin. For those who want to maintain a sober, competitive edge, the kitchen churns out healthy bites such as an ahi-tuna salad and a veggie burger topped with avocado and goat cheese.
Lucky Strike: Streeterville and Lombard
Lucky Strike's shareable dishes, such as the grilled apple-and-brie quesadilla, seem made for bowlers like Diandra who dread the sight of reheated pizza and congealing nacho cheese. Bowling pros, whom Diandra confided eat light on tournament days, would do well to dig into the crunchy asian salad, which mixes napa and red cabbage with romaine, crispy wontons, and diced chicken. Gluten-free fish tacos with fresh guacamole and salsa make for a similarly light dish, though truffle-oil and goat-cheese mini burgers are always on hand for those who want to indulge.