GROUPON GUIDE TO NEW YORK
Very Vegan Eats: Donuts, Drumsticks, and Cheeseburgers
BY: Katie Cortese |
Apr 17, 2013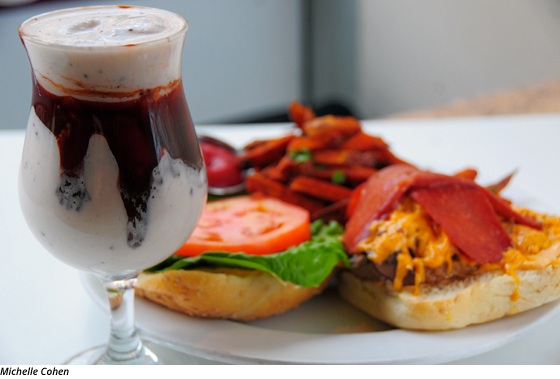 Whether created to replicate the flavor of meat or given its own distinct taste, today's vegan options are more abundant than ever. Salad and tofu have been replaced with creative dishes that rival any nonvegan counterpart—from big, juicy burgers to donuts that tame any sweet tooth. Below are three of New York's top veganized versions of American classics.
Cafe Blossom
| West Village
Vegan Eats:
Soy-Bacon Cheeseburger
Cafe Blossom's most popular sandwich is the soy-based-bacon cheeseburger. The patty—both organic and non-GMO—is topped with Daiya cheddar cheese, grilled shiitake mushrooms, soy bacon, caramelized onions, and a special housemade chipotle aioli. "It is a healthy, comforting sandwich that is truly satisfying," said general manager Sandra Malak.
On any given weekend, chefs construct 150–200 of the burgers, according to Malak. Patrons pair it with such sides as sweet-potato fries or kale, and the juicy burger pairs well with a milkshake, she added. The whole ensemble is "popular with vegans who need a burger fix and people who aren't vegan who want something filling and delicious," Malak said.
Ruby Bakes
| By Appointment
Vegan Eats:
Raspberry Chocolate-Dipped Donut
Owner Joree Weinstein bakes, not fries, her donuts from inside the comfort of her own home. And she does so without using any gluten, nuts, peanuts, dairy, or eggs. The need for a specially crafted donut arose after Weinstein, who has celiac disease, wanted her daughter Ruby, who suffers from nut allergies, to enjoy a sweet treat during kids' birthday parties. A small hobby quickly grew in popularity and turned into a special-order business that bakes more than 10 varieties of donuts.
Weinstein makes the most popular flavor, raspberry dipped in chocolate, from fresh raspberries dropped in plain cake batter. She then dips the donut in vegan semisweet chocolate with a single raspberry on top.The raspberry donut is "one of the more elegant donuts, like a tuxedo donut," she said. She likens her sprinkled donut to the "carnival donut" of the bunch and added that it's most popular with the kids.
For now, emails flood in with requests for her hand-decorated mini donuts and larger heart-shaped donuts for kids' birthday parties and weddings. And her client base is just as diverse as her elegant and fun offerings. "One-third want a vegan treat, one-third want an allergen-free treat, and one-third just love the way they look and taste," she said.
Foodswings
| Williamsburg
Vegan Eats:
Drumsticks
Biting into a juicy drumstick may give some vegans pause, but at Foodswings, the meaty handhold is made sans meat. Manager Owen Burley said the restaurant purchases the drumsticks—which consist of firm, thinly sliced tofu wrapped around a bamboo stick—from a company in Chinatown before chefs add their own touch with housemade sauces and breading. The most popular version is the sweet Southern-fried barbecue, served battered, fried, and slathered in barbecue sauce. "It has nice, crisp texture with a dark golden color to it," Burley said. "When you actually bite into it, because of the way the tofu is wrapped around the stick, it has a fibrous texture to it, and it recreates the nonvegan version pretty closely."
In fact, the menu even includes a warning about the wings' "bones" so people won't eat the bamboo stick that helps each drumstick hold its shape—which Burley likens to a kids' Fungo bat. Another popular version is the buffalo-style wing, which is first breaded with an adobo seasoning, fried, covered in buffalo sauce, and served with bleu cheese for dipping. Chefs make about 150 of the wings each weekday, and that number can jump to 300 on a Saturday or Sunday. And it is not just the vegans who are enjoying these crispy treats. "We have a pretty steady flow of nonvegan customers," Burley said of the 100% vegan establishment. He attributes it to the nightlife in Williamsburg, which brings customers in as late as 2 a.m. on a Saturday, ordering everything from chili dogs to—yes—drumsticks. "You can have a tasty, gluttonous meal and eat vegan," he boasted.