Vinho Verde: The Wine for The Summer
BY: KEVIN MOORE | 6.27.2014 |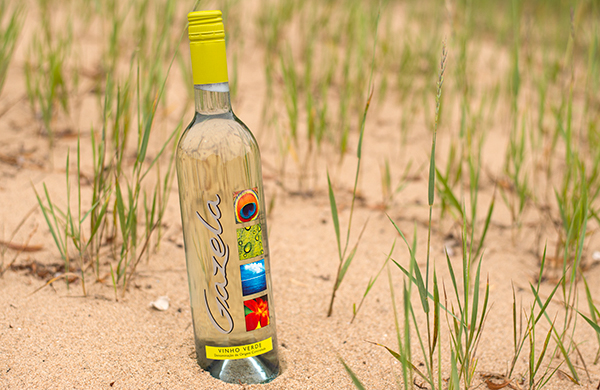 The higher the mercury gets, the better a glass of crisp and refreshing white wine starts to sound. With the hottest months still yet to come, prepare by finding your favorite bottle of the wine that is seemingly made for summer: vinho verde.
In 2012, the United States imported more than three times as much vinho verde as it had one decade earlier, the New York Times reported. This is a trend that is absolutely worth continuing.
Here is a quick introduction to this trending white wine.
Where is it from?
Vinho verde hails from the far northwestern corner of Portugal. This relatively cool and rainy region is an agricultural haven within the country, complete with sprawling expanses of crops and lush greenery. Although the area also produces reds and rosés, it's the white wines that are easiest to find and are ideal for summertime sipping.
What does the name mean?
Vinho verde translates to "green wine." This isn't a reference to its color, though. Instead, it refers to the wine's youth. These wines are meant to be enjoyed while they are still young, when their natural acidity is at its most vibrant.
What grapes are used to make it?
The region's winemaking regulations allow as many as 25 different grapes to be used to make white vinho verde. However, the most renowned wines tend to be dominated by four varietals: alvarinho, trajadura, loureiro, and pedernã.
What does it taste like?
Vinho verde typically features delicate flavors that may include light citrus, floral notes, and hints of minerality. Bright acidity is exceedingly common throughout all vinho verdes—including the reds and rosés—which means that the whites pair well with a wide range of foods, especially lighter fare. As an added bonus, the winemakers typically inject a bit of carbon dioxide into the wine immediately before bottling. This gives vinho verde the slightest bit of effervescent sparkle, but not nearly enough to qualify it as a sparkling wine.
Why is it perfect for summer?
In addition to being endlessly refreshing, vinho verde is perfect for sharing with friends on a hot day for one fantastic reason: It is very affordable. Finding a worthwhile bottle for less than $10 shouldn't be too much of a challenge.
Photo by Andrew Nawrocki, Groupon
Shop Groupon for wine-tasting deals.
Read more tips, tricks, and stories about wine on the Guide.
BY: Kevin Moore
Guide Staff Writer
Iowa-born, Arizona-raised, and Illinois-tax-paying writer who can answer any Trivial Pursuit question about wine or snakes.