Walking for the Animals at the Chicago Veggie Pride Parade
BY: KATIE CORTESE | 5.31.2013 |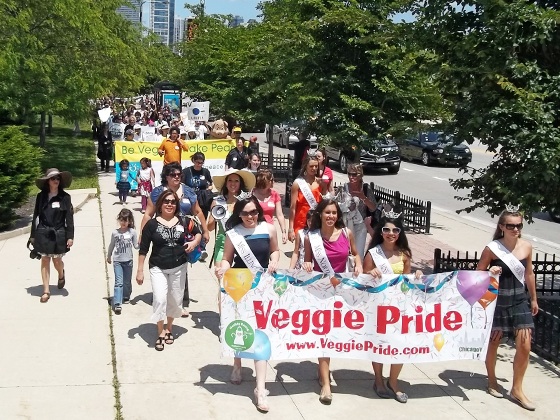 Seeing pigs, horses, cows, and chickens walk freely through the South Loop on Saturday, June 1, may cause some curious double-glances—that's the point.
The second annual Chicago Veggie Pride Parade kicks off at noon on Saturday, and costume-clad vegans and vegetarians will walk to raise awareness for cruelty-free living. Last year's event pulled together 600 like-minded participants for the cause—that's pretty impressive for a first run. This year, the goal is to exceed 1,000 participants, said Chicago Veggie Pride Parade media/press coordinator Marisa Buchheit. "We want people flying in [for this event]," she said.
The event is organized by ChicagoVeg, which is the Chicago area's largest vegetarian and vegan community, and a number of local vegan advocates who want to promote the vegan/vegetarian lifestyle. One of them is Buchheit. She is a lifelong Chicagoan, save for four years in college, and a vegan for more than 11 years.
"I decided to do it on my own at a young age," she said of becoming vegan. She also gently prodded her father in a "loving and supportive" way, and he went vegan as well. Last year, she was crowned Miss Chicago, and that title gave Buchheit a platform to promote the benefits of veganism and a healthy lifestyle. Last year, she served as the parade's grand marshal, a guest speaker, and a performer. Currently, she's pursuing a career as an operatic soprano and folk singer.
This year, while holding the title of Miss Heart of Illinois 2013, she shares the grand marshal role along with the winner and a runner-up of PETA's Sexiest Vegan Next Door 2013 contest. All three women will don custom, live-plant dresses from local designer Sararose Krenger's eco-savvy clothing brand Stix and Roses. Showcasing Krenger's skills is just another way the parade supports Chicagoans making a positive impact on the world.
"Chicago is such a hub for people in the Midwest," Buchheit added. "We are hoping a lot of people will be excited about the parade and want to come."
The history of the parade runs much deeper than last year's inaugural event in Chicago. In 2001, the first ever Veggie Pride Parade was held in Paris. Since then, it has branched out into other countries and cities, including New York City; but the Parisian parade's focus is much different than Chicago's.
According to the Veggie Pride international site, the Paris parade aims to "protest against the exploitation of animals." This event is their way of helping the public get over what they call "vegephobia."
"The Veggie Pride Parade we host and the one New York hosts is really a positive atmosphere," Buchheit said. "In Paris, it is more like a rebellion and protest type of thing. But here, we promote veganism in a positive light."
Scrolling through pictures of last year's parade shows hundreds of smiling faces celebrating their lifestyle choice. People came out not to shake their fingers at those not living a vegan/vegetarian lifestyle, but to welcome them to ask questions, to encourage them to give it a try, and to demonstrate that living on a plant-based diet does not mean large-scale sacrifices.
Buchheit said her favorite part of the parade is "when everybody comes together at the end, and wraps up with the marching," and the crowd is "feeling such energy and that sense of community."
And in the future, Buchheit and the rest of the parade's committee leaders hope to expand large enough to provide food samples so "people that aren't vegan and vegetarian are able to experience what our great city has to offer," she said.
Those committee leaders come from all walks of life: they include a founder of ChicagoVeg, the owner of the vegetarian grocery store Fake Meats, a multimedia instruction coordinator for the University of Chicago Medicine, the owner of vegan beauty company Arbonne International, a year-round bicycler and ultra-runner, and an operatic soprano and folk singer. What they share is a common passion for promoting the vegetarian/vegan lifestyle.
That is the commonality of everyone involved in the event. From parade partners such as the Chicago Diner and Urban Vegan to each person dressed in a cow, banana, or tofu costume—they all come to Grant Park to show the positive aspects of cruelty-free living.
The parade kicks off at Columbus and Balbo at noon, though Buchheit suggests getting there around 11 a.m. to register. Participants march one lap around Grant Park before settling in for guest speakers, live music, and—of course—a costume contest. Both vegan/vegetarians and nonvegetarians are welcome to walk in the parade, dress up, and learn more about the veg lifestyle.
BY: Katie Cortese
Guide Staff Writer
Friend to animals and craft brews.