Walking the Freedom Trail
BY: LAURA CHASSAIGNE | 1.8.2014 |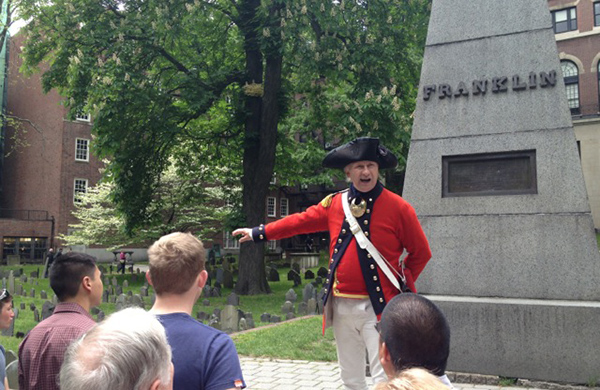 It is so easy to miss out on the tourist attractions in the city where you live. As a visitor, your focus can be on getting to know a place in just a few days, while at home, there is work to finish, laundry to be done, and friends to see, and sometimes that doesn't leave much space for playing the tourist on your home turf. After spending some time living and traveling in France, I realized the benefits of really bringing the perspective of a tourist to your own city, and since coming back to Boston I've been trying to bring a little more "staycation" into our time at home.
In that vein, my husband and I recently walked the Freedom Trail, the path connecting 16 important historical sites from Boston Common to Charlestown's Bunker Hill Monument. It was something I hadn't done since grade school, and it was just right for a day as a tourist in our own town. A line of red bricks marks the path, and you can follow this line for a self-guided tour. Brochures describing the significance of the various stops are available at the visitor's center, and can also be downloaded from the Freedom Trail website.
We splurged for a spot with the colonial-costumed and be-wigged tour guide – he was worth the ticket price ($11 each for adults, $7 for children under 12). We heard lots of interesting historical facts, plus some hilarious stories about personalities like Sam Adams, and that one time that the Granary Burying Ground gave way and someone fell into a crypt (yikes!). A mix of morbid and fascinating, the Granary Burying Ground was a highlight, and is a testament to Boston's long history. Many of the gravestones are elaborately engraved, and several well-known historical figures, including Sam Adams, John Hancock, and Paul Revere, are buried here.
Stops along the red brick line include the oldest public school in the country, the site of the Boston Massacre, and Paul Revere's house. Guided tours focus on a section of the route, with many exploring the area from the Common to Faneuil Hall while others focus on the North End. There is also a guided tour featuring African-Americans involved in the Revolutionary War, and of course, a historic pub crawl! Sign me up! For more details and to sign up for any of the Freedom Trail Tours, visit the website.
Want to discover even more? Check out other things to do in Boston.
BY: Laura Chassaigne
Laura of The Boston Day Book
Laura highlights the people, events, and places that make Boston unique on The Boston Day Book. After spending her early years in Boston, Laura moved abroad and has lived in Montreal, London, and Paris. From the Leather District loft she shares with her husband, Laura enjoys (re)discovering the neighborhoods that make Boston great, strolling the waterfront, and exploring the city's museums. Laura is currently writing her PhD dissertation on Palaeolithic symbolic behavior, and recently graduated yoga teacher training at Kripalu.