Walking The Waterfront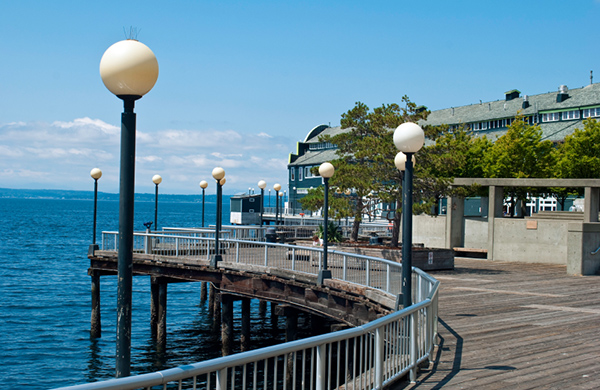 City walks in Seattle are a delight, especially along the waterfront. But which waterfront to choose is the question: A bustling boardwalk, a calm shore, a diverse neighborhood ramble around Lake Union or a placid promontory on Lake Washington?
At Green Lake, amble along your choice of a 2.8-mile paved path next to the water, or take the outer dirt loop that adds a little mileage but is easy on the feet. Green Lake's urban location and small size means it's surrounded by services – coffee shops, takeout, frozen yogurt, a community center – and handy for day-to-day exercise, stroller jaunts, or dog walks. Runners like to meet at Starbuck's on the northeast end, or outside Super Jock 'n Jill, a popular running shop, before heading around the flat freshwater lake where ducks, swimmers, rowers, and stand-up paddlers make seasonal appearances.
Seward Park in south Seattle is another nice waterfront loop, only it circles an isthmus protruding into busy Lake Washington and facing Mercer Island to the east. With fewer concessions and businesses (but lots of parking) along this nearly three mile loop, Seward Park offers a quieter ramble along a busier body of water, with great views of the mountains in the distance and plenty of shaded spots to rest or stretch the legs.
In West Seattle, there are two very different walks to take from Alki Beach, both starting from the Statue of Liberty on 63rd Southwest and Alki Avenue. For people-watching, turn north toward the businesses that dot Alki Beach, and follow the mile-marked pavement (split into two lanes for pedestrians and wheeled travelers), which hugs a more than 2-mile boardwalk. In summer, expect bikini-clad volleyball players, family picnickers, boat launches and muscle cars cruising for fun. And with plenty of benches, water stops, public bathrooms and takeout places (Ampersand for coffee, Slices for pizza), you can make the trip an all-day affair. Eventually, the walk makes its way to Salty's (known for its big buffet brunches) and the West Seattle Water Taxi dock. Unless seeking a full six-mile roundtrip, turn around here, as the trail wends inland along a walkway that loses its illustrious view.
For sunset-watching or relaxation, take the opposite direction from the Statue of Liberty and walk south through residences, eventually arriving at Beach Drive. There, a sidewalk dotted with inscriptions of the constellations lines a rocky shoreline where spitting sea spray and unobstructed views of nearby islands suggest a time when West Seattle was a waterfront outpost.
With fewer mile markings, urban adventurers can weave their own seven-mile loop around ever-changing Lake Union, the city-surrounded lake where houseboats, sea planes, office buildings and marine services businesses comingle in an odd mash-up of old and new. Start on the south, near the Museum of History and Industry, then walk west along the water and up Westlake Avenue. Pass over the drawbridge into Fremont, then head east along the Burke-Gilman walk/bike trail. Midway through, stop at Gasworks Park for a picnic, then head over the University Bridge and down along the water, winding through narrow streets dotted with houseboat docks. Finally, the route returns through Seattle's emerging biotech corridor and along a boardwalk back to the beginning.
BY: Gayot
Gayot
GAYOT.com serves as a leading worldwide authority on the good life. Millions of readers turn to Gayot's savvy, professional reviews on dining, travel and lifestyle. From "Best of" lists and travel guides, to a searchable restaurant and hotel database, Gayot provides dependable coverage while keeping up with the latest trends and news.