Warming Up From the Inside Out : Best Spots for Soup in the City
BY: Fiona Coxe |
Dec 4, 2013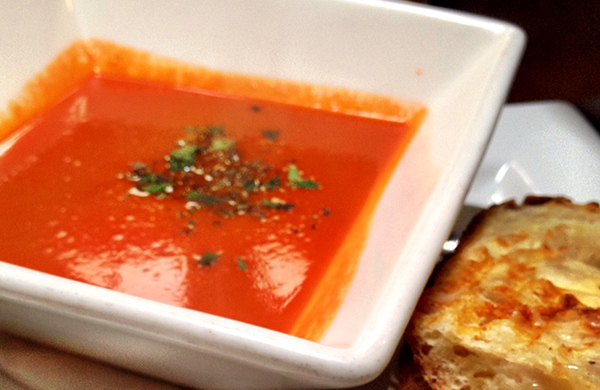 Snow flakes are starting to fly here in Boston and with chillier weather upon us I start craving anything that will warm me up from the inside out.  Soup is my go to, and with so many restaurants serving up a variety of types it's easy to find a great big bowl of soup to push away those cold weather blues. There is, of course, the ultimate comfort food- Tomato Soup paired with a Grilled Cheese Sandwich.  There is something so wonderfully childlike about dipping a hot, gooey piece of cheesy sandwich into a big hot bowl of tomato soup that brings me right back to snowy days when I was a kid.  Now, when Im looking for that feeling I head to The Abbey in Brookline's Washington Square. During lunch hours (week days and weekends) they serve up a big bowl of acidic tomato soup bright with fresh herbs and just a subtle hint of spice, and with it a perfectly crisp on the outside, soft and chewy on the inside, grilled cheese sandwich.   The cheese is stringy and ultimately gooey, leaving strings as you pull pieces apart to dip into the soup.  Decadent and delicious, this pairing is the perfect way to venture into chilly weather.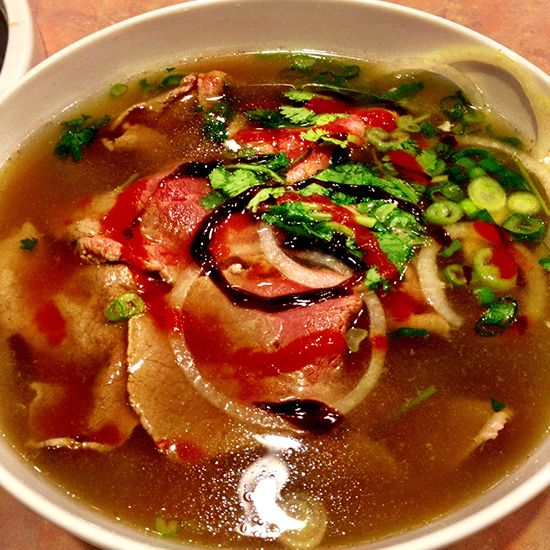 Moving to the more exotic side of things, there is my personal favorite soup out there- hailing from Vietnam- Pho.  Pho is a perfect blend of rice noodles, fragrant broth, your choice of proteins, onion and cilantro.  Tableside you are served lime wedges, sprouts, and Thai Basil to add at your discretion along with a host of sauces.  Pho has long been my favorite for several reasons, one of which being this hands on approach where you can customize the finishing flavors and even its heat level.  I gravitate to Pho Pasteur in Chinatown when I need a Pho fix.  They efficiently seat their guests and expertly dole out their Pho, a clean broth with notes of lemon grass, and gently floating circles of onion and fragrant cilantro throughout.  I opt for rare beef as my protein,finding the mix between the beef, broth, noodles and a lot of Siracha sauce to warm my soul. Perhaps, however, when its chilly outside, you crave something a bit more decadent?  How does French Onion Soup with a beef morrow crostini on the side sound?  Deuxave, located in Boston's Back Bay is serving up a French Onion Soup that they simmer and cook for nine hours to concentrate the flavors and bring out the notes of true beef flavor as well as notes of thyme and white wine.   Individual servings are divvied out into small crock pots, chunks of French Bread added, and topped with cheese- every spoon full brings out the rich broth, tender onions, pieces of soaked bread and utter globs of incredible cheese.  Then, as if it wasn't rich enough- along side sits a perfectly toasted piece of bread, slathered with a little bone marrow making it salty and delicious and a perfectly crunchy addition to the soup. Soup is the perfect way to warm up as these months get colder, and no matter what your preference, there is a spot out there for you.  So the real question is what type is going to keep you the warmest?
BY: Fiona Coxe
Fiona is a free-lance food writer living in the city of Boston.  Born with an extreme love of food, she put her passion to paper in 2008 with the creation of her own blog, A Boston Food Diary.  It began as a way to keep track of her own kitchen adventures, and record her dining experiences in and around Boston.  Since its inception, A Boston Food Diary, showcasing its extreme love of both food and the city of Boston, has become a well-known resource for both the people of Boston and visitors to the city.  Fiona has also written for various publications around the city, as well as spot pieces for national publications.