Watching Iowa Football at Alumni Bar Jack & Ginger's in Bucktown
BY: Jasmine Feldmann |
Oct 24, 2013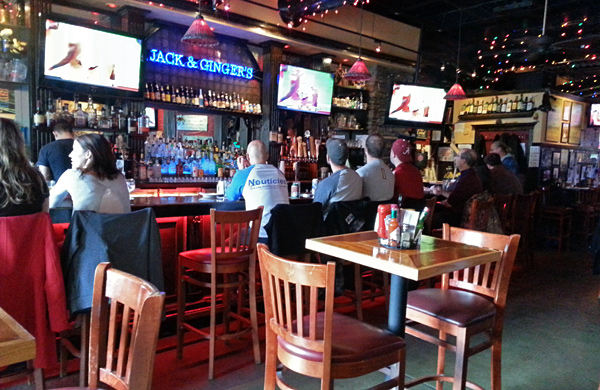 Although I've generally given up pre-9 a.m. beers, as I walked Chicago's chilly, leaf-strewn streets on a fall Saturday morning to watch an Iowa football game, I still had the ingrained reflexes to quietly boo a passerby wearing an Ohio State sweater. My rowdiest days are behind me, so I didn't relish the idea of visiting a standing-room-only bar to watch the Iowa–Ohio State football game. That's how I found myself at
Jack & Ginger's
(2048 W. Armitage Ave.). The place is ideal for quiet, fervent spectators. It's far from the other 10 Hawkeye outposts scattered around some invisible epicenter in Wrigleyville. As I walked up to the bar, I saw that the bar's excellent patio—usually filled with bored-looking dogs next to Old Gold–wearing patrons playing bags or darts—was deserted in favor of the warm tables and cool drinks inside the bar. There, the year-round Christmas lights glinted off the numerous TVs, which at that time were being mournfully watched by a pair of Syracuse fans. As I looked at the score—0 to 56, and not in Syracuse's favor—I understood their pain and grabbed a beer to commiserate. On most game days, the bar keeps it simple with cheap cans of Milwaukee-brewed beers and $1 sliders, though I hear tell that it has on occasion served some form of
Big-Ass Turkey Legs
, a staple of tailgating in Iowa City. As I sipped my Hamm's, I watched the last of the sad Syracuse fans leave, making room for the Iowa fans. The crowd skews a bit older, with most in their 30s. They're more chatty than wild, and they manage to carry on conversations throughout the stop-and-go action of the game. That is, until the game gets interesting. Although Iowa started the game with a commanding and surprising lead, things started to unravel in the second quarter. The crowd yelled epithets at coach Kirk Ferentz, who, as always, maintained a bubblegum-smacking stoicism as he commanded his troops. As the Buckeyes tied up the score, an older man at the bar yelled words that shouldn't be said in polite company and then gestured to the crowd as if welcoming them to join him in his four-letter tirade. The game started slipping away after that, with the ominous toots of the Ohio State marching band hailing our defeat. The Jack & Ginger's crowd seemed to expect this, yet most people still kept eyes glued to the screen with the hope that we might still be the fourth-quarter comeback team I remember from my last year at Iowa. Even though the final score wasn't in our favor, the crowd stayed jovial—or at least more lively than the departed Syracuse fans. That's sort of the beauty of Jack & Ginger's. I can enjoy the mania of football fanaticism but not feel like I have to be on my best funeral behavior if the game goes sour. And hey, for $20, I got to enjoy a day of drinking, snacking, and cheering with other Iowa expats. And there's always the hope that the turkey legs will show up.
BY: Jasmine Feldmann
Guide Staff Writer
Jasmine is a small-town Iowa girl makin' it in the biggish city. She loves thrifted dresses, pretending to be Mata Hari, Halloween, making her own extra-greasy lotions, sensible shoes, picnics in cemeteries, jet-setting around the world in coach class, and finding ways to incorporate more chilis into her life.