Watching MasterChef's Elise Mayfield Watch MasterChef's Elise Mayfield, Episode 1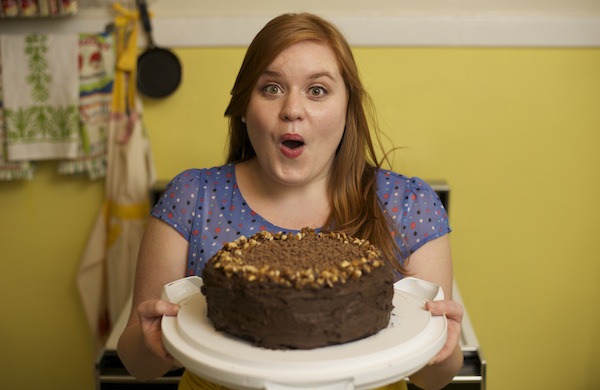 Every week, we'll be watching FOX's
MasterChef
alongside
competitor Elise Mayfield as she has
the mind-bending experience of seeing herself as a character on TV. Last week:
meet Elise!
This week: it begins!
Spoilers and pies below. Hashtags of the week:
#teamelise #underdog #redemptionpie "Oh god, it's startin' already," Elise said as she dabbed at her eyes. We're at
Mystic Celt
with 45 or so of her closest friends and family members, all of them here for the viewing party for
MasterChef
's fifth-season premiere. It's 10 minutes in, and the tears have already arrived. For the first challenge, the show's 30 competitors—all home cooks—must prepare their signature dishes for an intimidating panel of judges that includes chefs Gordon Ramsay and Graham Elliot and restaurateur Joe Bastianich. Onscreen, Elise works feverishly to produce her blueberry, basil, and goat cheese hand-pies. But as she cooks, she tells the camera about more than just her specialty pastry: "I want an apron with every part of my being. I want to be here so bad and [to] prove that I can do this, and I know that I can. I know I can." That combination of determination and pie is one we'll see more than once in this episode. Two competitors are asked to leave the kitchen before even their dishes have even been completed. Another nine—including Elise—are left behind after the aprons are handed out. But the judges love a twist, and they let the first one fly: all nine cooks will fight to stay by making a new dish from ingredients found in a typical American fridge. The twist? Gordon Ramsay will be cooking alongside them. The contestants scramble to reach their assigned fridges—"I'm in heels, guys, I'm runnin' in heels!" real-time Elise shouts to the bar—for chicken, bacon, potatoes, onions, and other staple ingredients. After a hectic hour, each dish gets evaluated by the judges, and faults are called out: absurdly large portions, raw potatoes, soufflés hard enough to break a plate. Elise stands nervously as, one by one, each cook presents their dish, until only she remains. "Another bloody pie," Ramsay says as Elise presents her chicken pot pie and succotash. "Redemption pie!" she replies. Indeed, Ramsay acknowledges that there's something to it even as he chastises her for diving back into her comfort zone. Elise passionately pleads her case, acknowledging that she's the underdog. After a doozy of a fakeout that had onlookers (both on-screen and off) in tears, she earned the right to stay. There's a catch, though—a grateful Elise had to make Ramsay a promise. "No more pies," she said tearfully as she was handed her hard-fought apron. We spoke with Elise and her mother, Sherie Mayfield, shortly after the episode concluded. She also shared the
recipe for her signature dish
on her blog, Adventures in a Tiny Kitchen.
GROUPON: What was it like to watch the premiere?
ELISE MAYFIELD: Very bizarre… just an incredibly surreal experience. I relived every moment of that first episode, and it was just as emotional as it was when I was really there.
G: What was the most nerve-racking moment?
EM: After we cook our signature dishes for the first time, they say they'll be giving out the last apron, and they called "Elizabeth" and not "Elise." I didn't know if they would catch it [on camera] but they did. I totally flinched because I thought they were calling my name. Knowing it was the very last apron and hearing something that was so close, but not my name—that was the scariest moment.
G: You had a lot of quotable moments in this episode. If one of them was going to end up on a T-shirt, which would you want it to be?
EM: "These hand-pies are good!"
G: There was a moment watching the episode when you and your mother had a big simultaneous moment of crying together.
EM: [laughs] Let's be clear, it's obvious where I get that from! My mother and I both cry when we get overwhelmed. I think maybe it's a genetic trait. SHERIE MAYFIELD: I've always been that way! Excited tears, happy tears, sad tears, nervous tears. EM: All the tears!
G: You have to make a promise to Gordon Ramsay at the end of the episode.
EM: Gordon Ramsay, I sincerely apologize, via this interview, for baking several pies even though you made me promise to never bake another pie again. [laughs] Kind of. I kind of apologize. SM: Southern girls bake pies! MasterChef
airs on Mondays at 8 p.m./7 p.m. CST on FOX. Check back every week for a recap of the previous episode, some more insights from Elise, a recipe or two, and a plethora of hashtags. Follow her on Twitter at
@MC5Elise
.
Portrait of Elise Mayfield: Andrew Nawrocki, Groupon