Watching Notre Dame Football at Wrightwood Tap in Lincoln Park
BY: John Flaherty |
Sep 19, 2013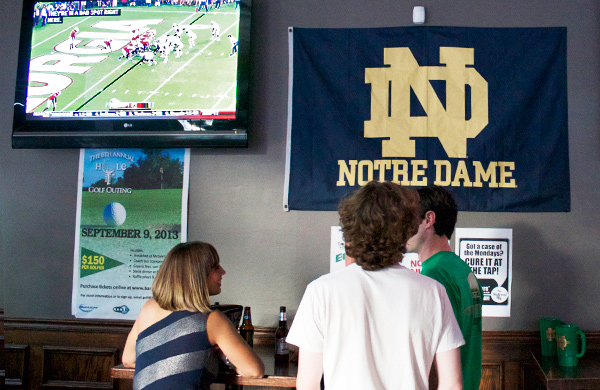 It was about 9:30 p.m. when the fourth quarter of the Notre Dame-Michigan game started, and
Wrightwood Tap
(1059 W. Wrightwood Ave.) was hot. The bar was body-to-body, and the capacity crowd of mostly young, mostly drunk navy-and-gold-clad Fighting Irish fans was trying hard not to have a good time. The faces of the faithful were somber, constrained, and just a little confused. It was a beautiful early September Saturday night in Chicago—maybe the last of the season, a cause to celebrate—but their team was down by 10. And Michigan was driving. Good times could not be had—or shown—in public. At least not yet. But then it happened. With 12:06 left in the game, the sea erupted—foaming from a tranquil pool to a torrential storm of fans freaking out. On a blitz, the Notre Dame defense chased Michigan's versatile quarterback, Devin Gardner, out of the pocket. Gardner scrambled into his own end zone, and a blitzing defensive back dove for his ankles. Gardner flung the ball toward the hash line, and it landed softly into the breadbasket of another Notre Dame defender. Touchdown. Irish. The crowd went nuts. The volume cranked up to 11. High-fives flew. Confetti fell onto sweaty foreheads and into beer mugs, and the Notre Dame fight song blared over the loudspeakers. Suddenly, just like that, Notre Dame was back in the game. Suddenly, the packed bar could admit to having a good time on this wonderful end-of-summer night. "For the next two minutes, it's two-for-one O-bombs," announced the DJ, Mark. The fight song bled into
Survivor's "Eye of the Tiger"
as he repeated: "Two-for-one O-bombs for the next two minutes." Of course, that tide of euphoria soon slipped back out to sea. Notre Dame lost. In the end, the game wasn't really close (41-30), but at that point, it was after 10 p.m. and nearly everyone in that bar had been invested for nearly four hours. When I arrived an hour before kickoff, the bar was comfortably full. All the seats were taken, but you could easily move through the room to order food for delivery or browse the 20 taps: typical domestics, along with Stella Artois, Sweetgrass APA, and a couple of other craft brews, as well as nice pints of Guinness impressively poured into proper tulip glasses. The people I met then, in the 6 o'clock hour, were much more calm and cool than the hot and thirsty younger crowd that poured into the bar during the second half. This first batch resembled more of a congregation, a group that has celebrated and mourned the wins, the losses, and the heartbreaks of a couple of decades of Notre Dame football. John Vandenbargh didn't go to Notre Dame, but his dad did—he was on Joe Montana's 1977 championship team. Jeff Ventimiglia "married into" Notre Dame. He was sporting an Irish T-shirt and backward hat, and last year he attended the championship game in Miami, where Notre Dame fans "put Alabama [fans] to shame in the parking lot" (though Alabama won the game by four touchdowns). Mark Rule walked on to the Irish squad in the late '90s. That night at Wrightwood Tap was one of the first times he has watched a game in public at a bar. Because he gets so emotionally invested in the game—"Number 21, Gallon, he throws the ball to him
every time
!"—he watches from home. Ryan Roberts also played for the Irish. He and Mark were teammates. I've known Ryan for a while, and he's always been pretty ambivalent about Notre Dame football—and football in general. When I asked him how many times he played at Michigan's Big House in Ann Arbor (for this year's Notre Dame game,
Michigan set the NCAA attendance record at 115,109
), he told me, "I don't know. Twice? It's all a haze. I played a lot of Saturdays. I know that—I played a lot of Saturdays." Despite the early nonchalance, when Michigan went up 10-0 and his roommate Mitchell—whose highlighter-yellow shirt helps call attention to the fact that he is the
only
Michigan fan in the bar—whooped and hollered it up, Ryan coolly got in his face. "If you scream in my ear again," Ryan said, "I will punch you in the face." Five minutes later, Mitchell was gone. Wrightwood Tap, once more, was filled solely with the faithful. Because really, that is what being a Notre Dame fan is all about. It's about faith. It's about some sort of connection not just to a football program, but to much, much more. I saw it that night at Wrightwood Tap, just as I saw it growing up with most of my South Side cousins, aunts, and uncles. They wore Fighting Irish sweatshirts and hats; I memorized just about every scene of
Rudy
. Notre Dame taps into that myth most Americans of Irish ancestry hold dear—feisty, fearless, and a little bit dangerous. And on a deeper, more atavistic level, Notre Dame fills the church-sized hole in many Catholics' hearts. I'm baptized and confirmed but don't attend Mass with any of the regularity that I did during my 12 years of Catholic schooling. And despite that, or because of it, I find myself pulling for Notre Dame. When the Irish intercepted that pass in the end zone, I screamed into the roar of the bar. I dished out a few high-fives and thought about—really thought about—ordering my first round of O-bombs in about eight years. If Notre Dame football is like a religion, then Wrightwood Tap is a suitable cathedral. Or church. I can't remember the official difference between the two just now. I haven't been to Mass in quite a while.
Game-Day Tips
Bar Type:
Neighborhood corner tavern on a quiet residential block
Food:
No kitchen, but large binders of delivery menus patrons can order from. Popular favorites include
Lou Malnati's
(958 W. Wrightwood Ave.) and
The Art of Pizza
(3033 N. Ashland Ave.). Note: since there's no kitchen, dogs are allowed before 9 p.m.
Specials:
Custom green plastic 32-ounce mugs with gold ND logo and Wrightwood Tap text. A mug costs $1 and can be filled with Bud or Bud Light ($8), premium beer ($9), craft beer ($10), a well drink ($10), or a call drink ($11).
Audio/Visual:
Notre Dame is on all of the plentiful flat-screens. Full audio for the game, with a DJ who cuts off commercials with music and plays the fight song after ND touchdowns.
Photo: © John Flaherty, Groupon