We Emptied Our Purses and Found Bow Ties and Meat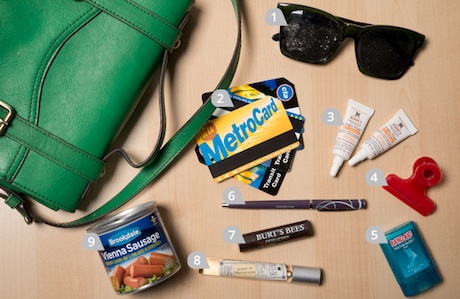 Most people have random stuff in their bag. Three of our writers were no exception. Unwrapped mint, anyone? 
Purses are basically portable time capsules, holding items we've collected (and oftentimes forgotten about) along the way. We asked three The Guide writers to empty their bags and attempt to explain the randomness found inside. (Spoiler alert: there will be canned meat.)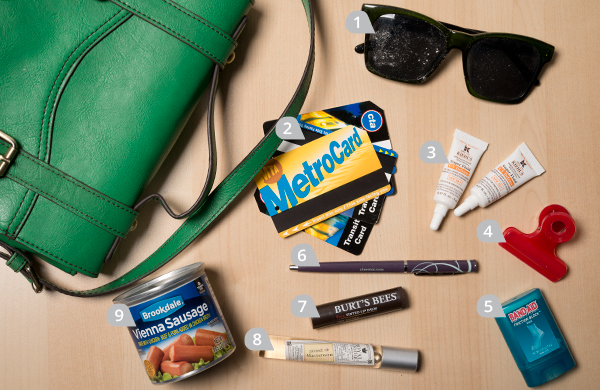 Shannon
1. Sunglasses; Stitch Chicago | "I love these sunglasses, so I feel especially bad that I found them covered with yellow powder … probably from Cheez-Its."
2. Expired CTA cards and New York City MetroCard
3. Samples of Super Fluid UV Defense SPF 50+; Kiehl's (free upon request) | "When I get a manicure, I quickly slather some of this on before sticking my hands under the UV dryer."
4. Chip clip | "No clue why that's in there. I certainly didn't use it on a bag of Cheez-Its."
5. Band-Aid Friction Block Stick; CVS ($8.99) | "It's great for preventing heel blisters."
6. Pen "borrowed" from a hotel | "They want you to take those, right?"
7. Burt's Bees Tinted Lip Balm; Target ($5.49–$6.99) | "I have really full lips, so lipstick tends to make me look clownish. This lets me add a hint of color without looking silly."
8. Royal Apothic Rollerball Perfume; 3FLOZ.com ($17)
9. Canned vienna sausages | "I found it in the back seat of my car after donating canned goods to the food pantry around the holidays. I completely forgot it was in there, but at least it explains why dogs follow me everywhere."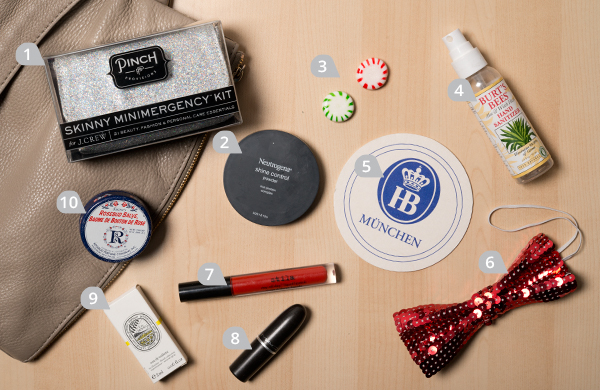 Amelia
1. Pinch Minimergency Kit; Pinch Provisions ($14 and up) | "[It] is packed with handy things like safety pins, emery boards, and floss."
2. Neutrogena Shine Control Powder; Ulta ($11.99) | "The rice proteins in this powder don't have a color to them, so I don't have to worry about looking chalky."
3. Two unwrapped mints, probably from some restaurant | "These mints used to be in wrappers. How did these mints fall out of those wrappers while inside my purse? Where are the wrappers now? They definitely are not in my purse. Are these mints haunted?"
4. Homemade hand sanitizer (in a Burt's Bees bottle) | "When my first bottle ran out, I started mimicking the formula at home. … It [has] some germ-killing witch hazel and rubbing alcohol in it, which is all I need for peace of mind while [riding] public transit."
5. München beer coaster | "My friends snuck [it] in my purse during a trip to the Chicago Brauhaus."
6. Red sequined bow tie | "My dog only marginally enjoyed wearing this on Valentine's Day."
7. Stila Stay All Day Liquid Lipstick in Tesoro; Sephora ($22) | "The good news is this matte lipstick won't come off while eating, … but the bad news is it won't come off when I try to seal fan mail to Aaron Paul with a kiss."
8. MAC lipstick in So Chaud; Bloomingdale's ($16)  
9. Diptyque Eau Moheli perfume; Lucky Scent ($4 for 0.7 mL)
10. Smith's Rosebud Salve; Anthropologie ($6) | "I bought my first tin during a preteen visit to Chicago, when I couldn't imagine being grown-up enough to wear lip products with colors. … Now that I live here, it's sentimental."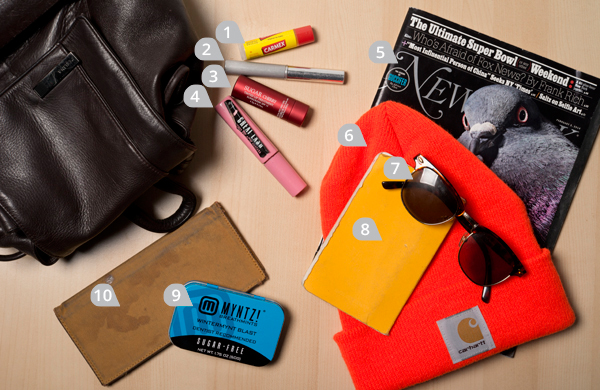 Mae
1. Carmex Moisturizing Lip Balm; Walgreens ($1.59)
2. Clinique Almost Lipstick in Black Honey; Macy's ($15) | "This color is a 'cult favorite,' according to people who use that term."
3. Sugar Tinted Lip Treatment in Cherry; Sephora ($22.50) 
4. Maybelline Great Lash mascara; Target ($4.19)
5. The menacing pigeon issue of New York magazine | "I brought this into the office to give to my coworker, who loves pigeons so much she literally coos at them in the street. One of the headlines on the cover: 'Alien Squirrels.'"
6. Neon-orange beanie; Carhartt ($8) | "This beanie makes me feel ultrasafe crossing the street at night."
7. Sunglasses; Eskell | "Somehow [Eskell's] sunglasses are only, like, $25. The store is basically a portal out of the market economy."
8. Moleskine notebook | "It clashes horribly with my beanie, but luckily they're not together much."
9. Myntz! | "The spelling makes them sound special, but they're just normal mints."
10. Checkbook | "This looks like it has a bloodstain on it, but I promise that is a water stain."
Photo: Andrew Nawrocki, Groupon