We Made Our Own Beach Spray
BY: Amelia Buzzell |
Jun 16, 2014
For all its "oh, I just rolled out of the ocean like this" effortlessness, sexy beach hair is actually a lot of work. It requires either a) living on or in the ocean or b) professional styling products, which can run you up to $26 for 4 ounces, as in the case of the much ballyhooed Bumble and bumble Surf Spray.
We weren't ready to commit to either option—after all, we weren't even sure if the look would work on us. So we made our own salt spray using items we already had. Three of our staffers tried the spray in a variety of contexts (on damp hair, on dry hair, and on unwashed hair). Read on to see how it worked for them, and for the recipe we used.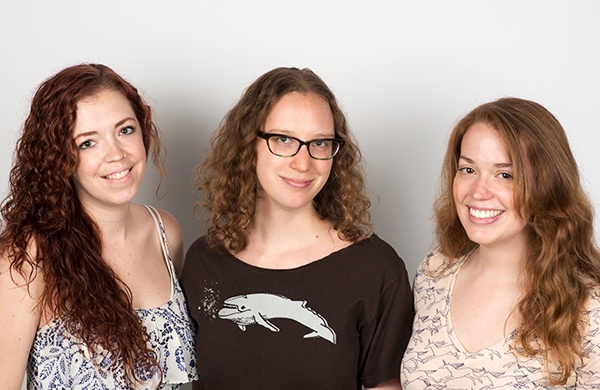 Kelly (at left)
Hair type: Curly and very fine, so it's prone to frizz. And I have a ton of hair, so that's a lot of frizz.
First impressions of the spray: Spraying it into my hair was fairly messy (it got all over my shoulders and my bathroom floor), but that's literally my only complaint about this stuff.
Results: It's remarkable how much it defined and controlled my curls. And it feels as if there's nothing on my hair at all, even though I doused it with the spray. The day this photo was taken, the girl at the sandwich shop said, "I must have that hair on my head. Right now."
Verdict: I've already committed the recipe to memory. I now spray it in my shower with a towel over my shoulders to avoid the mess.
Shannon (at right)
Hair type: Frizzy, curly, and wavy.
First impressions of the spray: It was easy to use. I was surprised that it didn't leave any discernible buildup in my hair.
Results: Honestly, my hair looked pretty similar to the way it does when I just shower and let it air-dry. One big difference: it was way less frizzy! I'm still not sure if I'm into the whole "beachy waves look," though.
Verdict: Unsure…I'd like to see how it works on dry hair.

Mel (at center)
Hair type: Too flat for my liking on top, wavy in the middle, and curly at the bottom.
First impressions of the spray: I tried it on dry hair first. There was no noticeable smell, and it felt like it had just made my hair damp. But after a few scrunches, it lifted up my hair and made a thicket of waves and thin curls. It was a little too frizzy for me, so from then on I applied it when my hair was wet.
Results: It definitely worked once I switched to spraying it on right after the shower. After drying, my hair looked less like a hodgepodge of sections and more uniformly wavy.
Verdict: I'm definitely going to keep using it.
Want to try it yourself? Here's the recipe we used: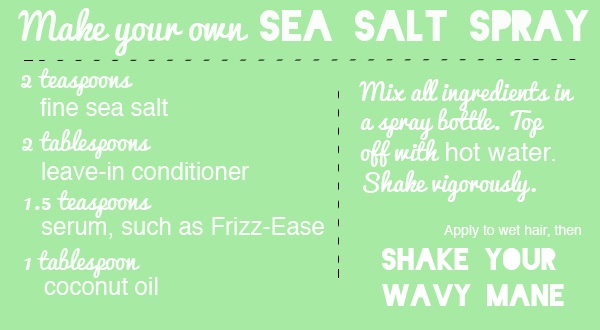 Photo: Andrew, Nawrocki, Groupon
Get gorgeous hair with these tips from the The Guide: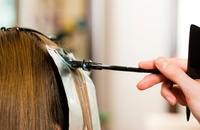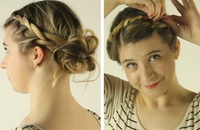 BY: Amelia Buzzell
Guide Staff Writer
Amelia is a Senior Writer who owns about 600 houses' worth of housewares. She daydreams about throwing parties and amassing more housewares.