We Rode Six Flags' Goliath and Ranked It Next to This Summer's Other New Roller Coasters
BY: COLLIN BRENNAN | 6.18.2014 |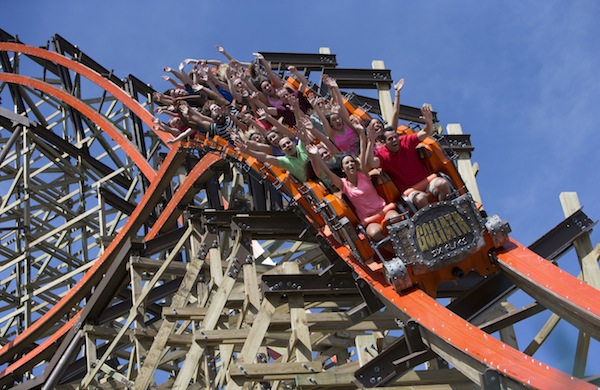 "If you want the ultimate, you've got to be willing to pay the ultimate price." This quote, attributable to Patrick Swayze's character in the film Point Break, ran through my mind as I stood at the base of the tallest, steepest, fastest wooden roller coaster in the world in the middle of a thunderstorm. Cameras and lightning took turns flashing as Hank Salemi, the president of Six Flags Great America, stood before a group of onlookers who had come to conquer the theme park's latest exercise in terror, Goliath. "Hopefully, the weather will hold off," Salemi said, as the skies darkened further.
It's not like Goliath needs severe weather to come off as scary. The new coaster with an Old Testament name already has this going for it: a 180-foot first drop, top speeds of 72 miles per hour, two breathtaking inversions, and a spiraling inverted zero-G stall. Throw in a little rain and Goliath starts to seem less like something you ride and more like something you survive. As this video proves, we did just fine:
But now that we've conquered Goliath, the question becomes: what other extreme coasters does America have on tap for 2014? Here are five of the biggest and baddest, ranked on our newly conceived scale of "Goliath-Slaying Slingshots to the Gut."
Goliath, in case you were wondering, ranks in at a perfect 10.
King's Island | Mason, OH
The world's longest inverted roller coaster is also the first to be named after a mythological omen of death. Perhaps this is merely a coincidence. In any case, you'll have plenty of time to ponder mortality as you whip across seven inversions and a record-breaking 4,124 feet of track.
Number of Goliath-Slaying Slingshots to the Gut: 9/10
Kentucky Kingdom | Louisville, KY 
A coaster with the force of a meteorological event, Lightning Run is the kind of thing you might wish on an inaccurate weatherman. The 10-story steel coaster starts off with a 100-foot drop that's just a few degrees away from vertical. Coincidentally, 100 is also the number of valerian-root supplements you'll need to calm down after this one.
Number of Goliath-Slaying Slingshots to the Gut: 6/10
The Adventuredome at Circus Circus | Las Vegas, NV
An indoor coaster with sudden turns, over-the-edge twists, and a 90-degree drop, El Loco's least terrifying attribute is something called a "donut roll," which sounds delicious (but is probably still terrifying).
Number of Goliath-Slaying Slingshots to the Gut: 7/10
Dollywood | Pigeon Forge, TN
This dual-launch and backward-running family coaster may not be the most thrilling on our list, but its twists and turns will still have you hitting high notes like Dolly on "Jolene."
Number of Goliath-Slaying Slingshots to the Gut: 3/10
Luna Park | Coney Island, NY
Alvy Singer's childhood home may be a thing of the past, but children are still developing nervous personalities in the Coney Island section of Brooklyn. The latest culprit is Luna Park's Thunderbolt, the first custom-built roller coaster in Coney Island since 1927. Stretching 125 feet into the air, The Thunderbolt has it all: loops, drops, and a spiraling view of the New York skyline.
Number of Goliath-Slaying Slingshots to the Gut: 8/10
Finished sobbing in fear? Check out Groupon for deals on amusement parks in your city.
BY: Collin Brennan
Guide Staff Writer
Collin is a senior editor at Groupon and a staff writer for Consequence of Sound. He self-publishes zines and moderates writing workshops for The Chicago Publishers Resource Center (CHI PRC).