We Watched a Bunch of Music Videos and It Made Us Want to Dress Like This
BY: Mae Rice |
Jan 7, 2014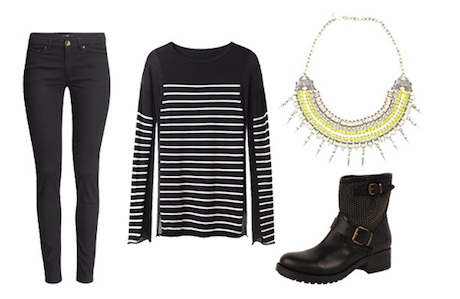 Three outfits inspired by videos from Jay-Z, Los Campesinos!, and Cate Le Bon, in time for their upcoming shows in Chicago.
Music videos don't just keep your eyes from atrophying while you listen to your jams. As Beyoncé's surprise visual album reminded humanity, they're an art in and of themselves. And unlike most songs, they're fertile ground for fashion inspiration. We pulled outfit ideas from three very different music videos, all from artists performing this month in Chicago.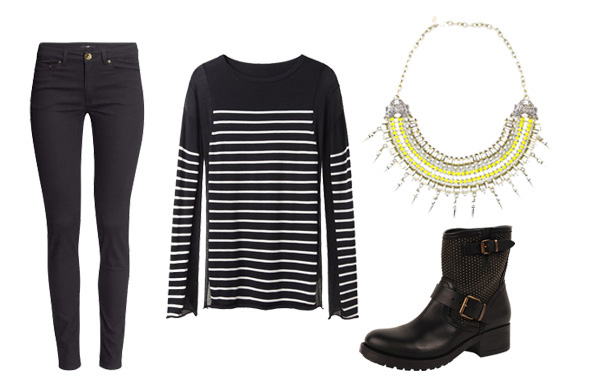 The artist: Jay-Z
The video: "Holy Grail," ft. Justin Timberlake
The outfit:
* Jay-Z's chain in the "Holy Grail" video is bold and beautiful. It's like he tried wrapping sausage links around his neck, then decided to go bigger. Try out his look with a statement necklace like this neon yellow and silver one from Edith Hart ($255). Or hit Claire's for these layered gold chains ($12.50).
* The cover of Magna Carta and this video feature censorship imagery—text blocked out with black bars. Subtly evoke that visual with a black-and-white striped top, like the T by Alexander Wang stripe knit pullover ($193 on lagarconne.com).
* Jay-Z is a proponent of all black everything. Before you paint your house black to impress him, maybe start small, with classic black pants, like H&M's Slim Fit twill pants ($19.95).
* Add an androgynous twist to the outfit with Formentini studded moto boots ($168.95 at Lori's Shoes). The masculine shape fits with Jay-Z's dudely vibe; the studs complement the metallic in the necklace.
Jay-Z's Magna Carter World Tour comes to the United Center on Thursday, January 9. See details here.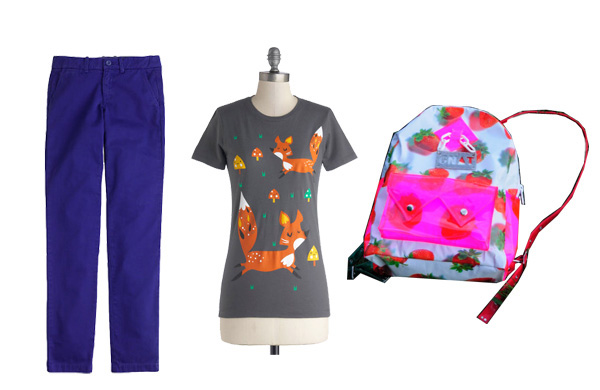 The artist: Los Campesinos!
The video: "You! Me! Dancing!"
The outfit:
* These basic bright pants, J.Crew's Waverly Chinos in dark blue (currently $49.95), offer a saturated take on blue jeans—and fit the color scheme of the video's neon robot war.
* The clip's look is all about mixing brights, and there are myriad bright tops to try. One option is this polka-dotted red top from Modcloth ($37.99); another is this Loungefly graphic tee ($27.99), also Modcloth. Its bright drawings of flying, sleeping foxes evoke the video's cartoons.
* This strawberry-print backpack by Chicago designer Gnat ($70) adds a final touch of surreal, fruity neon. Real strawberries not included.
Los Campesinos! comes to The Metro on Saturday, January 25. See details here.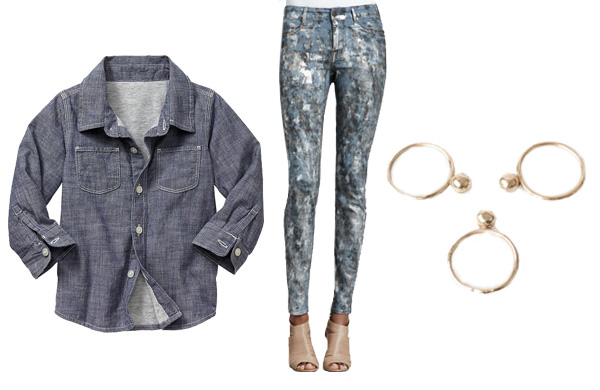 The artist: Cate Le Bon
The video: "Are You With Me Now?"
The outfit:
* In this video, Cate spatters her clothes with wet clay. Imitate the look with these abstract-print CJ by Cookie Johnson Joy Leggings ($120 at Neiman Marcus). You're on your own if you want to copy the part where she turns one cigarette into two with some casual magic (0:44).
* This clip is filmed in black and white, so it's hard to know exactly what Cate's button-down situation is. It looks like chambray, though? For a shirt similar to the above one, try Madewell's Western Jean Shirt in Pond Wash ($88).
* The video is brimming with repeated circles—circular pots, circular pots breathing smoke rings, etc. Accessorize with some circles and spheres of your own with these stackable Cities in Dust rings ($105 for three).
Cate Le Bon comes to Schubas on Thursday, January 23. See details here.
BY: Mae Rice
Guide Staff Writer
Mae Rice is a staff writer who writes about eyelash extensions, French food, what "business casual" even means, and other style and food topics.