We Were Promised Jetpacks Won't. Stop. Touring.
BY: Kelly MacDowell |
Feb 27, 2014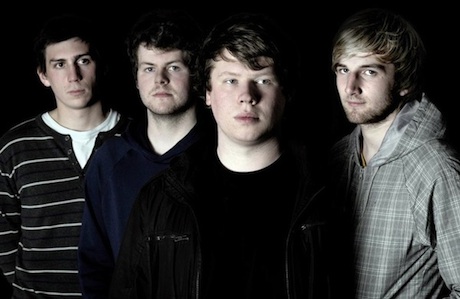 The Scottish band has spent so much time touring, you'd think they have a catalog deeper than Loch Ness. But their newest album (recorded live, of course) makes only three.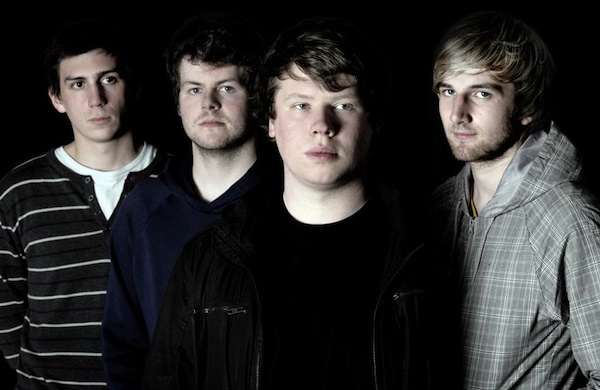 It's fitting that there's a vulture on the cover of
In the Pit of the Stomach
, the last album by Scottish indie quartet We Were Promised Jetpacks. Considering the band's nonstop touring schedule, you couldn't blame them if they finally collapsed of exhaustion somewhere, their tour van circled by a hungry bird of prey. Since debuting in 2009 with the well-received
These Four Walls
, the Edinburgh natives have set out on one tour after another. Notable circuits include a stint opening for
FatCat
labelmates
Frightened Rabbit
, as well as a sold-out headlining tour of their own. The latter grabbed the attention of Jimmy Eat World, who subsequently invited WWPJ to join them on the road for one more go-round. The incessant touring has done little to curb the appetites of hungry fans, who went two years without being able to sink their teeth into a new WWPJ recording. That changed this week with the release of
E Rey
, a live album recorded at the final show of their 2012 tour. The set list—which includes an unreleased track called "Peace Sign"—captures those textured, space-filling sounds the band has become known for: unrelenting drum beats, crackling guitar riffs, and soaring vocals so saturated with singer Adam Thompson's accent that you could almost wring a glass of scotch from them. With the promise of new material on the horizon, it's fortunate that WWPJ hasn't burnt out on touring. In fact, they just embarked on a US run that will bring them to Chicago on Sunday and wrap up with back-to-back shows at SXSW. We recently talked with guitarist Mike Palmer about his band's penchant for life on the road. He also dropped a hint about when we might hear their recently finished studio album.
GROUPON: Do you spend so much time on the road because you're partial to performing over recording, or are you just working to get your music into the ears of as many people as possible?
MIKE PALMER: That's just the way it goes. Once you've recorded, you've got to play everywhere, and that takes ages!…We love playing shows, but the amount of people who come to the shows is far less than the amount that hear the records—at least in theory. I've only seen a fraction of the bands whose albums I own. We spend so much time playing shows, it's easy to forget that the record is the only "real" version of the songs.
G: You've been pretty successful with each tour you've embarked on, whether as the opener or the headliner. How does opening for bands like Jimmy Eat World compare to the experience of selling out every date on your first headlining tour?
MP: There's a real sense of accomplishment when you headline a sold-out show. On the other hand, getting to play for 30 [minutes]…and then drink rum and watch Frightened Rabbit (or Jimmy Eat World, or Twilight Sad, or Explosions in the Sky, or whoever) is so much fun.
G: What made you decide to do a live album? How did you chose Philadelphia's Union Transfer as the spot to record it?
MP: [
E Rey
] was our label's idea! They wanted another release between albums to remind everyone that we still exist. Between [the first two] albums we wrote and recorded an EP, but by this point we were pretty focused on writing our next album and didn't really want to put that off, or sacrifice possible new album songs for an EP. So the live album was an idea that pleased [everyone]. We had a couple of attempts at recording it, but it didn't quite come out right…We recorded [in] Philadelphia as it was the last show of a really long tour, so [we knew] we'd be well rehearsed!
G: If E Rey is any indication, it looks like you'll be performing "Peace Sign" on this tour. Any other new tracks attendees can look forward to?
MP: Yeah, we'll throw in a few new ones. Probably four or five per night. We're really enjoying the new ones. They're a little different than the stuff we've done before. It's exciting!
G: You're ending this tour with a return to SXSW. Are there any other bands on that lineup you're excited to see?
MP: We love SXSW. We love it. We usually don't have too much time to see other bands, but it's great for seeing friends we don't get to see often and drink margaritas. Our pals
Bear Hands
are our all-time favorite band, and they're playing a few shows there. They have an amazing new album out and we've not seen them in ages. That'll be great fun.
G: In addition to E Rey, you've just finished recording a new studio album. What can you tell us about it?
MP: We have indeed. It was a great experience…[with] the other albums, we went away somewhere and did it in a big chunk, but this time we got to stay at home [in Scotland] and go in each day with fresh ears. It's a pretty different album, to us at least. With any luck, it'll be out Fall 2014!
We Were Promised Jetpacks plays Lincoln Hall on Sunday, March 2, at 8 p.m. Buy your tickets here.
Listen to "Peace Sign" from the band's latest album,
E Rey
:
Photo by Nic Shonfeld, courtesy of Big Hassle
BY: Kelly MacDowell
Kelly's first concert was Fleetwood Mac and her first career was in the beauty industry. Now a style and music writer, she loves Project Runway and her dog, Watson.