Wearing High Heels Doesn't Have to Be a Hideous Nightmare
BY: MAE RICE | 3.28.2014 |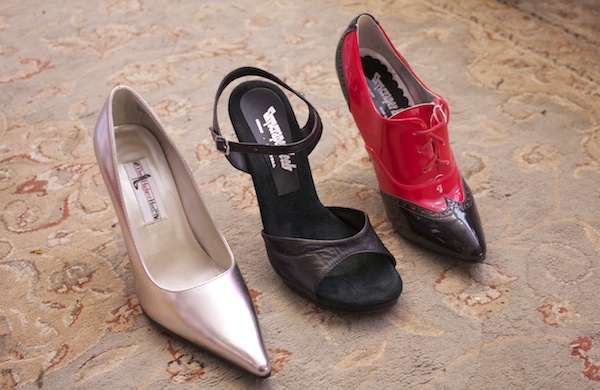 How to avoid pain, fix a wobbly walk, and make your cheap heels last longer than a few weeks, courtesy of an expert at Skyscraper Heels.
Gary Page doesn't wear heels himself (unless you count the high-heel monogram on his work polo), but he does know a lot about them. Gary owns Skyscraper Heels (2202 W. Belmont Ave.), a shop that specializes in custom footwear. That means boots with custom shaft circumferences and heels with custom fabric uppers. Once he and his team even made a pair of slides using a Cubs T-shirt.
Gary can tell you everything from how the heel part of the shoe is manufactured (typically with a plastic mold) to why heels are here to stay (they're "an instant body sculpt"). I talked with him about how to solve three eternal high-heel problems: pain, wear and tear, and walking anywhere in the darn things.
If Your Heels Hurt Your Feet
Discomfort is a huge problem when it comes to heels, but it's one that can be prevented, not just treated. According to Gary, there are three features to look for if you're concerned about comfort. The first is cushioning right under the ball of your foot. Without it, "you can feel every pebble you step on," he said. Check the padding with your thumb, and, if possible, by taking a walk on a noncarpeted surface.
You should also consider heel height. Most people without joint problems can wear 4-inch heels comfortably (or platform heels with a 4-inch difference between the toe platform and the heel).
Fit is the final—and most essential—factor. "[Heels] should be snug, but they shouldn't be painful," Gary said. Keep in mind that a shoe's width can give a little over time, but its length is more fixed. Don't buy if there's a gap behind your heel or your toes feel painfully cramped.
If You Walk Like a Newborn Fawn in Your Heels
Gary said practice is the secret to a perfect walk. So start strutting, and if you fall over, get up and strut some more.
"The thing I see most often is people hunched over or trying to take too long a step," he said. As you walk, try to stand up straight, keep your steps at a manageable length, and put your entire foot down at once. Don't attempt the heel-toe walk you do in your flats. Gary said it'll feel wobbly, "like wearing an ice skate without being aware of it."
If Your Heels Start to Look a Little … Rugged
First off, some simple advice from Gary: don't wear your heels in bad weather! Also, try not to trip over too many things.
As for what to do once the scuffs and scrapes set in—it depends on the quality of your shoes. Today's nondesigner heels aren't made to last, and after a few months a lot of them will look "pretty garbage-y," as Gary put it. The key with these is to wear them at strategic times and to keep an eye on the one feature you can get repaired: the heel's rubber tip. On stilettos especially, you can wear through this piece in a matter of weeks (or days). Once it's gone, you'll start wearing down the heel itself when you walk, causing irreparable damage.
In the case of designer pumps, however, it might be worth investing in other services, like resoling and, if they're leather, professional conditioning. Gary says the extra care required of leather is worth it, given the advantages of the material. It's "sort of the gold standard. … It's one of the ideal shoemaking materials because it'll respond and stretch to fit your feet better."
BY: Mae Rice
Guide Staff Writer
Mae Rice is a staff writer who writes about eyelash extensions, French food, what "business casual" even means, and other style and food topics.