Wearing the Past: Hopscotch & Soda on the Colorful History of Vintage Apparel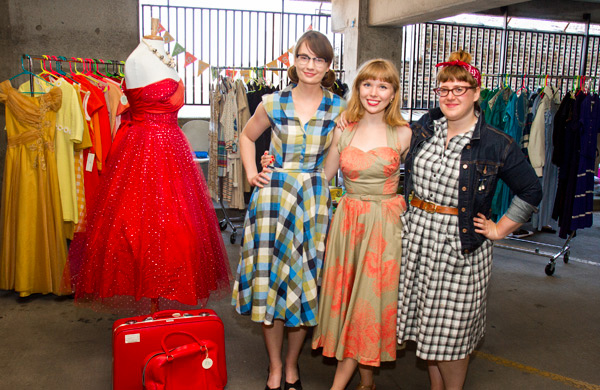 Vintage shopping can seem intimidating when you consider the often cluttered racks, outdated size charts, and possibility that the clothes might be haunted. Then, once you've found that perfect garment, there's the added challenge of incorporating it into your regular wardrobe—what if you pair it with the incorrect shoes or necklace or hairstyle? Not to worry, say the owners of Etsy vintage shop Hopscotch & Soda. "The only way for an outfit to be a don't is if you don't enjoy wearing it," says Jillian Schrager. She and co-owners Lindsey Anderson and Ginny Robbins gave some insights into the colorful world of vintage clothing, and explained how fashion from any era is about wearing pieces that make you feel good— whether or not they were intended to go together.
GROUPON: Why did you decide to get into the vintage clothing business?
LINDSEY ANDERSON: We've always loved wearing vintage clothing and have been snapping up vintage pieces in our sizes for years. At some point, we realized that it might make sense to make a business of it.
G: What inspired the name "Hopscotch & Soda"?
JILLIAN SCHRAGER: We spent a lot of time trying to come up with a name that is playful, nostalgic, and memorable. Hopscotch & Soda is just the one that fit—it manages to be both innocent and a bit cheeky at the same time.
LA: And when you mash the words together, you get "scotch and soda," which is kind of a cool portmanteau.
G: What do you look for in the vintage clothing you sell?
JS: Excellent quality is our top priority, without a doubt. We also look for pieces that are emblematic of the particular era in which they were made. Apart from those two things, we each have distinctive tastes and fashion interests. I love garments that are unusual, quirky, and a little campy. Ginny's taste tends toward more classic rockabilly looks, and Lindsey is eclectic and a bit funky.
G: Where do you find pieces?
LA: We bought most of our inventory when a theater in Cincinnati, Ohio liquidated its inventory last year.
GINNY ROBBINS: We really lucked out—this was a company that supplied vintage clothing to many big-budget productions, including Road to Perdition. So we were able to acquire a large number of truly outstanding garments very early on, and they became the base of our business.
JS: Since then we've continued to buy on eBay, at thrift stores, and at estate sales. There's definitely no shortage of wonderful vintage clothing out there; it just takes a bit of persistence to find it.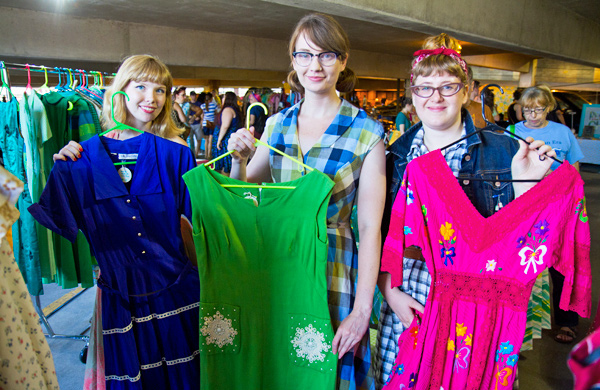 G: Do you carry styles from certain years more than others?
GR: We tend to focus on midcentury (late 1940s–1960s) styles.
LA: The 1950s silhouette, with its nipped-in waist and voluminous skirt, is really popular right now. 1960s mod styles—mini skirts and go-go boots—are popular too, and they're very easy to wear.
G: Can you tell me a little bit about how clothing styles changed from the 1940s onward?
LA: Our country was at war for most of the 1940s, and fabric was rationed carefully for several years. Because of that, skirts were shorter and slimmer, and blouses were fitted and a little utilitarian—think Ingrid Bergman from Casablanca. After the war, designers were able to start using more fabric again, and they went nuts making long, voluminous skirts and more elaborate blouses.
GR: During this postwar period, the ability of women to inhabit traditionally feminine roles in the home was seen as luxurious and desirable. As a result, clothing became extremely feminine and extravagant, resulting in floral prints and circle skirts galore.
JS: Then, the 1960s rejected the demureness of the 1950s. Hems rose, colors intensified, and prints became graphic and eventually psychedelic.
GR: And the 1970s were all about women moving into the professional sphere. Polyester fabrics and pant suits all provided sensible options for the hard-working career girl.
LA: You also had women like Janis Joplin popularizing hippie chic, which was another trendy look for most of the 1970s.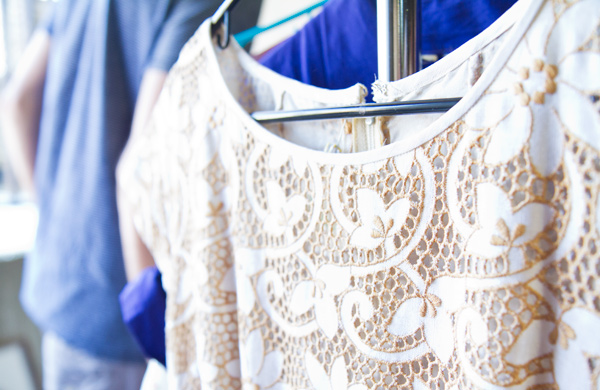 G: How would a vintage novice like myself tell the difference between clothing from different decades?
LA: Hemlines fluctuated pretty dramatically from decade to decade. Knee-length skirts were popular in the '40s; full, mid-calf-length skirts were popular in the 1950s; mini skirts were popular in the 1960s; and maxi skirts were popular in the 1970s.
JS: One of the best ways to learn to learn how to differentiate between decades is to spend a lot of time looking at old photographs, advertisements, and films from these eras. Over time you'll develop an innate feel for different periods.
G: Mixing pieces from different decades: a fashion do or don't?
LA: I say it's an absolute DO. If you've tossed a 1940s blouse with a sailor collar over a crocheted maxi dress, or a 1950s letter jacket over a mod mini dress, and you think you're pulling it off, then you probably are.
GR: Style is about individual eccentricities, not fitting into a fashion box. If you love the way two or more styles look when combined, wear them together.
JS: Be fearless and have fun!
Photo: © Michelle Klosinski, Groupon