Weekend Agenda: December 13–15
BY: Tyler Clark |
Dec 12, 2013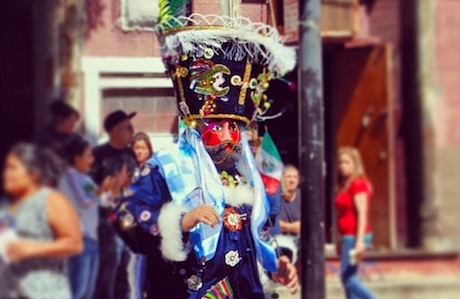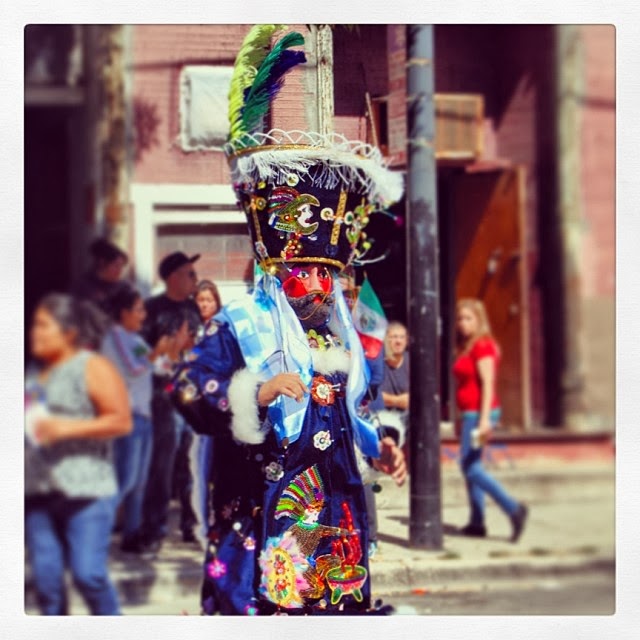 "Mike's Kind of Town (Part II)"
South Side street photographer presents photos of festival-season goings-on snapped in his favorite Chicago neighborhoods
South Side
photographer Mike Pocius has a knack for being in the right place at the right time. It's how he's managed to capture the stunning street scenes that populated
Mike's Kind of Town (Part II)
, the sequel to his lauded
2011 showcase
, opening this weekend at
Cobalt Studio (1950 W. 21st St.)
. Taken throughout 2013's bustling festival season, Pocius's photos burst with life and character captured candidly, preserving everything from Chinatown revelers to proud crowds of Mexican flags. After Friday night's reception, guests can continue the conversation with bourbon and beer at an after party held at new Pilsen watering hole
The Barrel
.
(Opening night reception Friday, 6 p.m.–10:30 p.m.; public viewings Sunday in December, 1 p.m.–4 p.m. Admission free.)
Saint Lucia Festival of Lights
Traditional Swedish celebration counters the gathering dark with the candled crown of Saint Lucia
The days are still getting darker, but in Andersonville, there's a flicker of warmth amid the cold. Several flickers, actually, dancing about the candled crowns of white-clad Lucia Girls hurrying toward the
Swedish American Museum (5211 N. Clark St.)
. Once there, they'll beat back the dusk with the Saint Lucia Festival of Lights' traditional procession, leading guests on a march through the streets set to the tune of their Lucia Song. Afterward, the museum throws open its door to the returning crowds, welcoming frosty guests with pepparkakor gingersnaps and a retelling of the Saint Lucia legend. In addition to keeping lights lit as the year's darkest day nears, the festival also has a more pragmatic goal: proceeds benefit
Care for Real
, Edgewater's local food pantry.
(Friday, 4:45 p.m. Admission $1 or free with a canned-food donation.)
"MacSith"
Macbeth
meets
Star Wars
in this theatrical pop mash-up from The Edge of Orion
Morally complex protagonists. Questions of trust and betrayal. Wicked good sword fights. In addition to reinventing theater and freshman-year English class, Shakespeare also laid the groundwork for one of the 20th century's greatest literary triumph:
Star Wars
. The two cultural juggernauts seemed destined to run parallel forever, until the theatrical pranksters at The Edge of Orion whack them into a collision course called
MacSith
. Set in a galaxy with a suspiciously Scottish accent, this delightful mash-up fills the 
Right Brain Project (4001 N. Ravenswood Ave.)
with a play that blends George Lucas's lightsaber-carved derring-do and the macabre intrigue of the Bard's paranoid masterpiece.
(Friday and Saturday, 7 p.m. and 9 p.m.; Sunday, 2 p.m. and 5 p.m. Tickets: $15; purchase here.)
"Emmet Otter's Jug-Band Christmas" Live
Chicago songwriters Eiren Caffall, Lawrence Peters, and friends bring songs from the Muppet classic back to breathtaking life 
Since its debut in 1977,
Emmet Otter's Jug-Band Christmas
has become an unimpeachable part of the American Christmas-special landscape. Much of that success came from the songs. Written by pop wizard Paul Williams and sung by grand master Muppet performers like Jim Henson and Frank Oz, they take the special's theme of homey, happy-with-your-lot resilience to sublime, banjo-plucked heights. For the second year in a row, a cadre of Chicago musicians led by
Eiren Caffall
and
Lawrence Peters
will add their own voices to these tunes with Emmet Otter's Jug-Band Christmas Live, a spirited musical romp held in the cozy back room at
The Hideout (1354 W. Wabansia Ave.)
. They'll pluck their way through classics including "
When the River Meets the Sea
" and "
There Ain't No Hole in the Washtub
" during two family-friendly Saturday shows, helped along by opening acts including
Tiny Cover Band
and filmmaker
Christy LeMaster
.
(Saturday, 7 p.m. and 10 p.m. Tickets: $10 for adults, $7 for kids; purchase here.)
"The Hobbit: The Desolation of Smaug"
Martin Freeman, Ian McKellen, and Benedict Cumberbatch revisit Middle Earth in the second installment of Peter Jackson's newest trilogy
The (ever-lengthening) journey of Bilbo Baggins reaches its second act this weekend with
The Hobbit: The Desolation of Smaug
. Peter Jackson's latest foray into Middle Earth brings the titular hobbit and his band of dwarven comrades close to their goal of retaking the Lonely Mountain, which currently serves as the safe deposit box for the treasure horde of the also-titular dragontagonist. Speaking of which: Benedict Cumberbatch debuts as the voice of the fire-breathing Smaug, a role which brings the
Star Trek
and
Sherlock
star tantalizingly close to a geek-franchise bingo (assuming we use the free space). As the year's first true Christmas blockbuster, this will be in almost every theater in the city, but you should think big: the IMAX theater at
Navy Pier (700 E. Grand Ave.)
lets you experience the fantasy epic in all of its 3D, high-frame-rate glory.
($17 for adults, $13 for kids; consult showtimes and purchase tickets here.)
Photo by Mike Pocius, courtesy of Cobalt Studio
BY: Tyler Clark
Tyler is a writer, storyteller, and musician from Chicago. His stories have appeared on stage at shows including Mortified, Story Club, and Lethal Poetry.