Weekend Agenda: February 21–23
BY: Tyler Clark |
Feb 20, 2014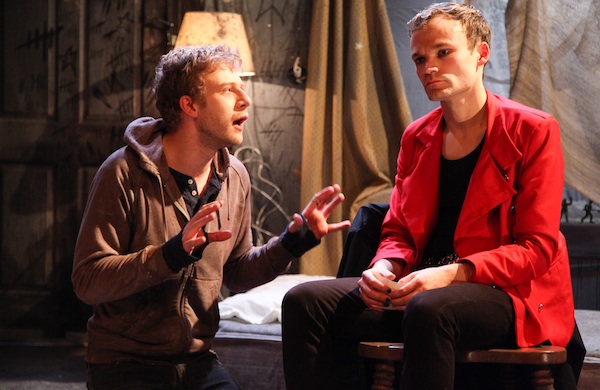 The Pitchfork Disney
, the Chicago Maritime Festival, and the whiskey-soaked tunes of Martin Van Ruin, all on this weekend's list of recommendations.
"The Pitchfork Disney"
Two scarred siblings find their isolation rudely (and maliciously) interrupted in Philip Ridley's grim classic
After an unspoken tragedy 10 years prior, siblings Presley and Haley shut out the outside world. Their fractured life within their deceased parents' apartment gets severely shaken by two unexpected guests: the malevolent (and exquisitely named) Cosmo Disney and Pitchfork Cavalier. Thus begins the major movement in
The Pitchfork Disney
, dropping audiences into a claustrophobic world that's like
The Cat in the Hat
with more half-eaten cockroaches and fewer easy solutions. A hit upon its debut in 1991, Philip Ridley's grim comedy comes creeping back to the Chicago stage in a
Jeff-recommended production
by the
Interrobang Theatre Project
. The spookiness emanates from Studio Two of the
Athenaeum Theatre (2936 N. Southport Ave.)
. A word to the budget-conscious: Saturday's matinee is an understudy performance, with tickets priced at half the normal cost of admission.
(Friday and Saturday, 8 p.m.; Saturday and Sunday, 3 p.m. $10–$20; buy tickets here)
Dunn Dunn Fest 2014
Three-night, four-venue festival includes sets by Martin Van Ruin, The Soil & the Sun, and Moon Taxi
From Pitchfork to Bonnaroo, summer music festival announcement season is in full, glorious blossom. In between perusing lineups and polishing your favorite pair of shutter shades, get some off-season practice in with a trip to this weekend's
Dunn Dunn Fest
. Organized by local promoter
Harmonica Dunn
, the three-day fest kicked off yesterday with a spirited opening-night set at the Tonic Room. Fear not, though—the two days that remain have more than enough music between them. Tonight, choose between the whiskey-soaked Americana of
Martin Van Ruin
at
The Hideout (1354 W. Wabansia Ave.)
and
The Soil & the Sun
's cosmic-minded neo-folk at
Beat Kitchen (2100 W. Belmont Ave.)
. Saturday, head to
Subterranean (2011 W. North Ave.)
for a closing-night set from the mellow fellows of
Moon Taxi
.
(Check out the full schedule. $15–$30; buy tickets here)
Chicago Maritime Festival
Shanties, ships, and sea dogs congregate at this festival and concert honoring the Great Lakes' maritime heritage
The Great Lakes
made the news last week
when, for the first time in decades, almost 90% of their surface was covered in ice. They'll make the news again this weekend, at least among visitors to the
Chicago History Museum (1601 N. Clark St.)
. On Saturday, the museum hosts the annual
Chicago Maritime Festival
, which celebrates the watery exploits of generations of Great Lakes mariners. The festival is a two-part party. During the day,
presenters
tackle topics ranging from bawdy sea shanties and model boats to the seamanship issues present in the recent Robert Redford hit
All Is Lost
. After a dinner break, things get even rowdier. The evening concert gives guests the chance to put their newly acquired shanties to good use with the help of performers including the Chicago Sea Shanty Singers, self-described troubadour David H.B. Drake, and frequent
Old Town School of Folk Music
instructor Tom Kastle.
(Saturday, 10 a.m.–4:30 p.m.; evening concert 7 p.m.–10:30 p.m. $14–$30; click here to buy tickets)
"On the House: Wood Constructions and Drawings"
Woodworker Michael Nakoneczny turns reclaimed wood and outsider sketches into haunting houses
The humble birdhouse. A craft staple for a generation of shop classes and summer camps, they rarely approach the realm of high art. That is, unless they're in the capable hands of artist Michael Nakoneczny. OK, so the miniature abodes in
On the House: Wood Constructions and Drawings
aren't expressly meant to house avian renters. Instead, they blend the rustic resourcefulness of reclaimed wood with the outsider-inspired sketches that Nakoneczny has honed throughout his career. The result? Ramshackle Cape Cods from the imagination's least-gentrified neighborhood. Nakoneczny's show is one of three opening tonight at
Zolla/Lieberman Gallery (325 W. Huron St.)
; others include
Incandescent: The Collected Works of Robert J. Russell
and
[Epoché]
by Dan Ramirez.
(Opening reception Friday, 5 p.m.–8 p.m. Show runs through Wednesday, March 26. Admission is free.)
"Japan and Nature: Spirits of the Seasons"
Temporary exhibit combines lessons on seasonal activities with an introduction to the customs of Japanese childhood 
Although the frigid weather doesn't always make it clear, we're poised at the transition point between chilly winter and slightly-less-chilly spring. This handing off of the seasonal baton is a wonderful excuse to visit
Japan and Nature: Spirits of the Season
, the latest temporary exhibit at
Kohl Children's Museum of Greater Chicago (2100 Patriot Blvd., Glenview)
. Inspired by Japan's reverence of seasonal movement, the exhibit clues kids in to the calendar with customs and traditions associated with Japanese childhood. These usually come in the hands-on variety: kids can make dolls to ward off spring rain, learn to use chopsticks while role-playing a snug winter meal, or even call forth an early autumn with a couple of whacks on festival drums.
(View the museum's hours. $8.50–$9.50; buy tickets here)
Photo courtesy of Interrobang Theatre Project
BY: Tyler Clark
Tyler is a writer, storyteller, and musician from Chicago. His stories have appeared on stage at shows including Mortified, Story Club, and Lethal Poetry.