Weekend Agenda: January 2–5
BY: Tyler Clark |
Jan 1, 2014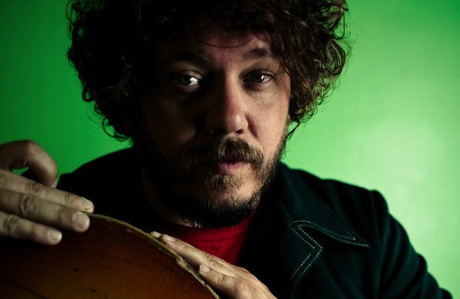 Bobby Bare Jr.
Veteran country hell-raiser previews material from his Bloodshot Records debut during a stop at City Winery
When you get nominated for a Grammy at age 6, chances are good that music's got a place in your future. It worked out that way for Bobby Bare Jr., at least. Although he hasn't quite replicated that initial high, he's fully embraced life as a wandering musician. It doesn't hurt that he's also inherited the deft, soulful lyricism of his father, Country Music Hall of Famer Bobby Bare. The journeyman troubadour hits
City Winery (1200 W. Randolph St.)
on Friday night, tuning up new material culled from his forthcoming release for local alt-country label
Bloodshot Records
.
(Friday, 8 p.m.; doors open at 6 p.m. Tickets: $15; purchase here.)
"The Seafarer"
A boozy holiday card game is interrupted by the Devil himself during Seanachaí Theatre Company's production of this Conor McPherson play 
The holidays are officially in the books, but we're contractually obligated to sneak at least one more Christmas-themed production into our recommendations. However,
The Seafarer
isn't exactly a by-the-numbers holiday special. Set on Christmas Eve in a squalid Irish bedsit, Conor McPherson's 2006 play features lots of drinking, gambling, and general crudity. Oh, and a quick visit from the Devil. This story of seasonal struggle and redemption plays out in
Seanachaí Theatre Company
's vivid, quick-witted production at
The Den Theatre (1333 N. Milwaukee Ave.)
. Named after the Gaelic word for "storyteller," the company once again shows the affinity for honest, engaging narratives that's helped earn them multiple Jeff Awards. It's paid off once again: once scheduled to close this week, the show was recently extended through Saturday, February 1.
(Thursday-Saturday, 7:30 p.m.; Sunday, 3:30 p.m.; 6:30 p.m. after Sunday, January 5. Tickets: $21+; purchase here.) 
DePaul vs. Marquette
Marquette continues the first week of Big East play against DePaul; head up to Milwaukee and see it live or stay local with a trip to Division Ale House
The new-look Big East began its conference season on New Year's Eve, opening a fresh, startlingly Syracuse-free chapter in its storied history. After an always-tough trip to Omaha for Creighton's inaugural Big East game, Marquette looks to start strong with a Saturday home tilt against the Blue Demons of DePaul. If you can't make it up to Milwaukee for the 1 p.m. tip-off (tickets
are
still available
through the Marquette box office
), cheer on the Golden Eagles from a stool at 
Division Ale House (1942 W. Division St.)
. There, a prix fixe brunch ($20–$25) pairs morning-approved entrees with mimosas, bloody marys, and Elk Creek cocktails.
Fillet of Solo Festival
Seventeenth annual live lit festival showcases the talents of the city's thriving storytelling scene
It's 2014. If you haven't heard about Chicago's breathtaking live-lit community by now, we haven't been doing our jobs. For the 17th year in a row, the Fillet of Solo Festival returns to help us out, kicking off three weekends of individual and ensemble performances from some of the city's best storytellers. This weekend, head to the
Lifeline Theatre (6912 N. Glenwood Ave.)
for shows by long-standing events such as
Stir-Friday Night!
,
Story Club
, and
You're Being Ridiculous
, or hop up the block to
Heartland Studio Theatre (7016 N. Glenwood Ave.)
for intimate appearances by solo performers including Jaime Black and 2nd Story's
Eric Warner
. Don't get too tuckered out, though; the festival runs every weekend through Monday, January 20.
(Friday–Sunday, January 3–20; click here for the full schedule. $10 for individual performances, $30 for a festival pass; click for tickets or festival passes.)
"Ghost Town"
Local artist Sean Hernandez's solo show unravels the ghost-filled lore of the fictional town of Howlin' Creek
There's nothing worse than a ghost infestation, and brother, let me tell you, Howlin' Creek's got about the worst one you've ever seen. It'd be hell on the property values, were it not for the fact that the town itself is completely fictional. The product of printmaker Sean Hernandez's fascination with folklore and narrative, Howlin' Creek comes to life in
Ghost Town
, which opens on Sunday at Humboldt Park's
Peanut Gallery (1000 N. California Ave.)
. A triple threat, Hernandez puts his background as a printmaker, illustrator, and animator to use, channeling the spirits of his Southwestern upbringing into an engaging show that chips steadily away at the barrier between reality and the supernatural.
(Opening reception on Sunday, 5 p.m..–9 p.m.; show runs through Sunday, February 2. Admission is free.)
BY: Tyler Clark
Tyler is a writer, storyteller, and musician from Chicago. His stories have appeared on stage at shows including Mortified, Story Club, and Lethal Poetry.