Weekend Agenda: March 14–16
BY: Tyler Clark |
Mar 13, 2014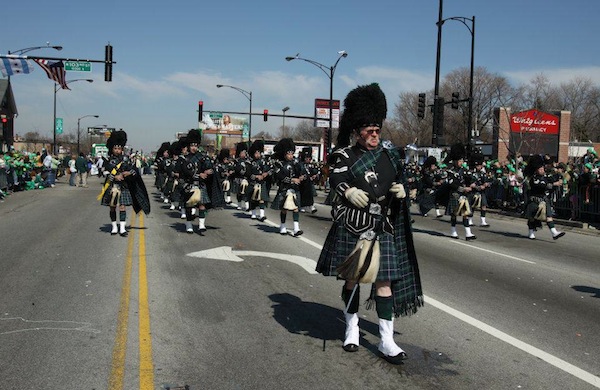 St. Patrick's Day parades, the Good Food Festival, and a homecoming thrashfest from M.O.T.O., all on this weekend's list of recommendations.
St. Patrick's Day Parades
Whether you're in Beverley, the Loop, or Norwood Park, Chicago's Irish parades will fill your streets with a sea of green
It's St. Patrick's Day weekend in Chicago. Do you know where your shamrocks are? If you ask us, they're probably gotten drafted into one of the city's two famous parades, which fall on the same weekend this year. On Saturday morning, the city officially dons its Irish colors, with the Chicago Journeymen Plumbers'
dyeing of the river
at 9:30 a.m. preceding the step-off of the
Chicago St. Patrick's Day Parade
at noon. If you're looking to celebrate on Sunday, consider a trip down to Beverley for the
South Side Irish Parade
. Now free from the rowdy drunks that once earned it infamy, the neighborhood procession has officially returned to its family-friendly origins of the 1970s. There's also the upstart of the bunch: now in its 11th year, the
Northwest Side Irish Parade
marches through Norwood Park's green-lined streets on Sunday at noon.
Good Food Festival
Locavores from across the Midwest gather to trade farming tips and community strategies at FamilyFarmed.org's annual festival
Knowing where your food comes from is almost as important as knowing how to cook it. Sponsored by
FamilyFarmed.org
, this weekend's
Good Food Festival
gathers locavores from around the Midwest to celebrate and strategize on the topic of ethical eating.
More than 160 farmers and artisans
will populate the exhibit hall at the
UIC Forum (601 S. Morgan St.)
, inviting guests to learn about sustainable farming, check out cooking demos with superchefs Rick Bayless and Paul Virant, and even
sign up for a CSA
. The schedule also includes speakers and workshops, with educational opportunities ranging from a panel discussion on
ancient grains
to lessons on farming, preserving, brewing, and butchery.
(Saturday, 10 a.m.–5 p.m. $10–$55; buy tickets here)
M.O.T.O.
Garage-punk tricksters return to Chicago for a raucous homecoming show at the LiveWire Lounge
For more than 30 years, the garage bashers of
M.O.T.O.
have been dutifully reminding listeners not to take it too seriously, no matter what "it" might be. Led by charismatic troublemaker (and only constant member) Paul Caporino, the band's been based everywhere from New Hampshire to New Orleans, but they're probably best remembered locally for their frenetic, decade-plus stint as a Chicago outfit. Caporino and company return to their one-time home tonight for a raucous visit to the
LiveWire Lounge (3394 N. Milwaukee Ave.)
sure to bring out the nostalgia in scenesters of a certain age. If you don't see at least one 40-year-old dude openly weeping while shouting the lyrics to "Dance, Dance, Dance, Dance, Dance to the Radio," you're probably at the wrong bar.
(Friday, 9 p.m.)
Photo courtesy of the South Side Irish Parade
BY: Tyler Clark
Tyler is a writer, storyteller, and musician from Chicago. His stories have appeared on stage at shows including Mortified, Story Club, and Lethal Poetry.